Whenever Overseas Filipino Workers (OFWs) go home to the Philippines, one of the most sought after "pasalubong" is the smartphone. While there are many gadgets available in the country, buying them abroad and presenting them as gifts makes coming home extra special!
But what if we told you that you don't have to wait for your vacation to give your family a smartphone? That's right, for an affordable price, you can send a smartphone from the UAE straight to your recipient's doorstep in the Philippines! Check out this latest offer from Korooti!
Become a Korooti Member! SIGN UP HERE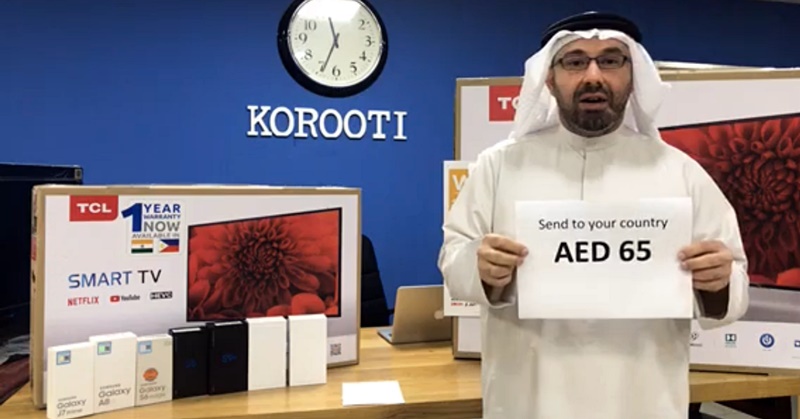 Send Smartphones to Your Home Country via Korooti
Korooti is a VIP discount card designed especially for overseas workers. Card holders can avail of discounts from hotels, restaurants, and retail outlets abroad and in your home country. You can also earn points for referring your friends and get the chance to win awesome prizes!
Just recently, Korooti has announced a new offer: send a smartphone to your home country for just AED 65. It may be a smartphone that you bought in the UAE, or it can be ordered from Korooti.
If you order from Korooti, these are the available smartphones and their prices:
iPhone 8 Plus – AED 2870
iPhone 7 Plus – AED 1820
iPhone 6 Plus – AED 1750
Samsung Galaxy S9 – AED 2400
Samsung Galaxy S8 – AED 1570
Samsung Galaxy S6 – AED 1300
Samsung Galaxy A8 – AED 950
Samsung J7 – AED 700
Just add AED 65 to the phone price, and you can have it sent to your home country. On the other hand, if you are planning to send home a phone that you already bought in the UAE, you can still send it for the same price.
NOTE: Please be advised that these prices may change without prior notice. Please contact Korooti by calling 042683975 for more information.
Here is a video of Korooti CEO Tariq Farekh inviting everyone to try out the offer:
Of course, don't forget that there's still an ongoing Korooti raffle for all members. Get the chance to win a Mitsubishi Pajero, 100g in gold, or an iPhone simply by being an active member. If you haven't signed up for it yet, CLICK HERE to become a Korooti VIP Card holder!
Become a Korooti Member! SIGN UP HERE