Most visitors and tourists are familiar with Dubai, but not everyone has heard of its neighbouring emirate, Sharjah, and the many places, attractions, and activities happening there. One of these is the Sharjah Light Festival, an annual event that is now on its tenth year!
Also Read: 24 PHOTOS: Stunning Sharjah Light Festival
From February 5-15, 2020, the festival is celebrating "10 Years of Light" across different locations in the emirate. The event is organized by the Sharjah Commerce and Tourism Development Authority of the Government of Sharjah, and is held over 11 nights during the month of February each year.
Check out this video of one of the light shows. This video was taken at the Sharjah Municipality Building: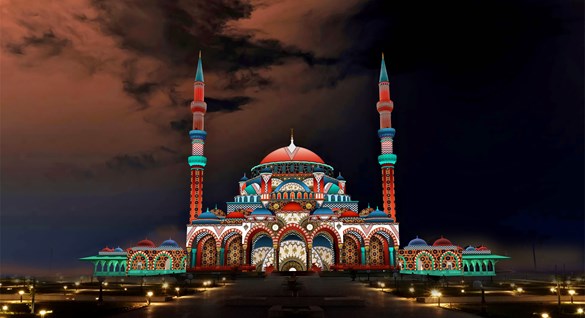 Sharjah Light Festival 2020 Runs from Feb. 5 to 15
Every year, the Sharjah Light Festival attracts thousands of visitors from inside and outside the country. According to the official website of the event, more than 1.2 million visitors came last year, to what is known as "the first and only light festival" in the entire region.
This year, the festival is back for its 10th consecutive year, with spectacular displays of lights, sounds, and colours in 19 different locations around the emirate. These colourful lights are projected on Sharjah's historic and popular buildings, reflecting the richness of its culture and heritage.
The 2020 edition is particularly special, not only because it marks a decade of celebrations, but also because of the addition of two of the most prestigious educational institutions in the area — the University of Sharjah (UoS) and the American University of Sharjah (AUS).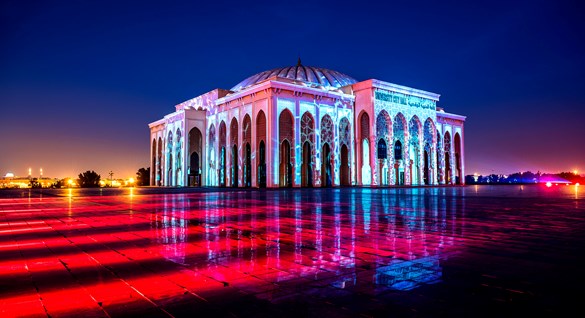 Sharjah Light Festival 2020 Locations
Among this year's locations is the Sharjah Police Academy, which features the "Jungle Book" show, and the University of Sharjah – Kalba, which presents "Forever Young." Most of the shows run from 6 pm to 11 pm on weekdays, and from 6 pm to 12 am on weekends, although timings may be different in some locations.
Below is a list of the 19 locations participating in this year's Sharjah Light Festival:
Al Hamriya Area Municipality
Al Majaz Waterfront
Al Majaz Waterfront & Khalid Lagoon
Al Qasba – External Facade
Al Wousta TV Building – Al Dhaid
American University of Sharjah
Arab Academy for Science, Technology, & Maritime Transport
House of Justice – Khorfakkan
Masjid Al Noor
Masjid Sheikh Rashid Bin Ahmed Al Qasimi – Dibba Al Hisn
Omran Taryam Square
Sharjah Chamber of Commerce & Industry
Sharjah Mosque
Sharjah Municipality Building
Sharjah Police Academy
Sharjah Roads & Transport Authority
University City Hall
University of Sharjah
University of Sharjah – Kalba
If you want to see all the shows, there's a bus tour, City Sightseeing Sharjah, which operates an exclusive bus route running through all 19 locations. Just call +971 6 556 0777 to book a tour for you and your friends!
What's more, there's a Food Truck Area running throughout the duration of the festival, where you can sample delicious local and international dishes, all in one place!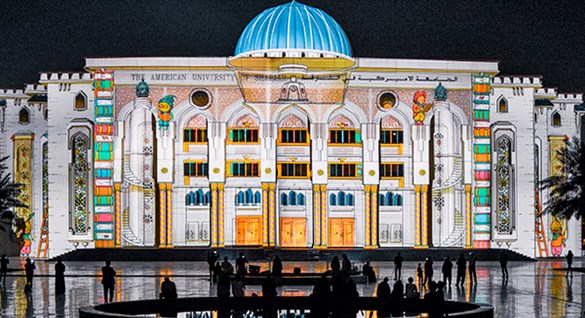 Website & Social Media Pages
For more information about Sharjah Light Festival 2020, simply check out the following pages online:
Website: https://www.sharjahlightfestival.ae/en
Facebook: https://www.facebook.com/Visit_SHJ-458184104553159/
Instagram: https://www.instagram.com/visit_shj/
YouTube: https://www.youtube.com/channel/UCU78tC2cKeJk56VkfsiM8KA
Without a doubt, the Sharjah Light Festival has become one of the UAE's most awaited events, and each year it just keeps on getting better and better! So head on to Sharjah until 15th February to catch all of these shows! In addition, here's a list of exciting things to do in Sharjah that you definitely shouldn't miss while you're in the emirate!