Sharjah Police authorities are warning members of the public about fake text messages that are circulating coming from bank representatives. These phone scams intend to lure their victims into providing sensitive information which are used to hack the victim's bank accounts.
Also Read: How to Spot Job Scammers and Fake Jobs in the UAE
A post from the Sharjah Police shows that they arrested a gang of 9 Asian nationalities who specialize in scamming people. The gang send fake messages to the victims and informing victims that they need to renew their bank or account or else their account will be frozen or closed.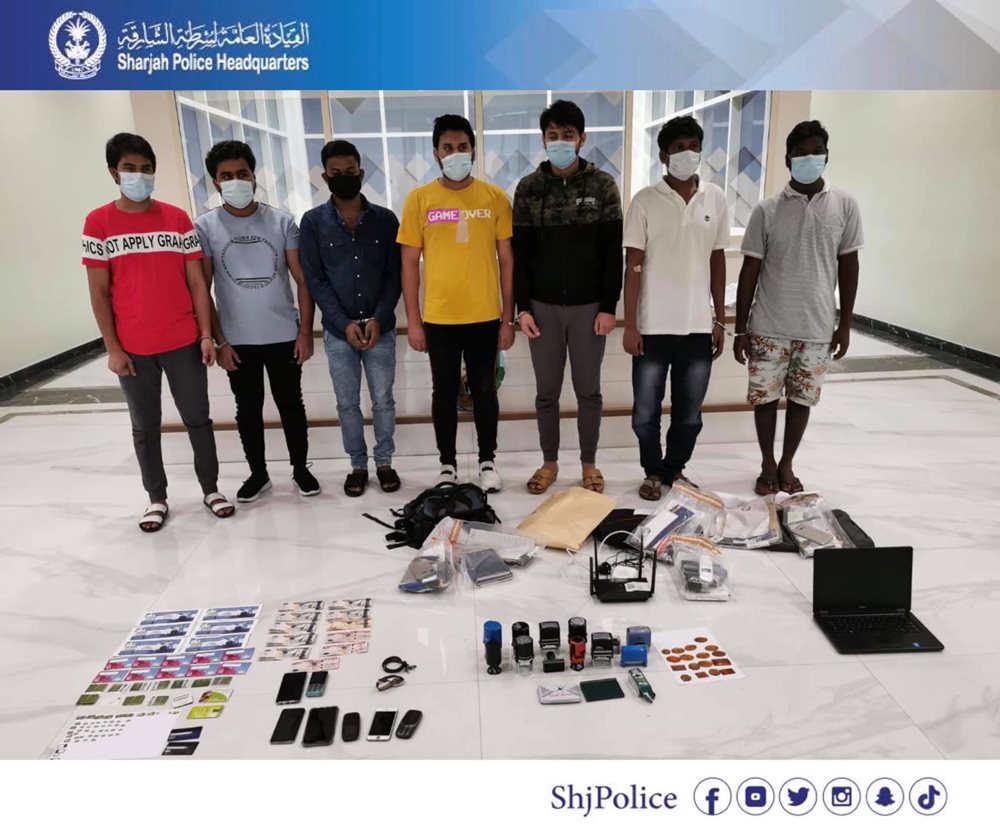 9 Phone Scammers Arrested by Sharjah Police
Sharjah Police received a report from a person (not named) who claimed that scammers withdraw AED 96,000 from his bank account.
The gang deceives the victims and threatens them that they will not be able to withdraw their salaries. This threat leads victims to follow the instructions shared by the scammers and makes them transfer their balances to another bank account (out of the country).
Below is a post shared by Sharjah Police on their social media regarding this incident:
Below is the report from Sharjah Police (translated):
Sharjah police arrested 9 persons specializing in telephone fraud
Sharjah Police General Command once again warned members of the public to respond to fake texts circulating, and goes back to people representing the state banks, luring their victims in deceptive methods, telling fake stories to get their bank statements, and personal information , which are later used to access and hack bank accounts.
This came in the wake of a report to Al-Zayed Police Station, Central Region Police Department, that a person has been scammed and scammed by an unidentified person, who contacted him, deluded him as a bank employee and wants an update His data, which enabled him to hack his bank accounts, and withdrew (96) thousand dirhams from his balance.
Acting Central Area Police Department, Colonel Hamad Al-Riyami, reported that the Criminal Investigation Department, has formed a team to track offenders, and identify their identity, because they posed danger to people, companies, bank accounts and credit cards of individuals. By taking all legal measures, investigators are able to arrest the criminals in a short time, and they are found to be a gang of (9) Asian citizens who specialize in this type of fraud and fraud, as they send fake messages to the dealers , or by telephone, informing them of the need to renew account data or stop banking, as well as freezing account, and not withdrawing salaries, so that they can deceive customers, so that the account holder, therefore, proceeds Doing what he asks, they transfer the balances from the victim's accounts to other accounts in other banks, and then send them out of the country.
Col. Riami stated that when the perpetrators were seized, they had a large number of smartphones and slices, holding numbers for some state telecommunications companies, a wide range of receipts for transfers, and other papers showing the monument style otherwise Fraud printed in Arabic and English, along with amounts of money seized from their suspicious operations.
Acting Central Area Police Department called for no attention to misleading messages or communications, and to report any crime or suspicion related to financial fraud, confirming that banks are not asking their customers to disclose their bank statements or personal information Through SMS or emails or telephones under the pretext of updating or activating their bank accounts.
————-
In these times of crisis, we should all be helping each other. However, this news is sad considering that there are people who are out to fool others.
Let us all stay vigilant and do not give out our personal information to people on the phone. Let's make sure we verify and check security before we make these types of transactions.