A few years ago — 2017 to be exact — the UAE marked the Year of Giving, in observance of the country's dedication to selfless giving and generosity. We witnessed many inspiring stories, from restaurants that offered free meals, to people who rescued and fed stray animals. Up to this day, the spirit of giving lives on in the hearts of the UAE's citizens and residents, most especially the volunteers.
Indeed, the UAE leadership is always keen on promoting a "culture of volunteering." Here in Dubai, there are many organizations focusing on various causes: health, animal welfare, environment, education, and many other worthwhile causes. How about you? Are you interested in becoming a volunteer and thinking of signing up for a cause?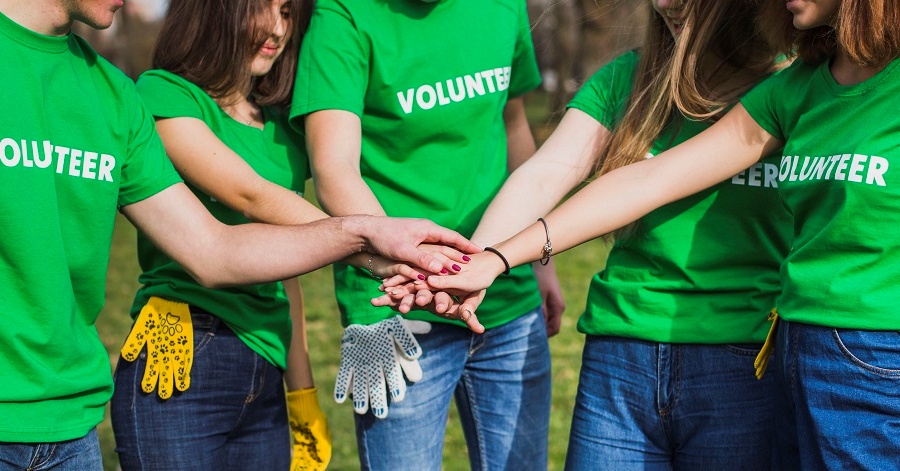 20 Top Places/Organizations to Volunteer in Dubai
Below are some of the organizations offering volunteering opportunities in Dubai and the rest of the UAE. These include hospitals, animal rescue groups, online platforms, and other initiatives that are duly registered to carry out social development initiatives:
1. Dubai Volunteering Centre
The Dubai Volunteering Centre is the first formal body established by the Dubai Government to manage volunteering services. It is an initiative of the Community Development Authority (CDA), and connects community causes with willing volunteers. The centre's activities are held in partnership with various government, non-government, and private institutions in Dubai.
2. Dubai Cares
Dubai Cares is a philanthropic organization that was established on September 19, 2007 by His Highness Sheikh Mohammed bin Rashid Al Maktoum, Vice President and Prime Minister of the UAE and Ruler of Dubai. It conducts various activities throughout the year and accepts volunteers. Here's a guide how you can become a volunteer for Dubai Cares.
3. Day for Dubai
Established in 2017 by the Dubai Government, Day for Dubai is an initiative that invites citizens and residents to "dedicate one day a year" to helping people in need, preserving the city, and protecting the environment. Volunteers are urged to contribute their time, knowledge, and skills as a way of giving back to the community. They can give a full day "in one go" or spread their volunteer activities throughout the year to complete a day.
Notably, the Day for Dubai initiative was launched by none other than His Highness Sheikh Hamdan bin Mohammed bin Rashid Al Maktoum, Crown Prince of Dubai and Chairman of the Executive Council. Applicants may sign up for volunteering opportunities by downloading the Day for Dubai app via Google Play or App Store.
4. Engage Dubai
Engage Dubai is a volunteer programme managed by the Dubai Chamber's Centre of Responsible Business (CRB). Its objective is "to stimulate corporate involvement in community development" by engaging employees in various volunteering projects.
5. Volunteers.ae
Volunteers.ae is basically a portal that features volunteering opportunities across the UAE. It posts the criteria of volunteers needed alongside each opportunity, so that potential applicants may assess their availability and capabilities first before signing up. The volunteer activities are open to individuals, groups, and organizations.
6. National Volunteer Program for Emergencies, Crises and Disasters
Launched by the National Emergency Crisis and Disasters Management Authority (NCEMA), the National Volunteer Program for Emergencies, Crises, and Disasters invites volunteers to help out during emergencies, crises, and disasters. It is open to citizens as well as residents of the UAE.
7. Emirates Red Crescent
Founded in 1983, the Emirates Red Crescent is the UAE affiliate of the International Federation of Red Cross and Red Crescent Societies. It is composed of the Student Crescent, which includes elementary to secondary level students; the University Crescent, which is composed of university and college students; and Volunteers, which encompasses all members of society.
8. Takatof
Established by Emirates Foundation in 2007, Takatof is a nationwide volunteering initiative that encourages young people to join in voluntary activities. Its primary vision is to support and encourage volunteerism as a way of life, and as part of the UAE culture.
9. Sanid
Sanid is a volunteering initiative that was also established by Emirates Foundation, in coordination with the National Emergency Crisis and Disasters Management Authority (NCEMA). Among its activities is the training and preparation of UAE youth in responding to and management of crises, disasters, and emergencies.
10. National Fund
Established by a group of Emirati businessmen in 2016, the National Fund (also known as Sandooq Al Watan) supports Emiratis in terms of education, training, and business development. Among its goals is to provide career guidance to 10,000 Emirati students, as well as summer and winter courses to 1,000 Emiratis for the purpose of gaining work experience.
Volunteer Work in Dubai Hospitals
Due to the current health crisis, volunteers in hospitals are highly needed, including healthcare professionals and those who are willing to make blood donations. Among the hospitals/health organizations in need of volunteers are the following:
11. Rashid Hospital
Established in 1973, Rashid Hospital is one of the oldest hospitals in Dubai and is part of the Dubai Health Authority (DHA). If offers volunteer opportunities not only for healthcare professionals, but also those who can help by supporting medical staff in the different departments of the hospital.
12. DHCA Volunteering Program
The DHCA Volunteering Program was recently launched by the Dubai Healthcare City Authority (DHCA) — the governing body of Dubai Healthcare City (DHCC) — as part of their response to the current health crisis. Basically, it connects DHCC-based hospitals with healthcare professionals who desire to contribute their expertise.
13. Medecins Sans Frontieres (Doctors Without Borders)
The UAE Regional Office of Medecins Sans Frontieres was established in Abu Dhabi in 1991, though it is currently based in Dubai. Aside from healthcare professionals, it accepts volunteers who can help in carrying out administrative work, events, and various activities.
Volunteer in Dubai for Students
As mentioned earlier, some Dubai organizations accept student volunteers, including:
14. Dubai Cares (for Young Volunteers)
Dubai Cares typically accepts volunteers who are above 16; however, it is also open to those who are below 16 years old — provided that they are accompanied by a parent or guardian during a volunteering activity.
15. Student Crescent (under Emirates Red Crescent)
The Emirates Red Crescent includes a Student Crescent category, which is composed of students from elementary to secondary levels. Student Crescent groups are typically established in the beginning of the school year, during which they participate in training courses such as "First Aid" and "International Humanitarian Law."
Animal Rescue Volunteers
If you love animals, you'd be happy to know that there are Dubai groups dedicated to rescuing, fostering, and putting up rescued animals for adoption. Among these are:
16. K9 Friends
K9 friends was established in 1989 as a rescue organization that helps re-home stray and abandoned dogs in Dubai. Aside from providing shelter and veterinary care to these dogs, the group also helps in reuniting lost dogs with their owners.
17. Protection of Animal Rights Association (PARA) UAE
Previously called the Dubai Animal Welfare Society (DAWS), the Protection of Animal Rights Association (PARA) UAE is dedicated to rescuing, fostering, and re-homing animals. The group also operates a "trap, neuter, and release" (TNR) programme to help manage free-roaming animals, such as stray cats.
18. Kitty Snip
As the name implies, Kitty Snip is devoted to helping the cat population in Dubai. Aside from operating a trap, neuter, and release (TNR) programme, it also helps in re-homing adorable cats with loving families.
Event Volunteer Jobs
Every now and then, there is an event in Dubai that calls for volunteers who are keen on gaining experience. Among these events are:
19. Gulf Information Technology Exhibition (GITEX)
The Gulf Information Technology Exhibition (GITEX) is a trade show, exhibit, and conference that takes place annually at the Dubai World Trade Centre (DWTC). Featuring the latest in computers and electronics, the event attracts thousands upon thousands of participants each year, including consumers, students, IT professionals, traders, and technology enthusiasts.
20. Expo 2020 Volunteers Programme
The Expo 2020 Volunteers Programme is part of the upcoming Expo 2020 Dubai, a World Expo to be hosted by the emirate. The event was originally scheduled for October 20, 2020 to April 10, 2021. Due to the current crisis, however, the event has been rescheduled to take place on October 1, 2021 to March 31, 2022.
So far, a total of 139 countries will be participating in the global event, which will be held in a 438-hectare area near Dubai's southern border with Abu Dhabi. It features a central plaza, Al Wasl, surrounded by three enormous districts based on the sub-themes of Expo 2020 Dubai — the Opportunity, Mobility, and Sustainability Districts.
How to Volunteer in Dubai
As you can see, there are plenty of volunteering opportunities in Dubai, depending on your knowledge, skills, and availability. Simply visit the website of the organization you're interested in to see how you can apply and register as a volunteer.
If you're not sure about where to apply as a volunteer, we suggest you contact the Community Development Authority (CDA), which manages and regulates volunteering activities in Dubai. You can call them on 800 2121 or visit CDA's official website.
For more information about volunteering in Dubai and other emirates, you should check out the UAE Government Portal as well.
Based on the above list, we hope that you find a volunteer opportunity that is close to your heart, making your stay in Dubai filled with purpose, meaning, and wonderful memories! Indeed, as the old saying goes — to give is better than to receive — and volunteerism is one way of expressing our love and care for those who need it the most.