Amid the panic and danger posed by the coronavirus outbreak, some people brave and man the frontlines to protect and to keep as many as people as safe as possible. These are our healthcare workers, our front-liners in this war against the coronavirus. 
Also Read: UAE Quarantine Violators can face AED 100,000 Fine and 5 Years Jail Time
Acknowledging the risk they are subjected to and their importance in society especially during these times, His Highness Sheikh Mohammed bin Rashid Al Maktoum, Vice President and Prime Minister of the UAE and Ruler of Dubai, has launched an online campaign to thank healthcare workers in the UAE.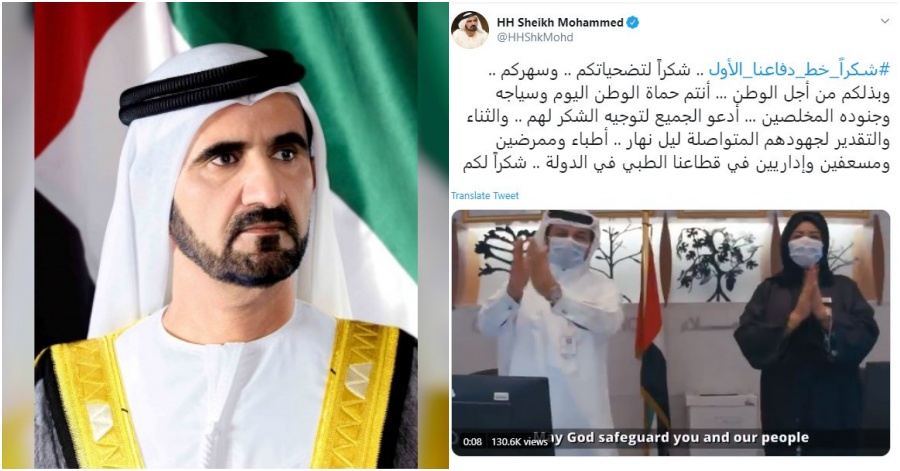 Sheikh Mohammed Thanks Health Workers in the UAE
Taking his announcement to Twitter, Sheikh Mohammed urged UAE residents to thank doctors, nurses, paramedics, and hospital administrators. Residents can express their gratitude with #ThankYouHeroes, as shared in a report by the Khaleej Times.
In line with this, Sheikh Mohammed shared a video that showed the chaotic circumstances healthcare workers toil under. 
One scene showed a healthcare professional leaving his phone on a table as he rushes to assist an emergency case. A WhatsApp photo he received shows a girl celebrating her birthday captioned: "We wish you were here." His reply – "Tell her that I miss her" – remained unsent.
Another scene shows a worker pasting a child's drawing with the words "I love mummy" on her locker.
The video closes with police officers, officials, residents, and healthcare workers applauding.
The UAE ruler's tweet reads: "Thank you, our first line of defense. Thank you for your sacrifices and your watchfulness for the sake of the country. You are the protectors of the homeland today and its loyal soldiers."
Encouraging everyone to take part in this endeavor, Sheikh Mohammed added: "I invite everyone to thank them [our front-liners] and appreciate for their continuous efforts."
Here is a video of the campaign recently launched by Sheikh Mohamed:
#شكراً_خط_دفاعنا_الأول .. شكراً لتضحياتكم .. وسهركم .. وبذلكم من أجل الوطن … أنتم حماة الوطن اليوم وسياجه وجنوده المخلصين … أدعو الجميع لتوجيه الشكر لهم .. والثناء والتقدير لجهودهم المتواصلة ليل نهار .. أطباء وممرضين ومسعفين وإداريين في قطاعنا الطبي في الدولة .. شكراً لكم pic.twitter.com/CcJdGSXpfQ

— HH Sheikh Mohammed (@HHShkMohd) March 24, 2020
Meanwhile, Dubai's Crown Prince, Sheikh Hamdan also urged everyone to 'recognize the seriousness of the new reality' and that the coronavirus is a 'real threat to each one of us'. 
In a series of tweets, the Crown Prince of Dubai sent a powerful message to his people asking them to take the situation seriously by staying at home and practicing social distancing out of necessity. 
Earlier this week, the UAE government has enforced various measures to restrict social interactions and movement in public places. These initiatives aim to contain the spread of the virus within communities and to curb the number of deaths in the country, which currently stands at 2, as of March 21.
ALSO READ: Mosques, Churches, Temples, and Prayers in Worship Places Closed for Four Weeks