Focused on their goal to bring the country a medal for the upcoming FIBA World Cup in China starting end of August, the Gilas Basketball Team has embarked on a trip to Spain for a training camp and to play tune-up matches against formidable foes from the region.
Despite their commitment and eagle-eye focus, the team also deserve a small break once in a while, and they certainly had that when they made a quick stopover in Dubai before going on their long flight to Spain.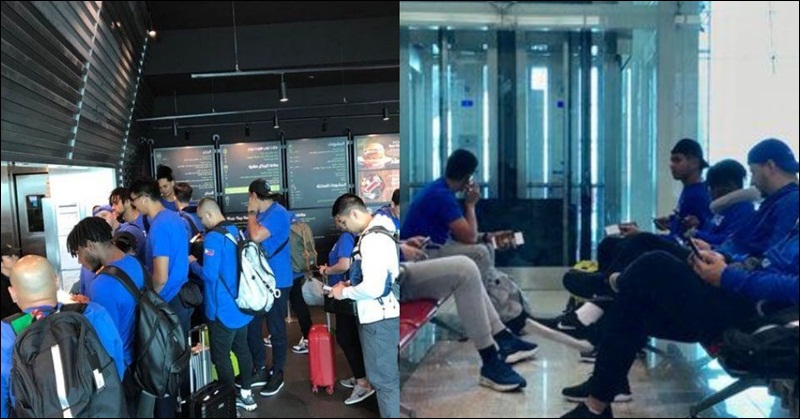 PH Gilas Basketball Team Stops Over Dubai on Way to Spain
Several hours prior their arrival in Spain, the Gilas Pilipinas Team had a chance to have a little snack at a fastfood chain located inside Dubai's airport for their connecting flight to the Southern continent.
#GilasGritAndGrind : Our Boys stops over in Dubai before the long trip to Spain! #SBP #GilasPilipinas #ParaSaBayan #LabanPilipinas pic.twitter.com/xzqaMQpTKr

— SBP (@officialSBPinc) August 4, 2019
#GilasGritAndGrind! The #GilasPilipinas Boys getting "shack" snack after a long trip! #SBP #LabanPilipinas #ParaSaBayan pic.twitter.com/BnxvYZVMwF

— SBP (@officialSBPinc) August 4, 2019
The 11-man team led by big man Andray Blatche were seen busy holding their phones and relaxing a couple of hours before their tune-up game in Spain.
The team left Manila early Sunday morning for a seven-hour flight to Spain, where they will undergo an eight-day training camp.
The team landed without any hassle in Spain around past 3 pm on the same day.
Although there are 11 players who were fielded in the trip including Gabe Norwood, Mark Barroca, CJ Perez, Robert Bolick, Paul Lee, Poy Erram, Japeth Aguilar, Matthew Wright, Beau Belga, as well as Blatche, college baller standout Kiefer Ravena was not allowed to play friendly games because of his FIBA suspension.
Following their tune-up games, the team will be competing in a pocket tournament in Malaga.
Team Gilas will be taking on Congo for the right to face the winner of the other match between the global basketball power Spain and Ivory Coast.
In the lead-up to the Spain trip, Gilas bolstered its preparations by holding daily practices and is expected to continue doing so when it returns back to the country.
The FIBA World Cup will take place from Aug. 31 to Sept. 15 in China.
The nationals are bracketed in Group D along with Serbia, Italy, and Angola in the opening round.
The short carefree moment spent in Dubai is a foreshadowing of the intense days ahead for the nationals, and National team Head Coach Yeng Guiao acknowledges this and said, "This is a time we can focus 100% on what we need to do on the system we want to set up. There is also good competition there (Spain) so we can gauge where we are in our preparation and if we are ready enough."
Let's all cheer on and support our Philippine men's basketball team in their upcoming games, and hope that they bag home their prized goals, whatever that may be – which we are all going to be very proud of.
ALSO READ: PHL Consulate to Host a Basketball League to Promote Camaraderie for Dubai Expo 2020