With the recent announcement of the Eid holidays in the UAE (starting June 4), residents in the UAE have been busy preparing for the customary activities held throughout this period.
In this post, we will share some information regarding the practices Muslims have in the UAE to celebrate Eid this year. And while non-Muslims may have other plans for this break, especially after the month-long observance of Ramadan, which is characterized by long prayers and fasting, which also means little food to go around during the day, the Eid Al Fitr which means "Festival of Breaking the Fast" is a special time for everyone to celebrate and to spend time with family and loved ones.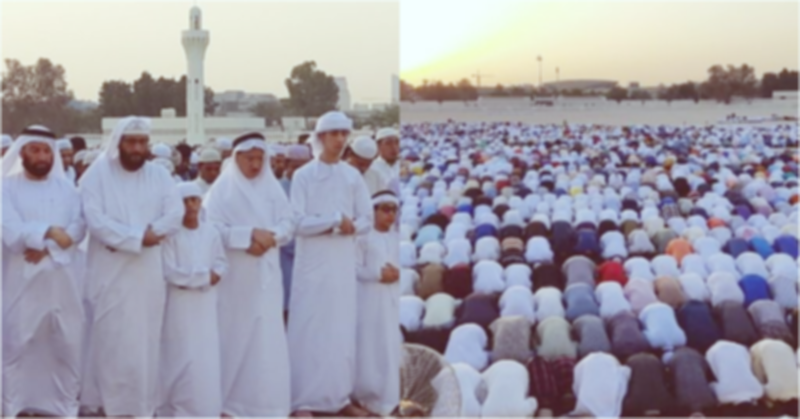 [VIDEO] Muslims in UAE Celebrate Eid Al Fitr
On the official date of Eid Al Fitr in the UAE, thousands of Muslim devotees arrived at mosques early in the morning to offer Eid prayers, as shared in a report by the Khaleej Times.
Not just in the UAE, but Muslims all over the world begin Eid celebrations by partaking in communal dawn prayers, followed by a short sermon.
People then exchange greetings and warm congratulations with one another as they head home after Eid prayers.  Muslims spend the rest of the day then visiting relatives and neighbours and accepting sweets as they move around from house to house. Children, dressed in new clothes, are offered gifts and money to celebrate the joyous occasion.
But before this, Muslims perform their Islamic duty of giving alms to the poor, also known as "zakat", which is one of the five pillars of Islam.
Out in the streets, it is common for the capitals of Muslim-majority countries to decorate public places with festive lights and hold carnivals to commemorate the end of the holy month.
Each country also has its own traditional desserts and sweets that are prepared before Eid or on the morning of the first day. These foods range from special biscuits and bread to cakes and puddings.
On the first day of Eid Al Fitr, Muslims are generally prohibited to perform voluntary fasting because they are encouraged to feast and celebrate the completion of a month of worship and abstinence from food.
Here is a short video showing how Muslim residents in the UAE usher in the Eid holiday:
 In some countries though, families visit graveyards to offer their respects to family members who have departed.
Regardless of one's faith, it's considered common courtesy to greet the people around you with "Eid Mubarak" (Blessed Eid) or "Eid sa'id" (Happy Eid), as a sign of peace and goodwill.
ALSO READ: These Cinemas Will Operate for 24 Hours in UAE during Eid Break