Last month, the UAE government introduced the Golden Card as part of the "Investors Permanent Residence System," which grants permanent residency to qualified investors, entrepreneurs, and individuals in the country.
ALSO READ: Chairman of Lulu Group Int'l Donates AED 3.56 Million to Kerala Flood Victims
On Monday, June 3, the Federal Authority for Identity and Citizenship (ICA) issued the first Golden Card. Brigadier Saeed Salem Al Shamsi, Executive Director of the General Directorate of Residency and Foreigners Affairs (GDRFA) in Abu Dhabi, awarded it to Yusuff Ali M.A., Chairman of Lulu Group International and Board Member of the Abu Dhabi Chamber of Commerce and Industry (ADCCI).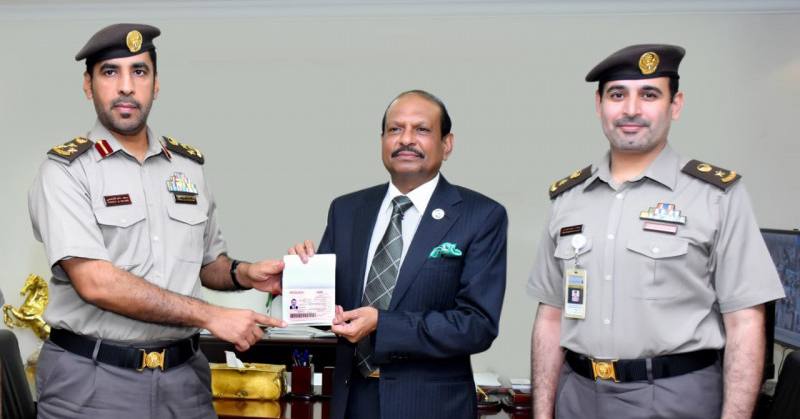 First UAE Gold Card Issued to Yusuff Ali M.A.
According to the ICA, the first batch of 6,800 investors who have AED 100 billion worth of investments shall be granted the Golden Card, WAM News Agency reported. The authority has also been communicating with investors outside the country, enticing them to take advantage of the UAE's social and economic advantages while staying here with their families.
Earlier this year, the UAE Cabinet approved the long-term visa system, which grants five or 10-year residence visas to investors, entrepreneurs, and outstanding students, as well as specialists in the scientific, medical, research and technical fields. In fact, 20 scientists — winners and finalists of the Mohammed Bin Rashid Medal for Scientific Excellence — were granted the first batch of long-term visas in January.
For investors, the long-term visa falls under two categories: a five-year visa for those who have property valued at AED 5 million or more, and a 10-year visa for those who've made public investments worth AED 10 million or more. For both categories, the following conditions must be met by each investor:
Amount invested should be wholly owned and not loaned
Investment retention of at least three years
Standard financial liability with financial solvency not exceeding AED 10 million
The long-term visa may be extended to the investor's family (spouse and children), business partners (with each partner contributing at least AED 10 million), one executive director, and one advisor. Notably, the UAE Cabinet's decision also allows investors to enter the UAE on a six-month multiple entry visa.
ALSO READ: Gov't to Grant Long-term Visas for Best 100 Arab Start-ups in Support of the 4IR
Congratulations, Yusuff Ali M.A. and to all future holders of the UAE Golden Card! Indeed, many people shall benefit from this system. Meanwhile, 6,000 investors and entrepreneurs applied recently for long-term visas, which will surely benefit the country in the long run.