There will be a public holiday in the UAE coming up in the UAE and it will be on 11 December – Sunday. This is in celebration of the birth of Prophet Mohammad. In line with this, it will be another long weekend for both UAE public and private sector. This is also a great time in case you are planning to go on a short vacation outside the country.
UAE residents will get a day off from work on December 11 and work will continue on December 12 – Monday. This is based on a circular by the Federal Authority for Government Human Resources.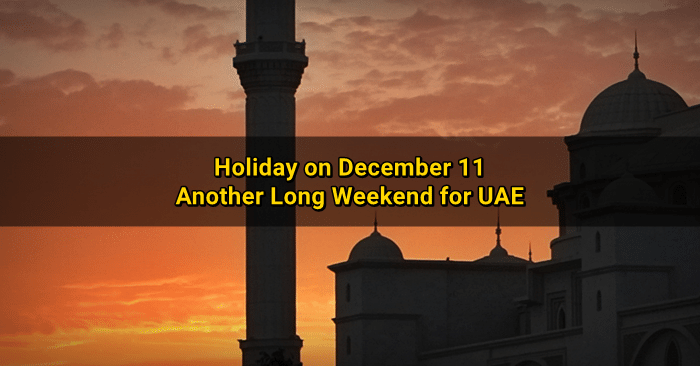 December 11 Declared as UAE Holiday – Birth of Prophet Mohammad
Below is a Tweet from the by UAE Ministry of Human Resources and Emiratisation (MOHRE) confirming the said holiday to mark the celebration of the Prophet's birth.
Sunday (December 11th, 2016) confirmed holiday to mark the Prophet's date of birth #UAE pic.twitter.com/W7KN0EyqxT

— MOHRE_UAE (@MOHRE_UAE) December 7, 2016
Other News:
GulfNews – http://gulfnews.com/news/uae/government/uae-declares-both-public-private-sector-holiday-on-sunday-for-prophet-s-birthday-1.1941531
The National – http://www.thenational.ae/uae/long-weekend-for-uae-to-mark-prophets-birthday