Great news for UAE residents owning a valid Emirates ID and are travelling. You can avoid the long passport clearance queues by using the Smart E-Gate service in the airport (Terminal 3) and using your Emirates ID card. This is the fastest way to breeze through Passport Control.
It makes it easier for travelers (and residents in Dubai) as it will surely save most of our time staying in the airport. It's amazing that we are now seeing the worth of the additional Dhs35 terminal fee when leaving Dubai airport.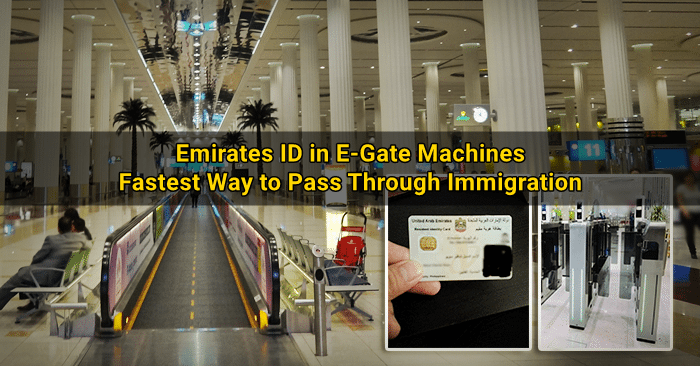 How to Use E-Gate Terminals with Your Emirates ID
Normal Process: The normal process enables the traveller to go through immigration control where the officers will get your passport and plane ticket and stamp it when leaving/entering UAE.
E-Gate Process: With the E-Gate service, you can simply use your existing Emirates ID and swipe it at the E-Gate machines. It only needs a single swipe and there are over 28 e-gate machines at Terminal 3. This service is for FREE and requires NO pre-registration.
Major General Obaid Muhair Bin Surour, deputy director-general of the GDRFA, informed Gulf News that the new service will be available to all residents and citizens who already carry an Emirates ID card. This was initially implemented at Terminal 3 (Emirates Airline), which currently has 28 e-Gates.
"The new project has been implemented in cooperation with the Emirates Identity Authority to further improve our services and ensure a pleasant and smooth experience for all passengers," he said.
He also added, "The service will soon be activated in all other terminals as well. As part of the first phase, we have implemented it at the arrival wing of Terminal three, but in the following phases of the project, the service will be activated in Terminals one, two, and three at both the arrivals and departures wings,".
——————–
Do you want to bypass the long queues and passport clearance controls procedure as you arrive in the airport? All you've got to do is to secure your Emirates ID card, keep it handy and boom! You're done in just seconds!
So, what are you waiting for? Try it yourself. This new feature just add up another excitement for a swift getaway this weekend.