My colleague lost her coin purse which contained her Emirates Residence ID. This was a big problem in Dubai because the Emirates ID is one of the most important identification cards you have to carry in this city. Basically, the Emirates ID is an identity card issued by the UAE government to the country's citizens and residents. It is mandatory for all citizens and residents to apply for this ID, and you need to bring it with you everywhere you go.
Using your Emirates ID, you can apply for a driving license, process medical insurance, rent an apartment, apply for utility connections, and do many other things. As you can see, the Emirates ID is a truly important document. Whether you are a UAE citizen, a GCC national or an expat/foreigner residing in the UAE, you must carry the ID with you at all times.
Emirates ID Replacement Fee: 300 Dirhams
If you plan to apply for a replacement for the lost National ID, then you'd have to pay a whopping 300 AED for it. Aside from the money you have to shell out, the hassle of reapplying is an added pain in the head.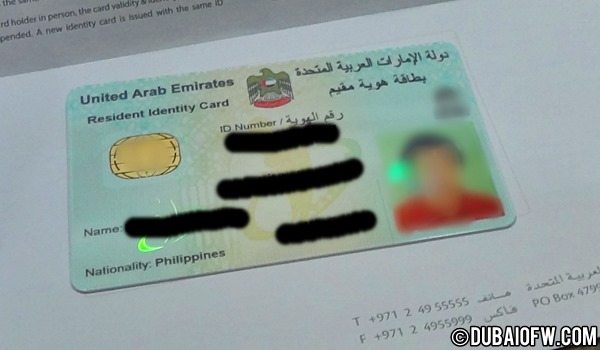 UAE Residence ID – always keep it!
What is an Emirates ID and How to Replace it?
The Emirates ID (or UAE ID) is an identification card issued by the Federal Authority for Identity, Citizenship, Customs, and Port Security (ICA). Aside from being a proof of identity, the card also serves many uses. But what if you lose your Emirates ID? What can you do to have it replaced as soon as possible?
In order to replace your Emirates ID, you need to follow three basic steps: (a) report the incident; (b) apply for Emirates ID replacement; (c) pay the fees; and (d) get your new Emirates ID. Please take note that this process is not the same as renewing your ID. Your ID replacement will have the same expiry date as your lost Emirates ID.
1. Report the Incident
Before anything else, you will need to report the incident so that your lost Emirates ID can be deactivated immediately, so that it can no longer be used. Simply go to the nearest ICA service centre. You can also go to the nearest Customer Happiness Centre, or to any authorised typing centre to report the incident.
At the centre, you can also ask for a copy of your lost ID (or a stamped certificate of your ID number), which you can use while applying for a new Emirates ID card. This process may be completed in less than 5 minutes, and you can use the certificate while waiting for your Emirates ID replacement to be issued. Isn't that great?!
When reporting a lost Emirates ID, you must bring certain documents as proof of your identity, as follows:
If you are a UAE citizen, bring your valid original passport and family book.
If you are a GCC national, bring your valid original passport and any original document indicating your residence in the UAE (e.g. employment certificate, marriage contract, real estate lease contract, commercial license, ownership contract, school registration certificate, certificate of dependency, etc.).
If you are an expat or resident, bring your valid original passport and valid residency permit.
If the applicant is below 15 years old, the parents must provide their child's original birth certificate and a passport-sized photo (coloured, on white background). The minor applicant does not need to visit the service centre.
2. Apply for Emirates ID Replacement
After reporting the incident, you can apply for the replacement of your lost Emirates ID as soon as possible. You can do this through the following ways:
Fill up an application form for "replacement of damaged or lost card" at the nearest Customer Happiness Centre or at an authorised typing centre;
Fill up an eForm (online form) on the ICA official website; or
Submit an application form through the ICP UAE mobile app, which is available on Google Play and App Store platforms.
3. Pay the Fees
Upon submitting your application form, you will also need to pay the fees. Here's a list of the necessary charges:
AED 300 – Fee for replacement of the lost Emirates ID;
AED 70 – Additional fee if you are applying through a typing centre;
AED 40 – Additional fee if you are applying through an eForm on the ICA website; and
AED 150 – Fee for express ID replacement, if you are applying through a Customer Happiness Centre.
4. Get Your New Emirates ID
After submitting your application and paying the fees, you will receive a text message confirming your application and indicating the expected delivery date of your new card.
Typically, it takes 2 working days (or 48 hours) for the new Emirates ID to be issued, from the time of submitting your application. On the other hand, if your opted for express service, your new card could be issued within 1 working day (or 24 hours) from the time of application.
You can collect your new Emirates ID from your local post office (Emirates Post). To follow up your card, you can contact Emirates Post by calling 600-599-999. Likewise, you can get in touch with ICA by calling 600-522-2222 or 600-530-003, or by sending an email message to contactus@icp.gov.ae.
DISCLAIMER: The above guide is presented for general, information sharing services only. To know more about how you can replace your lost Emirates ID, please visit the official website of ICA and the UAE government portal.
ICP UAE Smart App
As mentioned earlier, one of the ways in which you can apply for an Emirates ID replacement is through the ICP UAE mobile app. This is an app that enables UAE citizens, residents, and visitors to access the services of the Federal Authority for Identity, Citizenship, Customs, and Port Security online.
Aside from being able to apply for Emirates ID replacement, you can access many other services through the ICP UAE smart app. These include the following: payment of visa fines, printing of the family book, passport renewal (for citizens), application for residence entry permits for family members, renewal of residence permits for family members, application of visit visas for relatives, checking residence and entry permit status, application for cancellation of residency for those under sponsorship, and many more.
Replacing a Damaged Emirates ID
Let us suppose that your Emirates ID is not lost, but it has accidentally been damaged. What can you do? Notably, the requirements, fees, and process for replacing a damaged Emirates ID is actually the same as replacing a lost ID. The only additional requirements is that in the case of damaged Emirates IDs, bring your old ID card with you to the Customer Happiness Centre or typing centre.
Take Care of Your Emirates ID
Going back to my colleague, she mentioned that she went to the Juice World shop in Al Rigga and must have left it there while buying a fruit shake. It took some time before she was able to contact the staff in Juice World and when she did, they confirmed that her coin purse was there.
She was so ecstatic to hear the news that her Emirates ID was not lost after all. Even if she would lose the rest of her discount cards and money, so long as the National ID was there, it would be fine. She went out during her lunch break to the metro station and claimed her purse. To think that the staff didn't even accept her tip as a reward!
So to every Filipino in Dubai, actually to any Dubai expat, always keep your Emirates ID at all times and guard it. It's very important!
READ NEXT: How to Renew Your Emirates ID (Resident Identity Card)
Contact Information
Federal Authority For Identity and Citizenship
Head Office Address: Street 12, near Al Forsan Resort, Abu Dhabi, United Arab Emirates
Telephone Number: 600522222
Website: https://icp.gov.ae/
Facebook: https://www.facebook.com/UAEICP
Twitter: https://twitter.com/icauae