In most countries, you will find street food vendors selling all sorts of goodies. Now how would you like to have that same experience… in a five-star hotel, right here in Dubai?
Also Read: Benjarong Royal Thai Cuisine Restaurant
24th St. is a "street food style" centre located in Dusit Thani Dubai, a five star hotel in the heart of the city. Here, you can try not only one, but several kinds of international dishes, including Japanese, Korean, Chinese, and Indian, Arabic and Italian fare. How's that for a gastronomic experience?!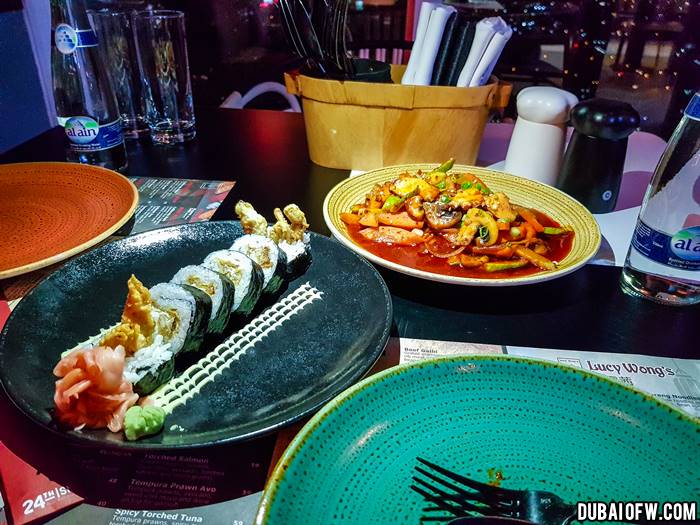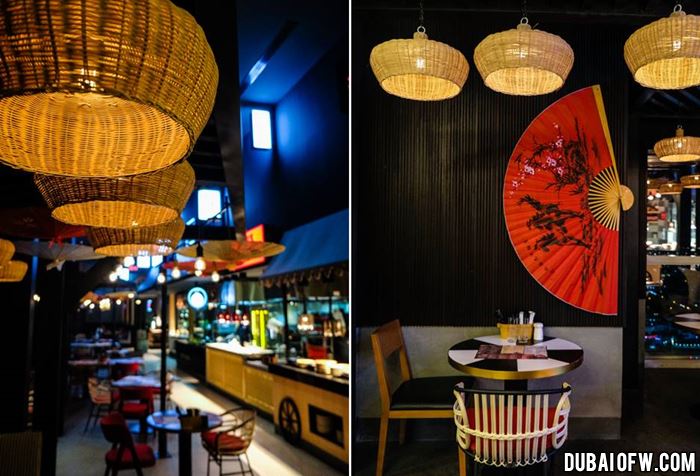 Hawker Centre Street Food Delights at 24th St. in Dusit Thani Dubai – Restaurant Review
"Taste your way around Asia and the world" at 24th St. in the luxurious Dusit Thani Dubai. Just recently, the centre added an Arabic and Italian "kitchen" to its roster of street food stalls. Let's take a closer look at what this place has to offer, shall we?
Street Food Dining, High Above the City
Situated in — you guessed it — the 24th floor of Dusit Thani Dubai, 24th St. offers amazing views of the city, including the towering Burj Khalifa and the bustling Sheikh Zayed Road. True to a "street food" setting, there are individual stalls cooking up delicious food from all over Asia, served on tables where groups can come together and enjoy the evening.
Same Place, Different Cuisines
As cited earlier, 24th St. features several "kitchens:" Momo San (Japanese), Kim's Korean, Lucy Wong's (Chinese), and Chatakana (Indian). Starting July 2019, two more kitchens were added… Ali's (Arabic) and Mario's (Italian). That's a lot of good food, all in one place!
At Momo San, guests can sample Japanese fare, including Edamame Yakiudon (stir-fried udon noodles with veggies, tonkatsu, soya sauce) and Yakitori (grilled chicken skewers in teriyaki sauce). Of course, they can also have their fill of California Maki and Tempura Rolls.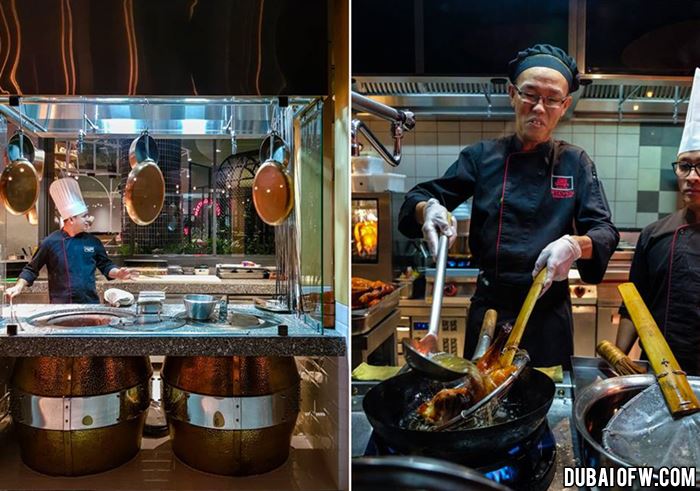 Meanwhile, Kim's Korean serves Japchae (stir-fried glass noodles with beef, mushrooms, veggies) and Bulgogi (stir-fried marinated beef with carrots, mushroom, zucchini). You may also want to try Jajangmyeon, which are flat noodles with minced beef and black bean sauce.
Chinese food enthusiasts should head to Lucy Wong's and get a taste of their Roasted "Ma Lak" Chicken (served with garlic onion spicy sauce), Chili Crabs, and Char Kuey Teow Noodles, which are served with Chinese sausage, prawns, bean sprouts, eggs, and chives.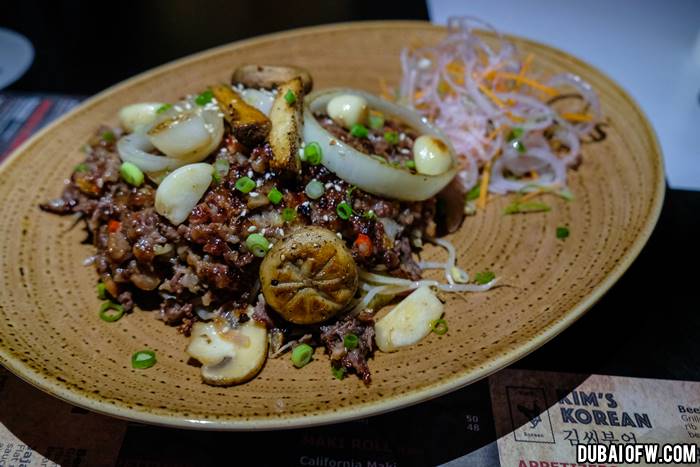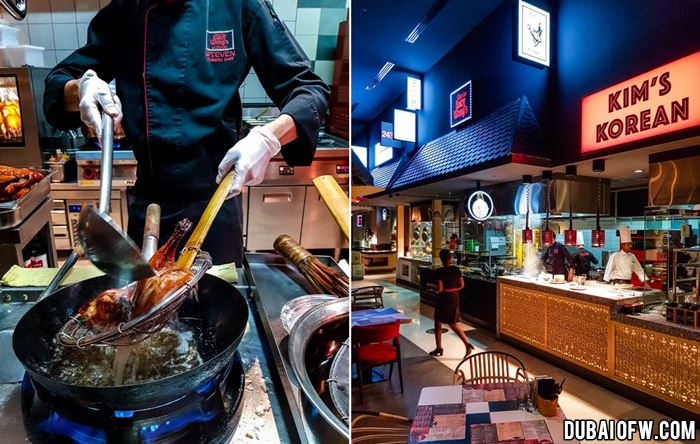 If you've never tried Indian street food before, Chatakana is ready to cook up some Punjabi Samosa (savory pastry stuffed with spiced potatoes, green peas) and Tandoori Chaap (lamb chops marinated with ginger garlic and yoghurt), among other delicious goodies.
Finally, the newly-opened Ali's offers a wide selection of Arabian food (e.g. Kebab, Lamb Kofta, and Shish Taouk), while Mario's serves Italian cuisine, including chicken tikka pizza and creamed Arborio rice with mushrooms and white truffle oil, just to name a few.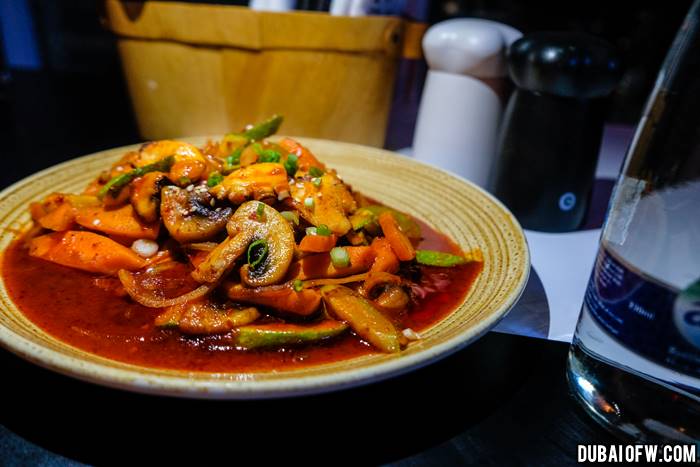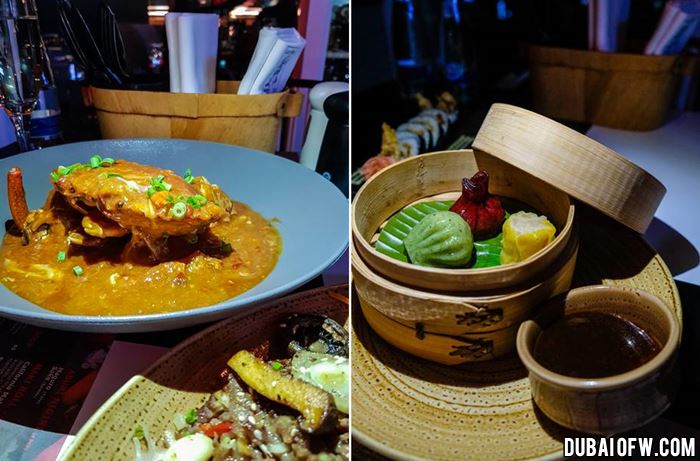 Aside from all of these good eats, 24th St. serves beer, wine, Japanese Sake, Korean Soju, and other beverages. Fresh juices, smoothies, milkshakes, coffees, and teas are also available.
Video: 24th St. at Dusit Thani Dubai
Check out this video of 24th St. below and see what all the fuss is about! This will definitely showcase what you can expect from this restaurant:
Opening Hours
The timings at 24th St. are as follows:
Sunday to Thursday: 12 pm to 3 pm (lunch); 7 pm to 11:30 pm (dinner)
Friday Brunch: 12:30 pm to 4 pm
Saturday Brunch: 12 pm to 3:30 pm
Notably, there is an ongoing promo, "Asian Night Wednesdays," which serves a buffet of Asian dishes from 7 pm to 11:30 pm every Wednesday. Price is only AED 129 per person this summer (until 28th August), down from its original price of AED 249.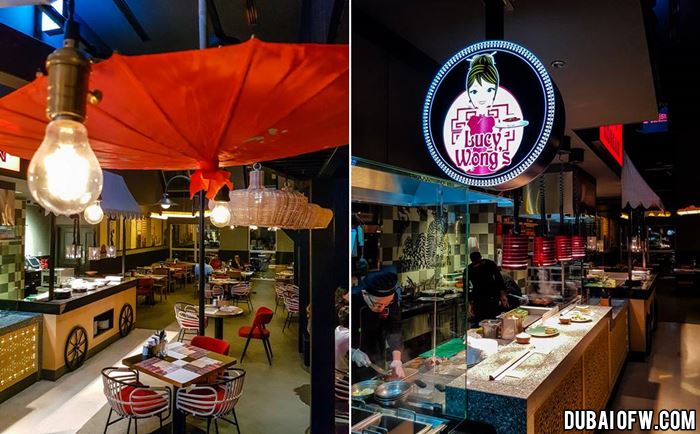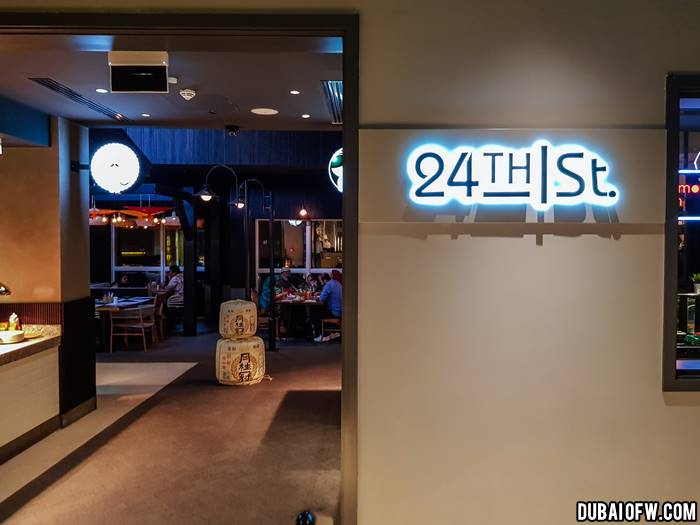 Contact Information – 24th St.
Address: Dusit Thani Dubai, 133, Sheikh Zayed Road, P.O. Box 23335, Dubai, UAE
Telephone: +971 (4) 317 4515
Website: https://www.dusit.com/dusitthani/dubai/dining/24th-st/
Google Map
Check out this location map guide to Dusit Thani Dubai. 24th Street is in the 24th floor of the hotel:
If you're looking for a unique, "street style" dining experience, then 24th St. sounds like the perfect place! On the other hand, when you're not sampling international cuisines, here's a list of things to do in Dubai that you should try at least once during your stay in the UAE!