Under the initiatives set by the national government, cities within the UAE are keen at developing new facilities and programmes that would help boost the country's economic performance, as well as the improvement of target sectors for economic growth including agricultural technology and tourism, among others.
As such, there have been special events and promotions announced that would draw in more guests and tourists in the country to help boost its economy, including travel discounts and special promotions to tourist destinations, as well as special events held in various emirates.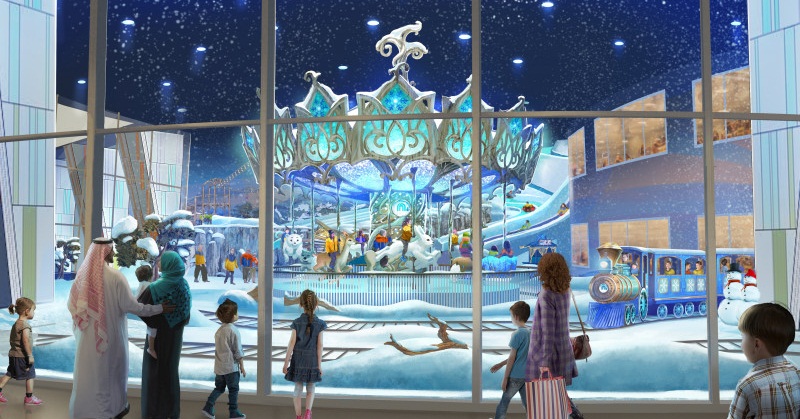 "World's Largest Snow Park" to Open in Abu Dhabi Soon
In line with this, the UAE's Capital will soon welcome visitors to Blizzard's Bazaar, Snowflake Garden and Flurries' Mountain, which are just a few of the unique attractions at Snow Abu Dhabi, when the attraction opens on Reem Island in late 2020, as shared in a report by WAM.
The snow play park, which is set to become the world's largest destination of its kind – is among the many leisure and entertainment projects being explored by the Al Farwaniya Property Developers, Majid Al Futtaim Ventures and Thinkwell at the $1.2 billion Reem Mall development.
The 125,000-sq-ft destination will feature a total of 13 rides and attractions and will simulate a snow fantasy world with a wide range of activities spread across several unique zones. In each zone, visitors will find a distinct variety of activities hosted by some of the land's fantastic characters.
The construction of Reem Mall began in late 2017 and is anticipated to be complete by late 2020. The retail, dining and leisure destination will offer 2 million-sq-ft of leasable area comprising of 450 stores, including 100 dining options and a range of entertainment options.
The new facility will provide additional travel and entertainment options for visitors coming from various parts of the world, especially during the holidays.
Aside from other amazing themed locations in the country as well as great nature spots, having the world's largest indoor snow park will surely raise the bar in terms of entertainment and the variety in offerings provided by the UAE to residents as well as foreign guests.
Furthermore, the exciting development will also position the UAE as one of the family-friendly destinations in the world, as it has also now introduced a special visa status for dependents of residents, who may want to stay in the country with their family for a certain period of time.