Just the other day, we talked about a "fake bank" that claimed to offer easy loans in Dubai. Today, we are going to mention not only one — but 33 illegal activities — specifically targeting Filipino investors both inside and outside the Philippines, including the UAE.
ALSO READ: Abu Dhabi Police Share 5 Tips to Avoid Online Scams
Based on information released by the Philippines' Securities and Exchange Commission (SEC), the Philippine Embassy in Abu Dhabi has issued an advisory warning the Filipino community about investment schemes that entice people to invest in "high-earning" products.
Philippine Embassy Issues Advisory on Investment Scams
Due to several alleged investment scams that have been spreading online, the Philippine Embassy in Abu Dhabi has issued Public Advisory No. 11-2019, which advises Filipinos in the UAE to be more careful when engaging in investment activities.
The advisory includes a list of 33 entities that have been identified by the SEC as illegal investment-taking activities. These entities have not secured prior registration and/or license to solicit investment as prescribed by the Securities Regulation Code. Hence, these entities are not licensed to solicit investment from the public, and anyone who tries to invite/recruit other people to join them may be held criminally liable.
"The Filipino community in the UAE is hereby advised to exercise prudence before joining or investing their hard-earned money in high-earning products, especially if solicited through the use of social media," Philippine Ambassador to the UAE Hjayceelyn Quintana stated in the advisory, as shown below: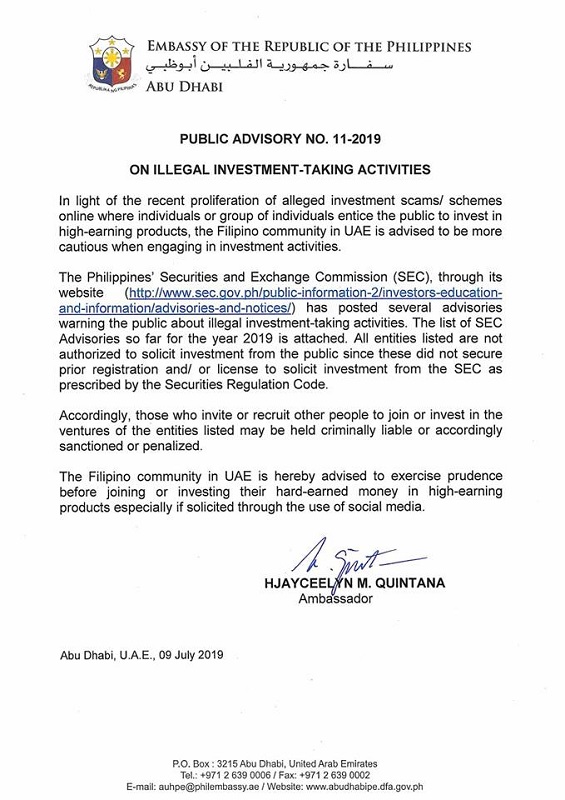 List of Illegal Investment-taking Activities
As of 2019, here are the entities identified by the SEC as illegal investment-taking activities:
ADA FARM AGRI VENTURES ("ADA FARM")
ALMAMICO (Alabel-Maasim Small Scale Mining Cooperative)/ALAMCO (Alabel-Maasim Credit Cooperative)
ANGEL INVESTOR GROUP, INC.
BCC/BCC COSMETICS TRADING
BCT MARKETING/BCT MOTORCYCLE AND CAR TRADING
BITRAIN
BROILERPRENEUR CORPORATION
CIRFUND
COOPHUB MULTIMEDIA SERVICES
CROWD ROYALS
DIAMOND MARKETING
DV BOER FARM CORPORATION
EVER ARM ANY MARKETING
FMARKET
FUSION MARKETING
GLOBAL DREAM ZION
GRAPPLER
JOGLE INNOVATIVE MARKETING
KAPA-COMMUNITY MINISTRY INTERNATIONAL, INC. ("KAPA")
LDT AGRO INDUSTRIAL HUB CORPORATION ("LDT"), in partnership with NUTRIWEATH MULTIPURPOSE COOPERATIVE ("NMPC") now VCM-NW CORPORATION ("VCM-NW")
MGA BUSINESS ENTEPRISES
NERMIE MARKETING/NERMIE HEALTH AND BEAUTY PRODUCTS TRADING
NORTH EAST LUZON FOUNDATION, INC.
ONEPRO
PAYSBOOK E-COMMERCE SYSTEM CORPORATION ("PAYSBOOK")
RIGEN MARKETING ("RIGEN")
RTM/RTM PHARMACY AND GENERAL MERCHANDISE
SHERPAN
TCOIN
UNITY WEALTH MARKETING/UWEALTH PREMIUM/UNITYWEALTH 100
UNLISHOP COMPENSATION PLAN MARKETING ("UNLISHOP")
VIBEARN
VUCC
Tips to Avoid Investment Scams
To help the public avoid such scams, the SEC shared some tips on its website, including the following:
Get the

complete name and contact information

of the person/company making the offer.
Ask for a

landline telephone number

. Do not accept a mobile phone number because this can easily be changed by the owner.
Ask for the

SEC Registration

as an investment taker. Remember that only SEC-registered persons/companies may offer SEC-registered securities to the public.
Check and verify the name of the company as posted on the SEC official website.
If the person/company is not listed as an SEC-registered entity, do not hesitate to report it by contacting the Philippines' Securities and Exchange Commission via:
Email: epd@sec.gov.ph
Telephone: +63 2 818 6337 / +63 2 818 6047
ALSO READ: Philippine Embassy Warns Against Investment Scam
In light of this information, we advise everyone to take note of these illegal investment schemes, so that you can protect your hard-earned money. After all, money doesn't grow on trees! Meanwhile, if you encounter similar scams here in the UAE, including those involving fake items, use the Dubai Consumer App to report about it to the authorities.