Have you ever been scammed into joining a fake contest? Unknowingly bought a counterfeit item or expired product in a grocery? Unwittingly surrendered your hard-earned money? You can report such cases right away, using the Dubai Consumer mobile app, Gulf News reported.
ALSO READ: Check Rental Cases of Landlords & Tenants Using "Rental Good Conduct (RGC) Certificate" Service
The Dubai Consumer app was created by the Commercial Compliance & Consumer Protection (CCCP) sector of the Department of Economic Development (DED) in Dubai. It is powered by an artificial neural network system and aims to strengthen consumer protection in the emirate.

DED Launches Dubai Consumer Mobile App
Recently, the DED-CCCCP warned businesses and entrepreneurs against "misleading" offers and competitions, which are usually announced on social media. Likewise, they urged consumers to verify such events and contests by contacting DED. They also cautioned against "projects" that require fees from participants, promising huge financial rewards in return.
Through these warnings, the agency seeks to protect businessmen, entrepreneurs, and consumers from commercial fraud — and particularly from people who are involved in unscrupulous, unlicensed, and suspicious activities.

How to Use the Dubai Consumer App
Here's a quick guide to using the Dubai Consumer app:
Download "Dubai Consumer" on Google Play or Apple Store.
Enter your name, mobile number, email address, and other details.
File your report/complaint and wait for the DED's response.
NOTE: The app provides options for making a Consumer Complaint, Business Complaint, or Complaint Tracking.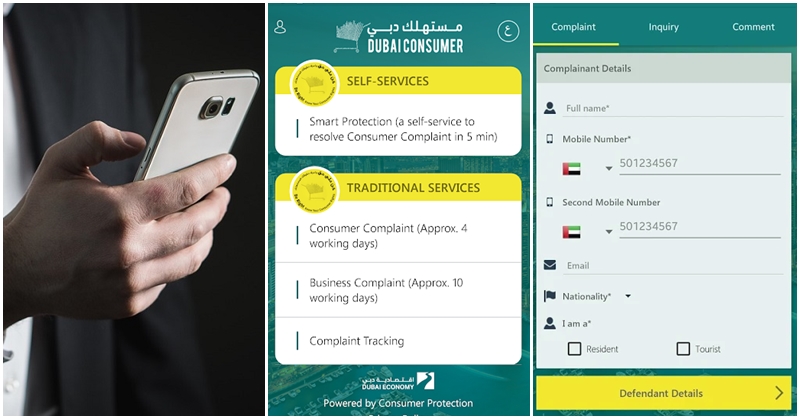 Using the Dubai Consumer app, you don't have to wait too long or expend much effort into filing a complaint. Just enter your details and submit your report! Meanwhile, if you are looking for a health-related app, check out the Dubai Municipality's  "Food Watch" app for health-conscious eaters!