In advancing movement across all emirates in the country, the government through its various agencies, has launched various initiatives that would improve services on the national level, which would mean higher happiness index for residents of the country.
ALSO READ: Dubai's Infrastructure Solution to Address Traffic Congestion Takes Shape
Other than improving traffic policies, creating and improving infrastructures has also been on the agenda set by the government to mobilize areas in the country to support economic growth and development, by promoting tourism and other industry-specific efforts launched by certain emirates in the UAE.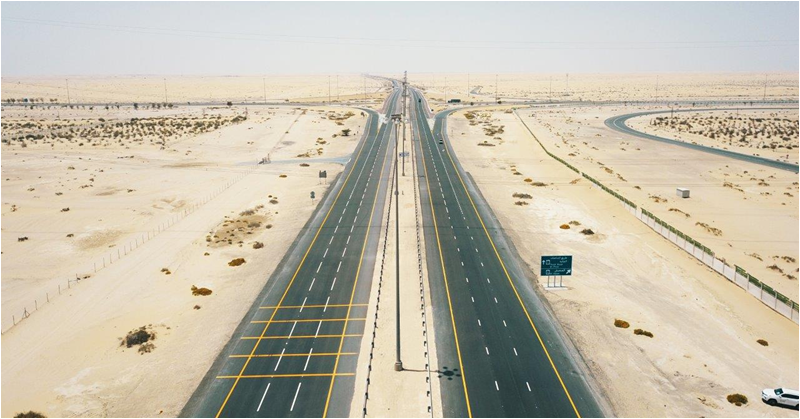 Rehabilitation Work at Al Faya – Seeh Shuaib E75 Road Completed
The Department of Transport and Abu Dhabi General Services Company, "Musanada," announced the completion of the entire 88-kilometre Al Faya – Seeh Shuaib E75 road rehabilitation project, valued at AED46.9 million, as shared in a report by WAM.
The rehabilitation involved repair works on asphalt defects and side shoulders, and some damaged bridge expansion joints, as well as the removal of guardrails at certain points and replacement with rope rails, removal of accumulated sand and renewal of road surface markings, besides improving guiding and traffic signs.
In the course of the rehabilitation of the road, Musanada assured the government as well as its stakeholders that it will comply with the eco-sustainable requirements in respect of the facilities, services and vehicles by re-cycling scraped asphalt into new projects. These were used in the construction and paving of roads to several farms across various areas and construction of temporary parking lots for some facilities.
As per the Department of Transport, the project will maximize the use of the road, ease traffic and transport of goods from and to Abu Dhabi city, as the Al Faya – Seeh Shuaib E75 road is one of the main roads used by trucks between Dubai, Abu Dhabi, and Al Ain.
ALSO READ: New Dubai to Al Ain Direct Bus Route
During this time, Musanada was able to manage to keep the road free of any obstruction and to expedite the project with the cooperation of the Abu Dhabi Police and the Department of Transport through the entire duration of the project.
With these enhancements finally completed, mobilization between emirates will be even better accommodated for the transport of goods, services, and support tourism, as well. And where there is continuous movement of people from within and through cities, economic activities are sure to take place. This should serve the government's short- and long-term goals, which will benefit citizens as well as expats.
ALSO READ: UAE to Begin Construction of World's First Skyrail Transit System