Many Filipinos are familiar with Army Navy Burger + Burrito, a popular restaurant chain in the Philippines that serves delicious American-Mexican Cuisine. As the name says, the restaurant serves premium burgers, freshly-made burritos, fried chicken, tacos, sandwiches, and more!!!
Well, Filipinos in Dubai can now order their favourite Army Navy burgers, burritos, and other dishes via Talabat UAE app. Yay! If you happen to be residing in Deira, Al Rigga, Al Nahda, and nearby areas, you can expect to have your orders delivered in a jiffy!
Order Army Navy Burger + Burrito via Talabat UAE
Here's a bit of trivia about Army Navy Burger + Burrito: The restaurant draws inspiration from the military culture of discipline, service, freedom, and honour. If you remember their uniquely shaped restaurants in the Philippines, these are actually inspired by "Quonset Huts," which are lightweight, arched structures that served as barracks and facilities for the military during World War 1.
Now that you know a little bit more about the restaurant's historical inspiration, let's talk about the food! As mentioned earlier, Army Navy serves premium quality burgers and burritos. They also serve fried chicken, tacos, sandwiches, and other goodies!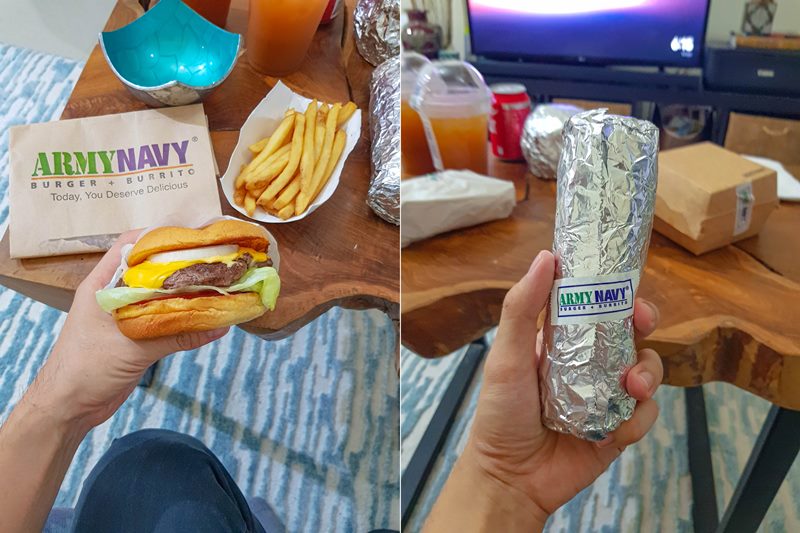 The restaurant's bestsellers include the Bully Boy Burger, a triple-patty wonder topped with lettuce, onions, and tomatoes in a sesame seed bun; and the Steak Burrito, which is made from 100% high-quality beef. Other favourites are the Classic Burger, Double Burger, and Chicken Burrito.
Speaking of chicken, the restaurant also serves Chicken Tacos, Hot Wings, and the Fearless Fried Chicken… served with rice! All of these meals are best enjoyed with yummy sides: Freedom Fries, Bacon Cheese Fries, Tortilla Chips, and Onion Rings. Wash it all down with a refreshing glass of LiberTea, Army Navy's signature iced tea.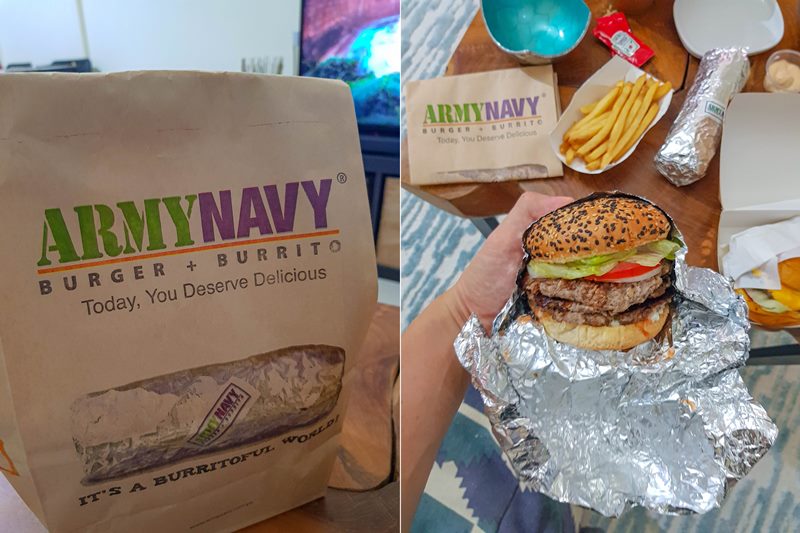 ArmyNavy Now Available thru Talabat UAE App
Talabat is a leading online food delivery service all across the UAE and nearby countries. With just a few clicks, you can order your favourite Army Navy Burger + Burrito meal and have it delivered straight to your doorstep! For more information and to see their food offerings, please visit the Talabat UAE website.
So what are you waiting for? Satisfy your cravings by ordering Army Navy Burger + Burrito via Talabat UAE! Now that their dishes are available here, you can enjoy a "taste of home" anytime, anywhere! While you're at it, check out this list of online shopping websites in the UAE, so you can buy food, groceries, and other essentials, from the comfort of your own home!