A driver died following an accident near the World Trade Centre roundabout in Dubai on a Tuesday afternoon. In a post by the Dubai Police on their social media accounts, the driver's car suddenly caught fire while driving down a tunnel after the World Trade Centre roundabout heading towards Deira area.
Also Read: What to do in case of a Car Accident in Dubai
The car, after flipping over, caught fire while the driver was trapped inside. This led to the tragic death of the driver. This is sad news on a weekday and serves as a caution to all drivers in the UAE.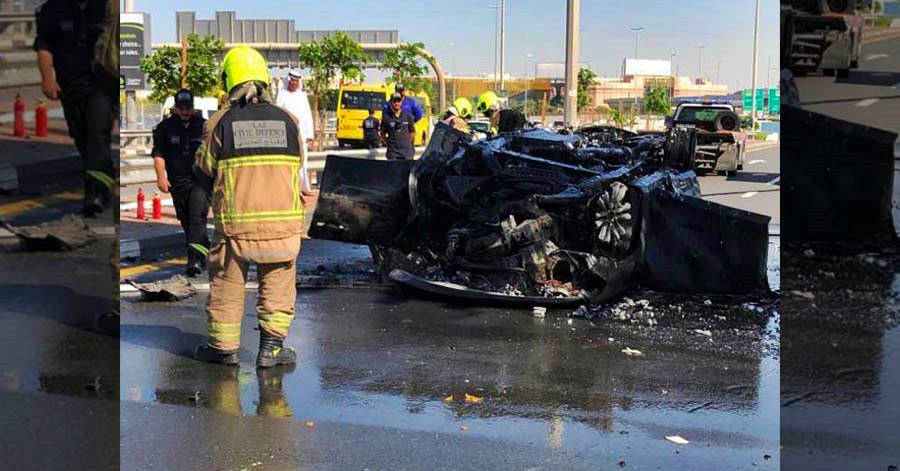 Man Dies in Car Accident as Car Catches Fire in Dubai Road
Director of Traffic Department, Brigadier Saif Muhair Al Mazroui, has warned drivers to be extra careful when driving. Motorists are advised to follow speed limits especially in tunnels. Beware of road surprises and pay more attention while driving to avoid such tragic accidents.
Here's the post from the Twitter account of the Dubai Police:
#أخبار | وفاة شخص في حادث احتراق مركبة بعد نفق المركز التجاري
التفاصيل:https://t.co/MXdfBgZAl1#أمنكم_سعادتنا #شرطة_دبي #نتواصل_ونحمي_نبتكر_ونبني pic.twitter.com/9ZtwViAVul

— Dubai Policeشرطة دبي (@DubaiPoliceHQ) November 26, 2019
Translation:
A person died following a terrible traffic accident after the mall tunnel in the direction to deira, where the vehicle he was driving and completely burned, leading to his death immediately.
General Saif Muhair Al Mazroui, director of the general traffic department of Dubai police, called on vehicle drivers to be careful and careful and to observe the speed planned on the road, especially at turns and spending, beware of road surprises, focus and attention during Leadership in order to avoid such tragic accidents, and the resulting loss and human and material damage, deeply regrets the victims of these painful accidents.