It's always such a treat when Hollywood stars come to Dubai, and even more so when the special guest is… Chris Hemsworth, the 'God of Thunder' himself! He is featured in the blockbuster Thor film series, and of course, the global phenomenon that is Avengers.
ALSO READ: Hugh Jackman in UAE for Global Teacher Prize Awards
Apparently, the world-famous actor has been in Dubai, shooting a commercial right under our noses. The advertisement is for Bayut, a real estate and property website… and it's got plenty of swoon-worthy shots of Hemsworth in both indoor and outdoor (clue: desert) scenes!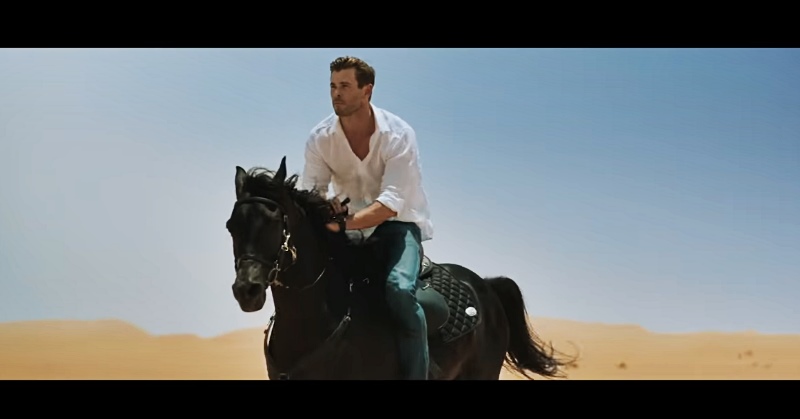 Chris Hemsworth Featured in Bayut Advertisement
Aside from playing the role of 'Thor' in the Marvel Cinematic Universe, Hemsworth has also starred in other films, such as Ghostbusters (the 2016 re-boot) and more recently, Men in Black: International (2019), where he played a sharp-shooting, alien-busting agent.
As for the commercial… well, it begins with several shots of the Hollywood star riding on horseback across the desert, before cutting into a scene of him driving a red Ferrari into a luxury villa. He enters, drops his phone and keys in a bowl, and makes himself at home.
The actor gazes at a picture, which takes him back to the desert landscape, sipping Arabic coffee and mingling with traditional musicians. Back home, he plays the oud and glances at a statue of a falcon — reminding him of a close encounter with the Emirates' national bird.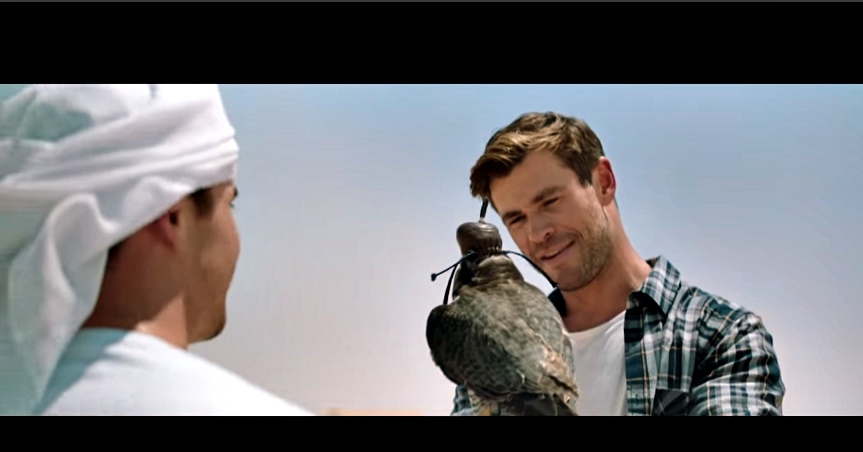 "It's so easy to fall in love with this place…and even easier to find a home here, thanks to Bayut," Hemsworth narrates by the end of the clip. The video ends with the actor enjoying lunch with some friends, clearly having an enjoyable time in the desert of Dubai.
Notably, the advertisement came out soon after the announcement that Hemsworth has received a Dubai Star. This is part of the city's upcoming Walk of Fame project, which will recognize local and international personalities in music, art, film, literature, architecture, sports, and other industries.
All in all, the Walk of Fame project will feature around 10,000 Dubai Stars along Sheikh Mohammed bin Rashid Boulevard. It will be unveiled this coming October 2019.
Meanwhile, here is the full video of the commercial, shared by Bayut UAE on YouTube:
ALSO READ: Pierce Brosnan Spotted in Dubai While Filming "The Misfits"
A Dubai commercial featuring the one and only 'Thor' is truly exciting, indeed! Speaking of celebrities, did you know that international rapper and songwriter Eminem is having a concert at du Arena in Abu Dhabi next month? Fellow music and hip-hop fans, we hope to see you there!