Heads up, Eminem fans! Your favourite rapper and songwriter is coming soon to Abu Dhabi, and it's time to book your tickets… because they are selling fast! Yikes!
ALSO READ: Colombian Reggaeton Star J Balvin to Perform Live in Abu Dhabi on September 5
One of the world's most influential rappers, Eminem has been called the "King of Hip-Hop" by Rolling Stone magazine. Next month, fans in the UAE and the Middle East can catch him at du Arena on Yas Island, as part of his much-awaited "Kamikaze" global tour. The concert is brought to us by FLASH Entertainment, a leading entertainment company in the region.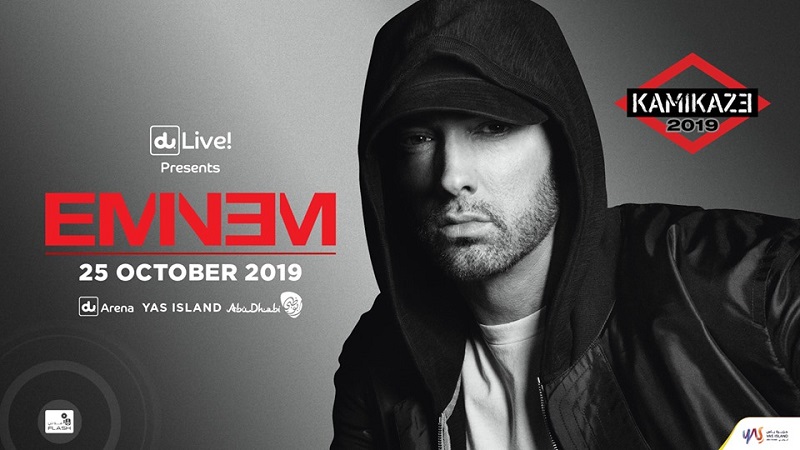 Catch Eminem in Concert at du Arena, Yas Island
Kids from the 1990s and 2000s can expect to experience the ultimate throwback at Eminem's Abu Dhabi concert, which will feature his most iconic tracks, including: Lose Yourself, Mockingbird, The Real Slim Shady, 'Till I Collapse, and Without Me.
This coming October 25 at du Arena on Yas Island, the iconic artist will also be performing songs from his latest album Kamikaze, the best-selling Hip-Hop album of 2018. Among his more recent hits are Lucky You, Nice Guy, and The Greatest.
Concert Information & Ticket Prices
WHAT: Eminem "Kamikaze" World Tour Concert
WHERE: du Arena, Yas Island, Abu Dhabi
WHEN: Friday, October 25, 2019 at 9:00 pm (Early Entry at 6:00 pm)
Tickets for the event can be purchased through its authorized sellers, Ticketmaster and Virgin Megastores. The prices per person are as follows:
AED 1495 – Tree House (sold out)
AED 1295 – Golden Circle Early Entry
AED 995 – Golden Circle
AED 795 – Platform
AED 595 – General Admission Early Entry
AED 395 – General Admission
ALSO READ: Catch Official Weigh-in for UFC 242 Khabib vs. Poirier on September 6
If you're an Eminem fan, then you shouldn't miss this chance to watch him live in concert! For more information and updates about the event, please visit FLASH Entertainment on Facebook. Also next month, Filipino music and comedy fans can look forward to a double treat, as Aegis Band and Tekla will be holding a concert at the Dubai World Trade Centre. Yay!