A new series of LED shows are expected to light up the Burj Khalifa in Dubai starting September. The tower will light up the city with two themed LED shows starting daily from 7:45 pm to 10:45 pm – every 30 minutes on weekends (Thursday, Friday, and Saturday), and every hour on weekdays, with nostalgic, feel-good light shows reminiscent of the '80s and '90s.
The end of summer series called "Memory Lane", the first of the two-set show, which was created by British multimedia artist Anthony Birland, will take viewers through memories of previous decades, with inspirations drawn from retro arcade machines and vintage electronics, recreating the excitement of how it feels to be young and carefree once again.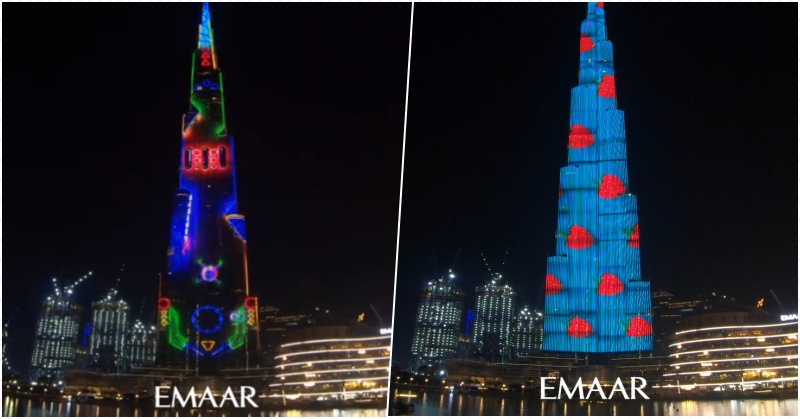 Burj Khalifa to Offer New LED Shows on Weekends
The second display, titled Summer Done, has been created by designer Karl Taylor-Knight, who is also part of the animation and design team for the Expo 2020, celebrates the fun of summer days now coming to an end, and all the memories they remind us of, from the sunny beaches to sumptuous tropical fruit such as mangoes and watermelons – all coming alive on screen in brilliant colors and to the accompaniment of lively music, as shared in a report by the Khaleej Times.
During the first half of this year alone, the Burj Khalifa has displayed a number of incredible light shows and displays, which have ranged from fun video clips from The Lion King, in celebration of the live-action release of the classic Disney favorite, to international flags to mark global national days and an image of New Zealand Prime Minister Jacinda Ardern, following the Christchurch shootings.
Here is a sneak-peek of the new light shows to be featured on the Burj Khalifa this month:
Described as both a 'Vertical City' and 'A Living Wonder,' the Burj Khalifa, which was developed by Dubai-based Emaar Properties PJSC, remains to be the world's tallest building to date. Rising from within a desert region, the Burj Khalifa honors the city with its extraordinary combination of art, engineering, and meticulous craftsmanship.
At 828 meters (2,716.5 ft), the 200-plus storey Burj Khalifa has 160 habitable levels, the most in any building in the world. The tower was inaugurated on January 4, 2010, and has immediately set a number of world-firsts. The tower became the world's tallest man-made structure just 1,325 days after its excavation work started in January 2004. The construction of the Burj Khalifa accounted for a record-breaking 330,000 cubic meters of concrete; 39,000 tonnes of steel reinforcement; 103,000 square meters of glass; and 15,500 square meters of embossed stainless steel. The tower required 22 million man hours to build.
ALSO READ: 5 Dubai Attractions that you can Visit for Free