We've got fantastic news for mixed martial arts fans! The much-awaited UFC 242: Khabib vs. Poirer match is coming up, and the official weigh-in is happening on September 6. Yay!
ALSO READ: Pinay Athlete is Jiu Jitsu Champion in Abu Dhabi
The match is part of Abu Dhabi Showdown Week, initiated by the Department of Culture and Tourism-Abu Dhabi (DCT Abu Dhabi). From September 1-7, 2019, the event will feature UFC 242, concerts, social events, and city-wide hotel, F&B, and retail promotions.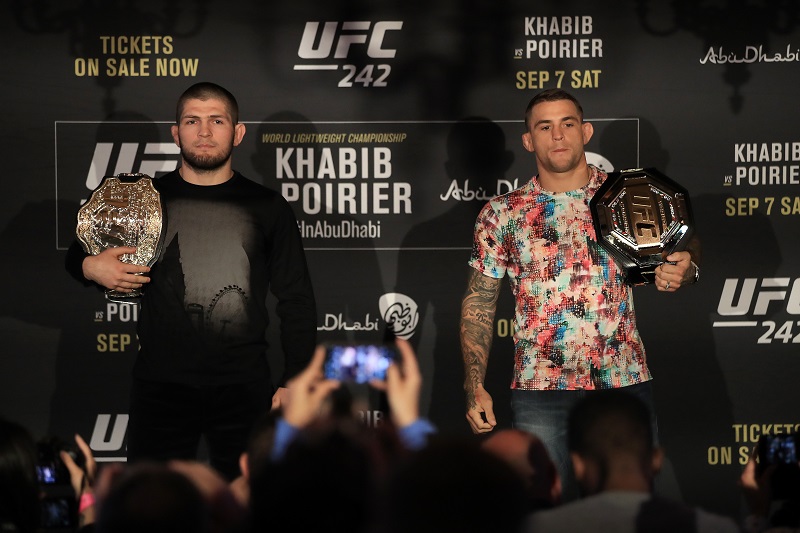 Khabib vs. Poirer Weigh-in Happening Next Week
One of the highlights at Abu Dhabi Showdown Week is UFC 242, which will feature 11 exciting fights. These include all-female bouts (the first in Abu Dhabi's history) and of course, the ultimate showdown between lightweight champion Khabib Nurmagomedoy and 155-pound titlist Dustin Poirer!
The official weigh-in for UFC 242: Khabib vs. Poirier will be held at The Arena, an all-new indoor venue on Yas Island. The event will start at 6:00 pm on Friday, September 6. We recommend that you come to the UFC Fan Experience zone as early as 3:00 pm, though, as the "UFC Question & Answer" with guest athletes will begin at exactly 5:15 pm!
Oh, and did we mention that entrance to the official weigh-in is free? That's right! The free-to-attend event is definitely a must-see for the ultimate UFC fans!
Although entrance is free, you will still need to book your tickets for the official weigh-in. Visit Ticketmaster.ae starting Monday, September 2 at 12:00 pm to book your tickets. Please note that tickets will be limited to only two (2) per booking.
Other Events at Abu Dhabi Showdown Week
Aside from UFC 242, Abu Dhabi Showdown Week features other events, including the Red Hot Chili Peppers concert on September 4 and J Balvin concert on September 5, to be held at The Arena. In fact, there's an "Ultimate Access" package that bundles tickets for both concerts and the UFC 242 ultimate showdown… so you might want to check that out!
What's more, the Muscle & Fitness Expo will also take place next week, featuring exhibits, seminars, and sports competitions. Exciting offerings at hotels, beach clubs, malls, restaurants, and leisure destinations across Abu Dhabi will be up for grabs, too. Awesome!
To know more about UFC 242, the Red Hot Chili Peppers and J Balvin concerts, Muscle & Fitness Expo, and other happenings at Abu Dhabi Showdown Week, please visit the event's official website or follow @ADShowdownWeek on Instagram, Twitter, and Facebook.
ALSO READ: Reel Cinemas' Al Ghurair Centre is Now Fully Open