Be advised that working in the UAE under a visit visa or a tourist visa is illegal. You must change your visa to an employment visa first before reporting to work.
We received a question from one of our readers concerning reporting to work and we want to share some insights into policies and your rights: I am still waiting for my Work Permit from my Employer, but they told me I should start reporting to work for my training. Is it okay for me to start my duty?
Also Read: How to Identify Fake Job Offers
First off, many people come to the UAE as tourists but may receive a job offer from a possible employer. While the idea of getting a job is definitely an exciting prospect, it is very important that before reporting to your duty, you need to make sure that you have the residence work visa in place.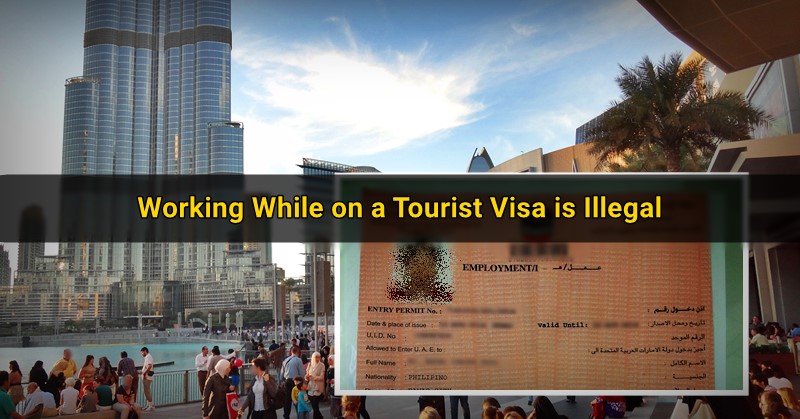 Working while on a Tourist Visa is Illegal, Secure an Employment Visa First Before Working
A tip for all Dubai residents, in case you get employed, you should have your work documents processed by your employer before reporting to work. You are only allowed to work legally if you already have a work permit.
Searching for a Job on a Visit Visa / Tourist Visa in Dubai
Arriving in on a tourist visa or visit visa, you have the option to search for jobs in the UAE. This is good compared to other countries where you are not allowed to search for jobs at all.
But once you have secured a job, you will have to convert your visa status to an employment visa prior to working.
Related Post: No Need to Exit UAE to Change Visa Status from Visit Visa to Employment Visa
According to a report from GulfNews, there is a 50,000 AED Fine for people caught working on a visit visa and will be banned from entering the UAE. Aside from that, companies who employ individuals will also face penalties.
What Happens if I Still Choose to Work Without a UAE Employment Visa?
There is a risk of getting fined and deported if you choose to work without securing your work permit. You also run the risk of getting blacklisted (you cannot return to the UAE on a work visa). Also, you will not have any bearing when you file a dispute against your employer (if you have issues at work) because in the first place, you are working illegally.
Why do prospect employers ask you to work while on a tourist visa?
From the view of the employers, most likely they want you to work right away so as not to waste time. After all, they set up their companies and they need people to handle the business operations so they can earn money and keep up with expenses in running a company — this is pretty understandable and only in cases where employers have good intentions.
However, there are also cases wherein employers might EXPLOIT their employees especially if that employee is new in the country and are not aware of the rules when working in the UAE. They MIGHT hire you only to use up the number of days in your tourist visa and then not process a work permit application at all. If this happens, you will not only end up not getting a work visa, but you will not have any rights.
We are not implying that all employers have bad intentions, but we should be aware of our rights and make sure to keep things legal so as not to run into problems in the future.
Secure an Employment Visa so You can have Employee Rights
If you do not have a work visa, then basically you are NOT an employee. If you are not an employee and you have complaints, you cannot go to Labour to complain because technically you are NOT employed. That is why it is very important that you get the visa papers sorted out first. What if you don't get paid any salary for the days you've worked or while on training, it is going to very difficult for you to raise the problem to authorities.
That is why it is VERY important that you wait and secure your employment visa first before reporting to work.
I'm Still Waiting for My Employer to Process my Visa…
If the company is still processing you work visa, then you need to FOLLOW UP with them of the status. Remember that whoever issued your current visa (tourist visa/visit visa) is responsible for your stay. And if you Overstay, they (your sponsor) will also be responsible for paying the fees and getting penalized.
We hope that this serves as a reminder to everyone to please DO NOT agree to work on a visit visa or tourist visa.
Note: Information posted on this site only acts as a guide. We wrote this article in response to an inquiry from our readers. We want to help everyone get a better understanding of the processes in this country. Please use this post as a tip, but if you have any further questions or clarifications, it is best to contact proper authorities – the Ministry of Labour (for work issues) and Ministry of Interior (for visa immigration questions).
Also Read: 10 Things to Know before Coming to UAE to Work
References:
http://gulfnews.com/business/visas/those-working-on-visit-visa-face-dh50-000-penalty-1.119774
http://www.tamimi.com/en/magazine/law-update/section-7/august-september-1/employing-illegal-workers-the-implications-and-pitfalls.html
Related Posts: Helpful Articles Regarding UAE Labour and jobs in UAE