"We are all born with enough ability to experience success." These are insightful words shared by our featured OFW for today, Cherry Leay Maliwanag-Sumugat. She is currently working as Client Support International Manager for a leading global digital business and IT services company. She has been working for the same company for 14 years; first in the Philippine office, before getting transferred to the UAE office.
Aside from having a flourishing career, Cherry is also a devoted mom and wife. She has two wonderful sons and a supportive husband. According to Cherry, she is truly blessed because her company offers country-to-country transfer program, which enabled her to move to Dubai with her family. They have been based in Dubai for about 3 years now.
In the following interview, Cherry talks about the importance of managing a career, raising a family, and cultivating personal growth. "Work, family, and personal life should be complementary and not conflicting with one another," she shares. She also discusses the ups and downs of living in Dubai, and provides nuggets of wisdom for her fellow kabayans. Let's get to know more about Cherry and her inspiring OFW story!
OFW Feature: Cherry, Filipina Client Support International Manager in Dubai
Name: Cherry Leay Maliwanag-Sumugat
Nickname: Cherry
Age: 40 years old
Current Profession: Client Support International Manager
Education: Currently completing BSBA-HRM-BSBA, Major in Human Resource Management
Years in Dubai: 3 years
1. Tell us about yourself.
Hi! My name is Cherry. I'm 40 years old but as they say, 40 is the new 30. So I'm 30 🙂 I'm a selfless, goofy mother of two wonderful boys: Charles (11 years old) and James (4 years old); and the proud wife of a wonderful and supportive husband, Jomar. I am a person who is positive about every aspect of life. I like to dream, to talk, and to listen. I live beyond words, laugh every day, and love every moment!
Like any other Filipino family set up, as the eldest daughter, I started working at a very young age to support my family and my siblings' education. I haven't completed my Bachelor's degree yet, and I'm not shy about it! I am currently completing my course through the AMA University Online Education system, taking up BSBA-HRM-BSBA, Major in Human Resource Management.
I have been working for NTT DATA – a digital business and IT services leader — for the past 14 years. My role involves change and project management, and I have been associated with many complex projects. I consider myself a well-established service professional with the ability to lead a team to victory.
I moved to Dubai 3 years ago to manage and lead a diverse team with members from Jordan, Spain, Brazil, Kyrgyzstan, and Italy. My manager is from India and my client is from Canada. I'm very proud to represent the Philippines as part of our global team. My team consists of certified global deployment project analysts, managing customer implementation and deployment projects. We provide multilingual global operations support services for one of the largest hotel franchisors in the world, and support their technology needs and operational tasks.
I am also part of the people engagement team for India, Philippines, and UAE — managing activities and projects that help our employees feel passionate about their jobs, be committed to the organization, and put exemplary efforts into their work.
2. Why did you come to Dubai?
Back in our Philippine office, my former manager informed me that there was an opening for a new account for the UAE office. I was interested and applied for the position. Luckily, I got the job offer. My biggest deciding factor was my family. I was really blessed that with the country-to-country transfer program that the company offered, I was able to move here with my family.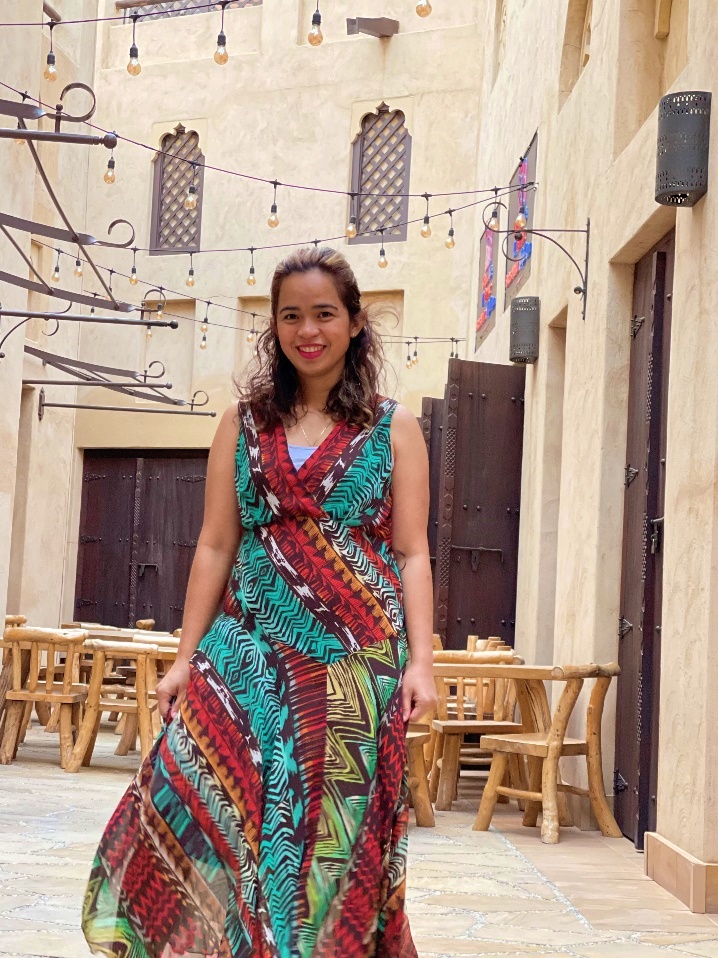 3. What were your previous jobs?
Way before I joined the BPO industry, I had lot of experience in customer service. I worked at ACA video as a Customer Service Agent, as a Toll Fee Collector in Manila-Cavite Toll Expressway, and as a Waitress/CSR in Max's Restaurant.
I started my career in the BPO industry in 2003. I began as a Call Center Agent and became Team Lead after 6 months. After one year, I was promoted as Enrichment Manager. I moved to NTT DATA (formerly Dell Philippines) in 2007, where I joined as Administrative Support, and then was promoted to Project Lead. I managed several project accounts and headed people engagement programs, such as winning culture, talent development, Corporate Social Responsibility (CSR), and rewards and recognition programs.
4. How do you find your current job? Are you happy/satisfied with it?
First and foremost, I am proud and grateful to be part of a purpose-led and performance-driven company. People here are not only professional but also supportive, and they care for my well-being.
Secondly, it is the freedom of expression. I can reach any level of hierarchy for any of my personal/work-related concerns. In any project, my inputs are valued and are taken into consideration. They make me feel that my efforts are much appreciated and highlighted.
And lastly, my amazing team, their achievements, and hard work give me joy. Every time I see them receiving commendations and awards from our clients and customers, I feel fulfilled. As an empowered woman, I love to empower others as well. That's how I measure my success. I feel that I will only be successful when I sincerely want other people too to be successful. When you uplift others, you get uplifted as well.
5. Are you able to save in Dubai? Or do you have any investments you wish to share?
I do save, but I don't have a lot of savings. Having our two boys with us studying here in Dubai is a bit costly. Education is one of our top expense. Fees for schools can be exorbitant and continually on the rise. But I don't regret that; education will not only be a ladder of opportunity for my boys, but also an investment in their future. My goal is to continue saving up as its highly important. It provides peace of mind, opens up options that improve quality of life, increases wealth, and may even allow me to retire early.
6. Is it difficult to live in Dubai? What are your struggles? What's life like outside work?
Living in Dubai and managing a diverse group of people has taught me so much.
It is not enough to just aim for diversity or equal representation. For me, it's very important how my team members feel about their differences. I make sure that my team is not merely members of different social categories such as gender, nationality, or race, but I emphasize the distinctiveness of each individual. Becoming their leader makes me responsible for not only being aware of gaps in diversity, but also recalibrating how I move through our workspace. This involves becoming a supportive, aware leader, which can help me develop my diverse team to perform better, be healthier, and thrive. I have been able to reap the benefits of a thriving and diverse team.
Life outside work is mostly about family. We love to travel. We love to eat. In just 3 years here in UAE, we were able to visit a lot of places. We've seen a lot of famous destinations, and even the rural places. Dubai also offers a lot of activities for families. My boys have their weekly swimming classes, and it has always been part of our weekend. I am also proud to share that my eldest son, Charles, was able to finish his first triathlon last March in Al Mamzar Beach!
Work, family, and personal life should be complementary and not conflicting with one another. Being successful in one sphere of life at the cost of the others is not a healthy sign. In the long run, family happiness, and a decent personal life are key determinants of a successful career.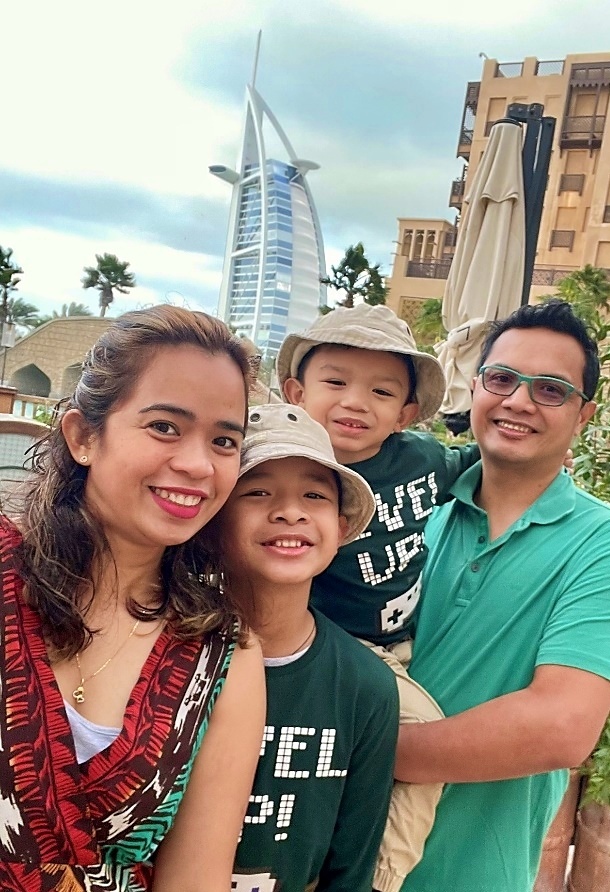 7. What do you like about Dubai?
Moving to a new country pushed me out of my comfort zone. However, nothing helps me grow as a person than interrupting my safe and comfortable routine. Here in Dubai, you can meet people from all over the world. I really love that I gain new perspectives and learn things that I never knew before. This new perspective helped me develop personally just as much as I have grown professionally.
Anything is possible here; Dubai is one of the most cosmopolitan cities in the world. It just never fails to impress me! From the vibrant array of different cultures and religions, the international food scene, our delivery system (and why it spoils us for the rest of our lives), the extravagance, but most importantly, women's rights and safety. Although most countries around the world have much to work on when it comes to women's rights, Dubai continues to ensure the equality of genders, both in education and the workforce, and the future seems bright as more and more women are excelling in all sectors. And of course, safety. Who wouldn't love to live in one of the safest cities in the world?
8. What do you NOT Like about Dubai?
First is the distance. There's nothing we can do about it; we are so far from home. I sometimes get jealous of my Indian friends, who can easily visit their home country for just 3-4 hours flight!
Second, the standard of living in Dubai is quite high. In fact, the opportunity to live very well in an interesting place is exactly why many expats come here. But this doesn't come cheap. The facilities and lifestyle on offer are world class and although the cost of living is fairly high, the experiences we get here though are truly memorable.
Lastly, I come from a tropical country, but it still cannot compare to Dubai weather. It is swelteringly hot during summer! It's no secret; the heat and humidity make it a challenge to stay outside for longer than a few minutes without getting soaked in sweat. The terrain of Dubai is mostly desert. And it tends to absorb the average heat and magnifies it to push the temperature to well around 45-degree Celsius during summers.
9. What are your plans for your career/family/future?
I plan to stay here for a long time. I believe that I will be able to give more opportunities to my kids while we are all here in the UAE. As long as my organization needs me here, I would love to grow with them. I would love to continue to inspire our team members, and our kabayans as well with my story. I would love to continue to touch others' lives.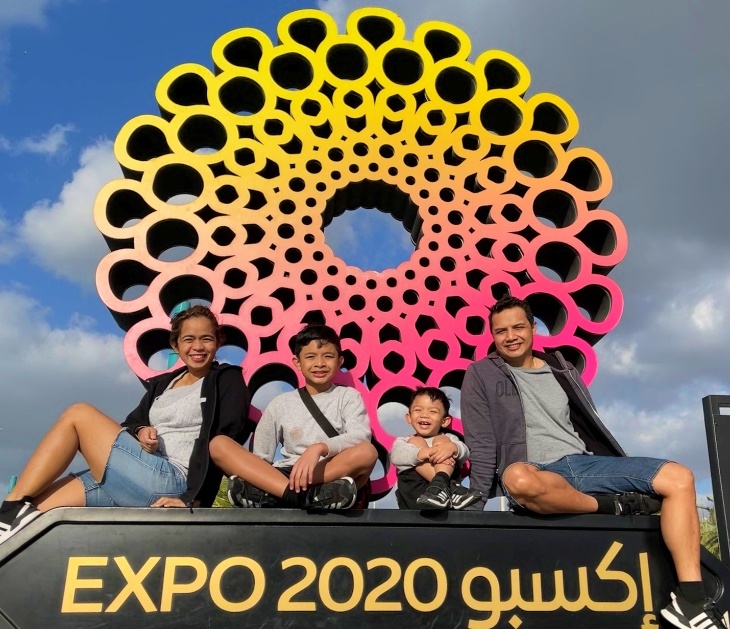 10. You have any tips for kabayans when working/finding work/living in Dubai?
No one sets out in life to fail. But the reality is that many do fail. For me, mindset is everything. To win, you must expect to win. Those who struggle with life often lose their ability to believe that things will ever be different. Every day offers another opportunity to change our circumstances. Every day, we can start our journey towards personal greatness. Just do good things and good things will come to you! We must see and believe. Have faith.
Also, remember that your success depends on other people. No man is an island. We must interact with and receive the support of others to create personal success. You need to build a network of friends in your community. Find a mentor. Be with people who are successful and get to know people of achievement. Listen to their words and apply what works for you. Also, find out what actions could lead to failures and don't do them.
And remember that everyone can succeed. We are all born with enough ability to experience success. Yes, some succeed at a much higher level, but that doesn't mean you cannot find the level of success you want to reach. Whatever that destination may be, your abilities can get you there. Your goal is to discover and develop your abilities. You must continue until you reach your destination. Nothing comes easy except quitting. Success demands hard work, so always remember to S-I-T-U:
S – Set clear goals.
I – Improve your life and career.
T – Take full advantage of your potential.
U – Unleash your capabilities.
BONUS: Is there anything else you'd like to share, a message that you'd like to impart?
Yes, I'd like to share a message for my family. My family is a priceless gift, greater than anything I can imagine.
To my family: There's no bond stronger than our family; you have supported me every step of the way during my journey. Your support and devotion is more precious than all the gold in the world. Just knowing you are there for me gives me the foundation I need to work through tough times and gets me to a better place in my life. Thank you very much!
To my husband and my boys: There isn't a single day when I do not thank God for giving me such an understanding and caring husband and kids. Just like the stars in the sky, my appreciation for you is countless. I love you so much!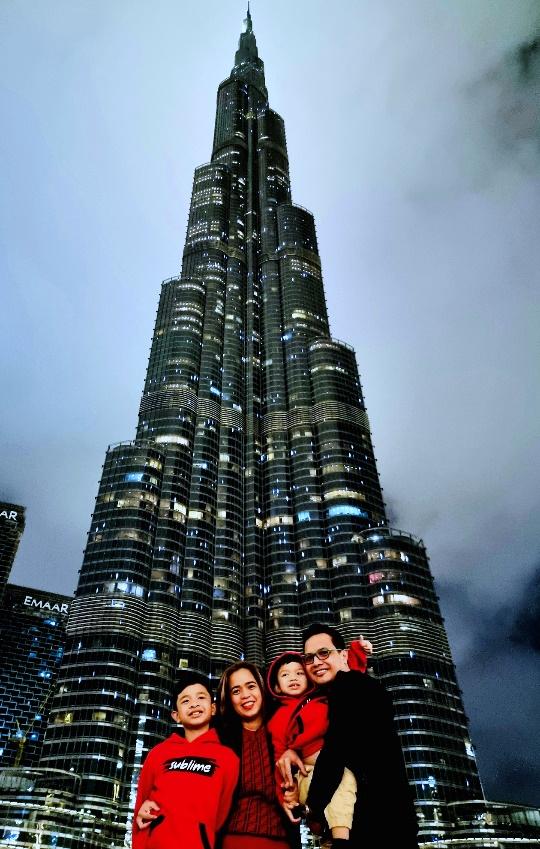 Connect with Cherry Online
To know more about Cherry, you may follow and connect with her through the following:
Facebook: Cherry Leay Maliwanag-Sumugat
LinkedIn: Cherry Leay Maliwanag-Sumugat
—————-
*Photos provided by Cherry Leay Maliwanag-Sumugat
Are you an expat in Dubai? Do you want to be featured in the website? Send us an email telling us you want to be featured at admin@dubaiOFW.com and we will send you the set of questions! Let's help other Pinoys who want to come to Dubai understand what life in the UAE is like through your story.