UAE is one of the most investor-friendly locations in the world. With a host of business benefits and cost-effective Company Formation packages, UAE is an attractive location for company setup.
As an entrepreneur setting up a business in UAE, there are certain parameters to consider to ensure you have a hassle-free company formation and a successful continued business operation in the region.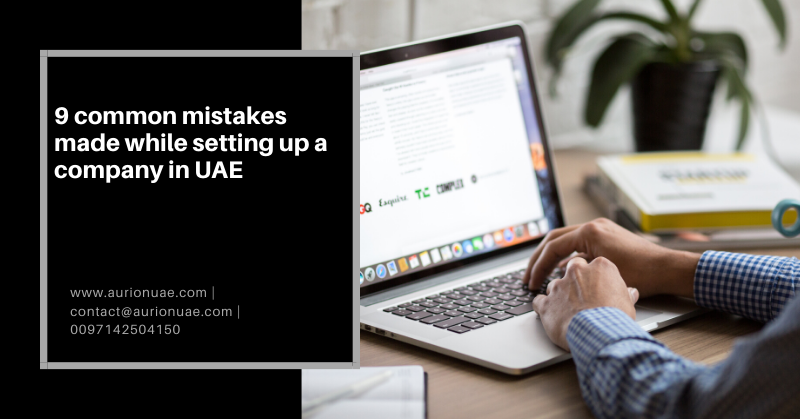 Don't make these errors when setting up your company in UAE
Here are 9 Common Mistakes made while setting up your Company in the UAE.
1. Not choosing the right Free Zone, Company Activity and Business License
Choosing the right Free Zone, Company Activity and Business License is a very crucial step in Company Formation in UAE.
Solution: Ensure the right Business Activity and Business License is chosen
UAE offers various options for business incorporation. There are specific free zones of specific business activity.
Also, there are specific business licenses to be obtained for carrying out business in the UAE.
Choosing the wrong business structure and operating without required licenses will result in penalties and blacklisting of the company.
2. Violation of Employment Agreements
An individual while working for a company is not legally permitted to open a business in UAE unless the employer has provided a No Objection Certificate for the same.
Also, new businesses have to be compliant with the employment laws in the UAE. Employers are not allowed to employ people with Visit Visa at any instance.
3. Improper Legal Agreements with Local Sponsor
When it comes to mainland company formation, one must look for a local UAE national sponsor for the new company setup.
The UAE local sponsor will be holding 51% of the company shares. The shareholding agreement must be recorded with proper legal structure.
4. Not choosing the right Free Zone Company Registration Package & Checking on the available Office Spaces
Freezones have a wide range of office choices. Ensure you check the availability of your desired office and not end up spending more for bigger sized office space due to unavailability.
5. Opening a Bank Account for Business without checking the Bank Charges
The Bank fees are a significant amount especially for start-ups and newly formed companies. Confirm with the bank authorities on all hidden charges and requirements beforehand.
The investor has to choose the Bank according to their business requirements and activity. Banks in the UAE have various charges for transactions, Credit/Debit cards, Checkbook, Foreign Fund transfers, etc.
6. Lack of Agreements or Signing Unenforceable Contracts
Businesses are often done on trust and verbal contracts. However, in case of any future dispute, it becomes challenging to prove the statements. So, the most reliable and legally bound form of contract is written form.
7. Relying Solely on Information Available on the Internet
There is an enormous amount of information available online on company formation, various licenses, business setup packages, etc.
For building awareness and get a basic understanding of the company formation process, the online information will be of great help.
8. Not Planning for Worst-Case Scenarios
Risks for business cannot be avoided but can be mitigated to a level by signing up for insurance or through a well-documented legal contract.
Planning for the worst-case scenarios could help in risk mitigation at the event of any unavoidable circumstances for the company and business owner.
9. Not Registering Intellectual Property
Intellectual Property (IP) is a very important aspect of new business for branding and marketing purposes.
It will help in future economic benefit to the business owner. All the business assets could be secured by intellectual property rights.
Above are the most common mistakes start-ups and entrepreneurs who are new to business in the UAE make.
Taking assistance of an experienced business consultant will help in reducing time, effort, and money on company formation and business support requirements in the UAE
To know more about a hassle-free Company Formation in UAE, talk to our experts right away!
Contact: Aurion Business Consultants