Planning a fun family day here in Dubai? Look no further than Creek Park Dubai (also known as Creekside Park), a spectacular recreational oasis nestled in the heart of this vibrant city. Creek Park Dubai offers an array of exciting activities and attractions that cater to visitors of all ages, promising an unforgettable experience for everyone. With its breathtaking views, abundant green spaces, and a myriad of recreational facilities, Creek Park stands as an inviting destination where adventure and leisure harmoniously blend.
Whether you're a local seeking a weekend escape or a traveler exploring the wonders of Dubai, this park has it all – from thrilling rides and serene boat cruises to tranquil picnics and cultural encounters. Discover the top things to do at Creek Park Dubai and embark on an incredible journey filled with joy, relaxation, and lasting memories. Read on to learn more!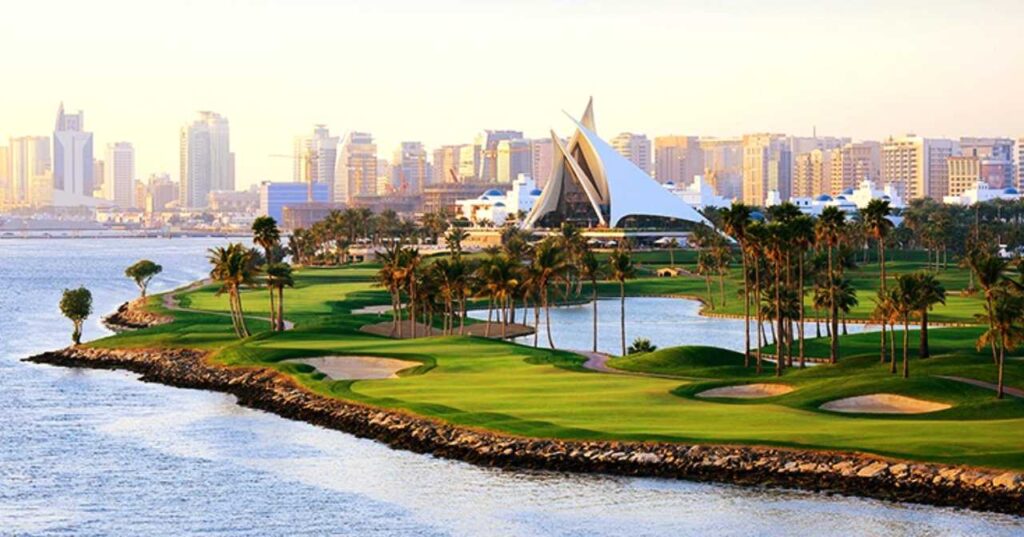 Creek Park Dubai: An Overview
Creek Park, established in 1994, stands as a remarkable scientific educational park sprawling across a vast 96-hectare area, with an impressive investment cost of over AED106 million.
Though second in size only to Mushrif Park, Creek Park surpasses it with advanced facilities and a prime location near Dubai downtown.
Offering an array of entertainment and recreational amenities, this park ensures a delightful experience for visitors of all ages.
From engaging children's play areas and sprawling green spaces to inviting picnic and barbecue spots, Creek Park caters to diverse interests.
It also houses significant attractions like the Dubai Dolphinarium and the Children's City.
Nestled strategically in the heart of Dubai, Creek Park boasts picturesque views of the creek, stretching from Al Maktoum Bridge to Al Garhoud Bridge over a 2.5km expanse.
Separated by Dubai Creek, a vital commercial artery connecting old and new Dubai, the park offers an immersive experience in the city's vibrant culture and natural beauty.
Before visiting, be sure to check the park guidelines and note that the entrance fees do not cover access to Children's City or Dubai Dolphinarium.
Creek Park welcomes visitors from Sunday to Wednesday between 8:00 a.m. and 10:00 p.m., and from 8:00 a.m. to 11:00 p.m. on Thursdays, Fridays, Saturdays, and public holidays.
During the Holy month of Ramadan, the park opens from 9:00 a.m. to 11:00 p.m. Entrance fees are AED5 per person, but the park is free for people of determination and children below 2 years old.
What Makes Dubai Creek Park Special?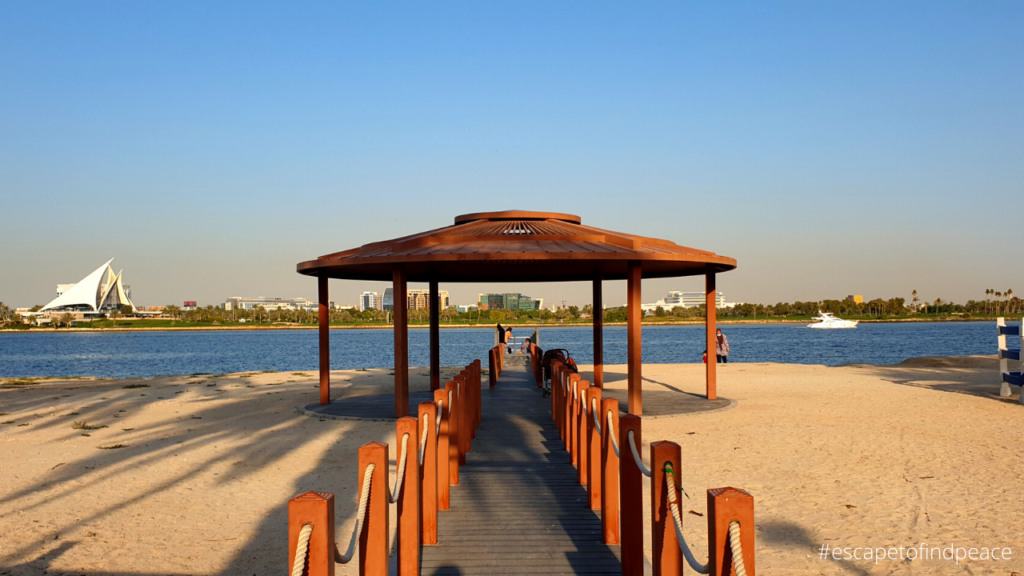 Located right on the edge of Dubai Creek, Creek Park stands out among other green spaces in the city, as its name suggests.
It's the second-largest park in Dubai, spanning vast acres that include beautiful botanical gardens and play areas for children.
Even though it's located in the heart of the city, Creek Park offers a peaceful escape with its serene lawns and breathtaking views of the water.
You can take a leisurely stroll along the paved promenade, where you'll catch glimpses of traditional dhows gently floating on the waves.
For entertainment, there's a theater where you can enjoy a show. If you're feeling active, you can rent a bike for just a few dirhams and explore the park on wheels.
Favored by picnickers, Creek Park provides numerous free barbecue spots scattered throughout its grounds, making it a perfect place for a family outing or a relaxing day outdoors.
Location
Address: Umm Hurair 2 – Dubai – United Arab Emirates
Google Map Location:
How to Get There
Dubai Metro: The nearest Metro station to Creek Park is Dubai Healthcare City, which is approximately 1/3 mile away from the park entrance. This station is part of the Green Line and provides easy access to the park.
Bus Services: If you prefer taking the bus, you can hop on the C07 service, which runs from Abu Hail Bus Station (near Dubai International Airport) to Dubai Healthcare City. This route passes through Deira and Bur Dubai, making it a convenient option to reach the park.
Car: Creek Park offers ample car parking spaces, with three parking lots available for visitors. The first car park is situated at the northern end of the park, the second is in the central area, and the third is located at the southern end, near Children's City and the Dubai Dolphinarium.
Main Entrances:
Gate 1: This is the primary entrance to Creek Park, providing access to the Dubai Dolphinarium and Children's City.
Gate 2: Located near the southern car park, this entrance also leads to the Dubai Dolphinarium and Children's City.
Gate 3: Positioned close to the central area of the park, this gate is a convenient entry point for exploring various attractions within.
Gate 4: Found near the central area's car park, this entrance offers easy access for visitors arriving by car.
Gate 5: Situated at the northern end of the park, near Al Ittihad Road, this gate is another entry option for those coming by car.
Whether you're arriving by Metro, bus, or car, Creek Park welcomes you to enjoy its natural beauty, exciting attractions, and endless opportunities for fun and relaxation. Have a great time exploring the park's wonders!
Best Things to Do at Creek Park Dubai
Are you planning a fun-filled day in Dubai Creek Park? Here are some exciting activities that will make your visit a memorable one:
Dubai Dolphinarium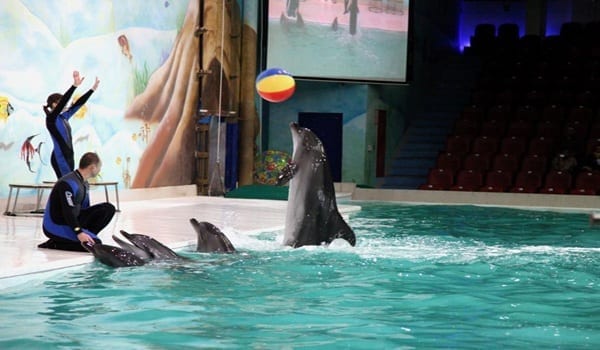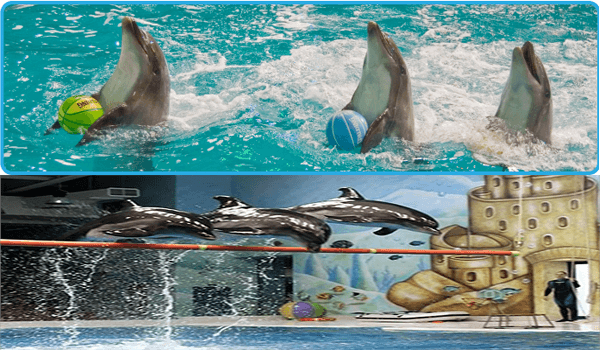 Don't miss the chance to witness the spectacular dolphin and seal show at Dubai Dolphinarium.
Marvel as seals jump through hoops and juggle, and for an extraordinary experience, opt for the Majestic Dolphin Swim, where you can swim with dolphins under the guidance of expert trainers.
Additionally, enjoy the thrills of the 5D and 7D theaters, explore a mirror maze, and meet 20 different species of birds at Creek Park Show Dubai.
Children's City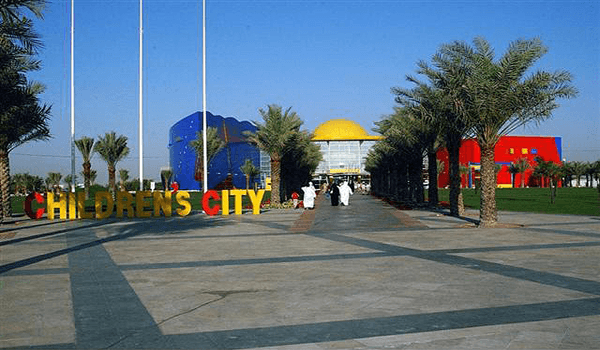 For an educational and entertaining day out with the family, head to Children's City.
This indoor infotainment center offers kids various hands-on learning activities, including technology and earth science galleries, a global exhibition, a planetarium, and a nature center.
The little ones under the age of 6 can enjoy a special toddler's play area with age-appropriate games.
Dhow Tours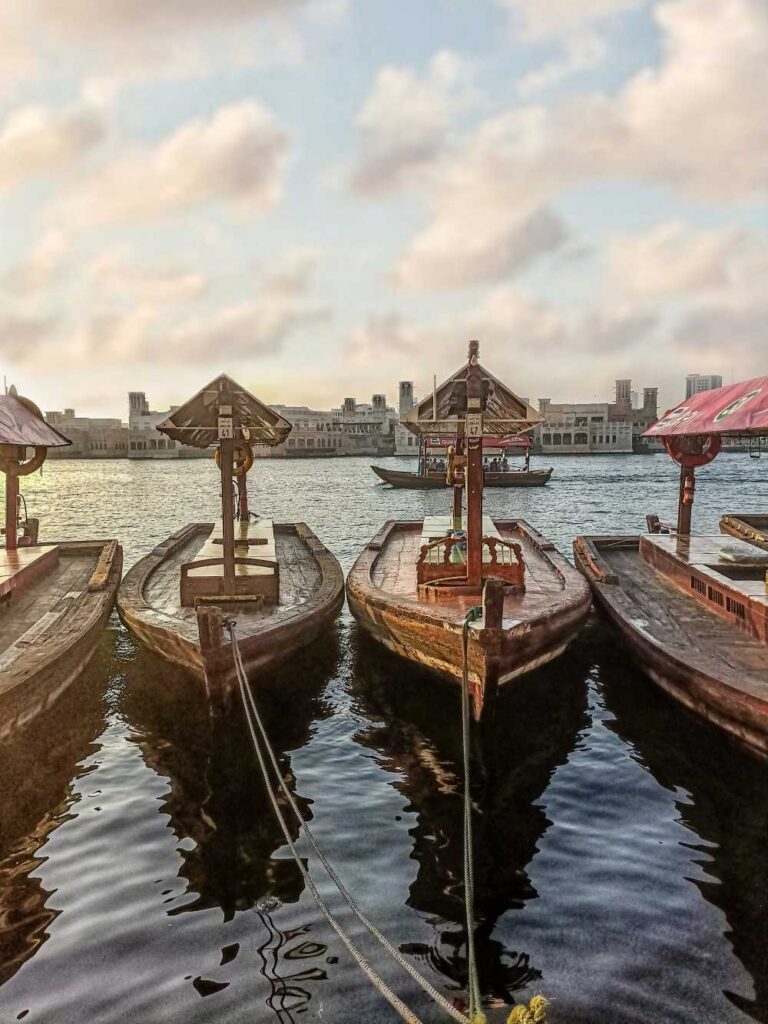 Book a dhow for a serene tour of Dubai Creek, enjoying the picturesque surroundings of Creek Park Dubai.
There's also a small boardwalk near the dhow area, adding to your leisurely experience.
Amphitheater Shows
Creek Park Dubai boasts a large stone amphitheater that can seat over 1,200 people.
Catch a captivating play or performance during your visit to add a cultural touch to your day.
Picnic Time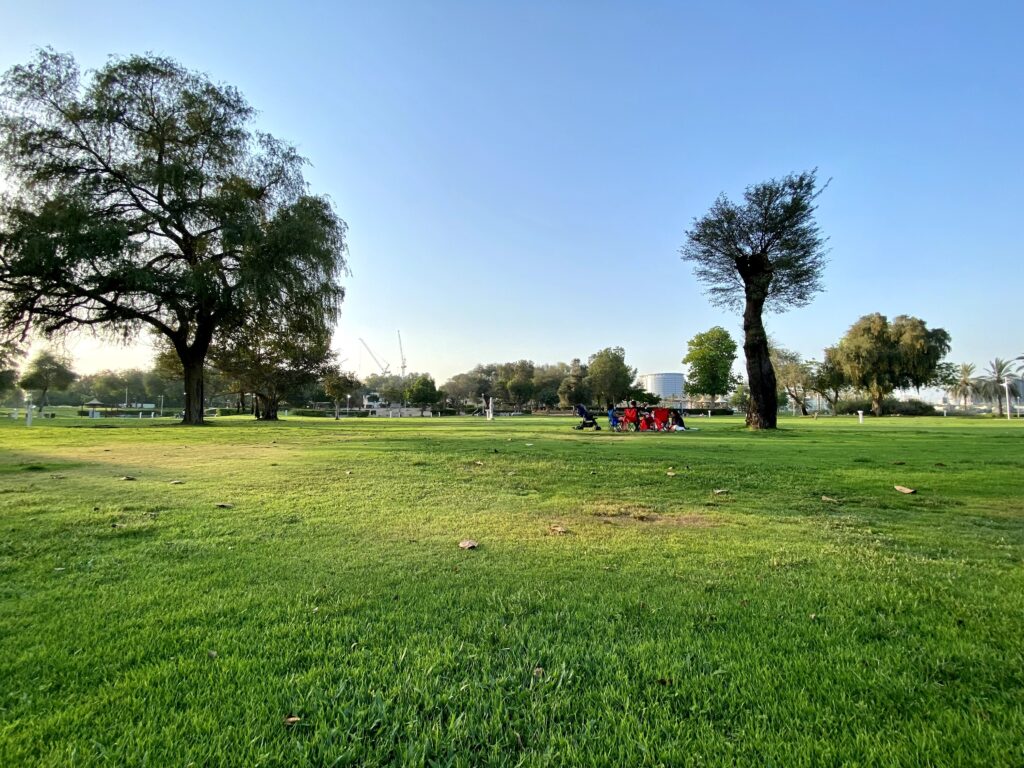 Plan a delightful picnic at Creek Park Dubai's designated barbecue spots.
Gather with your family and friends for a cozy and enjoyable time in the park's greenery.
Mini Golf
If you have a golf enthusiast in your group, they'll love the 18-hole mini golf course at Creek Park.
Challenge each other to a fun round of mini-golf amidst beautiful surroundings.
Mini Train Ride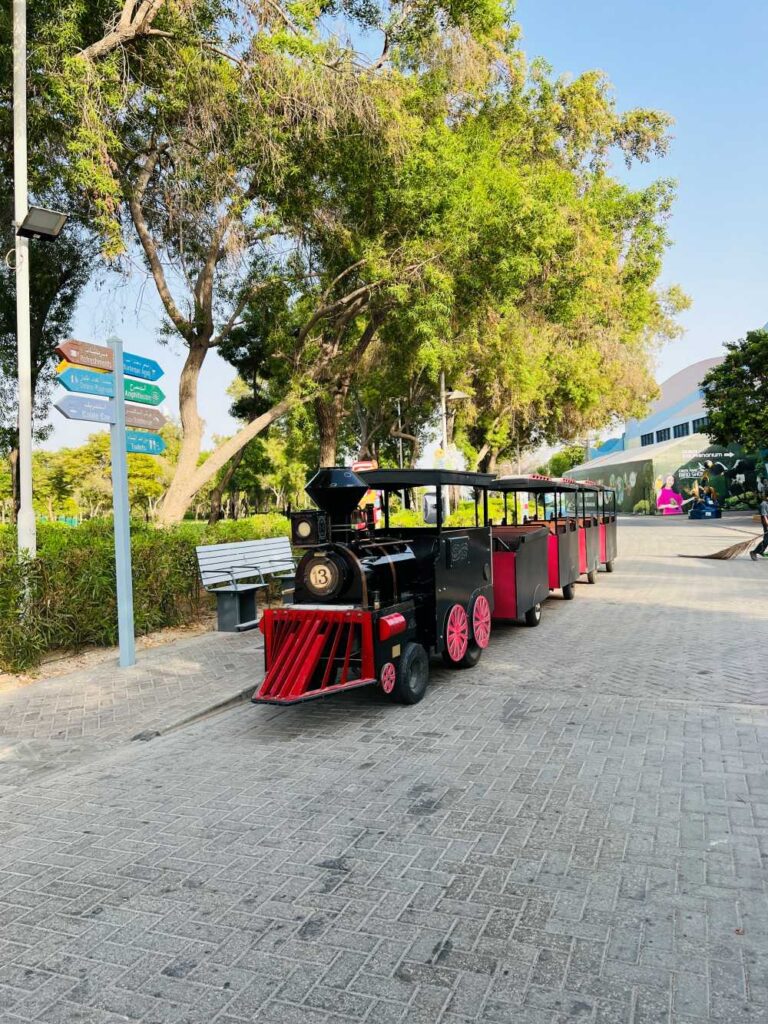 Hop on the miniature train that runs through the park, offering a quick and delightful way to explore its attractions.
It's suitable for both children and adults.
Bike Adventure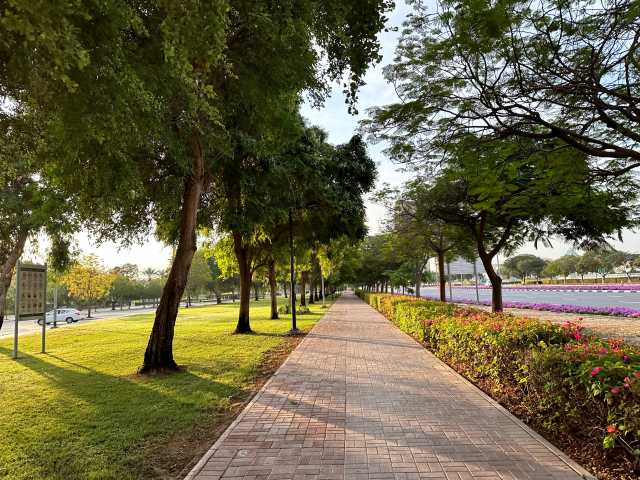 Rent a bike and embark on a leisurely ride through the park's themed gardens and flower beds.
It's a fantastic way to soak in the natural beauty of Creek Park Dubai.
With so many exciting activities to choose from, Dubai Creek Park promises an unforgettable day filled with fun, learning, and relaxation for the whole family. Enjoy your time at this remarkable recreational oasis in the heart of Dubai!
Tips on How to Make the Most of Your Visit at Creek Park Dubai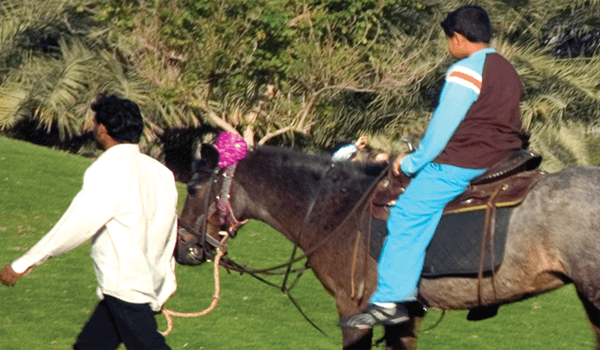 Plan Your Visit: Creek Park is vast, and there's plenty to see and do. To make the most of your day, plan ahead and prioritize the activities you want to enjoy. Check the park's opening hours and the show schedules at Dubai Dolphinarium to coordinate your visit accordingly.
Arrive Early: Be an early bird! Arriving early at Creek Park Dubai allows you to avoid the crowds and have a more relaxed time exploring the attractions. Plus, you'll have a better chance of securing the best picnic spots or barbeque areas.
Catch the Dolphin and Seal Show: The dolphin and seal show at Dubai Dolphinarium is a must-see! Arrive a little early for the show to get good seats. Kids, especially, will be mesmerized by the talented dolphins and playful seals.
Book the Dolphin Swim Experience in Advance: If you're interested in swimming with dolphins, make sure to book the Majestic Dolphin Swim experience in advance. It's a popular activity, and booking ahead ensures you won't miss out on this incredible opportunity.
Explore Children's City: For families with kids, Children's City is a treasure trove of educational and fun activities. From interactive exhibits to a planetarium, it's a fantastic way to engage young minds. Don't forget to check the timings for planetarium shows and workshops.
Picnic Prep: Pack a delicious picnic basket with your favorite snacks and refreshments. Creek Park has beautiful picnic areas, and it's the perfect way to unwind and enjoy quality time with family and friends.
Experience Dhow Tour: Take a dhow tour along Dubai Creek to enjoy the serene surroundings and catch a glimpse of the city's historic charm. It's a relaxing and picturesque experience.
Bring Sun Protection: Dubai can get quite hot, so be prepared with sunscreen, hats, and sunglasses. Staying sun-safe will keep you comfortable throughout your visit.
Capture Memories: Creek Park Dubai offers picturesque views and memorable experiences. Don't forget to bring your camera or smartphone to capture the special moments and beautiful scenery.
Rent a Bike: Exploring the park on a bike is a fantastic way to cover more ground and enjoy the themed gardens and green spaces. Rent a bike at the park and embark on a leisurely ride with your companions.
Stay Hydrated: Carry a refillable water bottle and stay hydrated during your time at Creek Park. There are water fountains available to refill your bottle when needed.
Video: Dubai famous public parks: Dubai Creek Park complete exploration
Do you want to get an idea on what you can expect at Creek Park in Dubai before you could bring your family out to visit? Here's a video that'll give you just that!
Dubai Creek Park, also known as Creekside Park, is a spacious public park located in Umm Hurair.
It features lush gardens, shaded pathways, and a variety of family-friendly attractions.
The park houses the Dubai Dolphinarium, offering dolphin and seal shows, and Children's City, an interactive educational center for kids.
The promenade along Dubai Creek provides stunning views of boats and the Dubai Creek Golf and Yacht Club.
Creek Park has multiple playgrounds with modern equipment, and visitors can rent bikes near Gate 1.
It's a popular spot for picnics, with designated BBQ areas and a beach at the southern end.
The park offers facilities like food kiosks, prayer rooms, and toilets.
The entrance fee is 5AED, and it's free for kids under 2 and the disabled.
The park has diverse dining options nearby, including Mexican, Italian, and rooftop bars with DJ and city views.
Frequently Asked Questions
1. Can you barbecue in Creek Park?
Yes, Creek Park provides dedicated barbecue areas and green spaces for picnics. Visitors must bring their own equipment and supplies, and it's essential to clean up after themselves to keep the park safe and tidy for others.
2. How much is the entrance fee for Creek Park?
The entrance fee for Creek Park in Dubai is AED5 (US$1.36) per person. People of determination and children under two years of age can enter for free. Please note that payment can only be made using the RTA's public transportation Nol card, which you can top up at any metro station.
3. What are Creek Park's timings?
Creek Park is open from 8 am to 10 pm from Sunday to Wednesday and from 8 am to 11 pm from Thursday to Saturday. Visiting in the morning is advisable to avoid crowds and find convenient parking spaces near the entrance.
4. What can you do near Creek Park?
Located in the heart of Dubai, Creek Park offers proximity to various attractions such as Dubai Museum, Al Fahidi Fort, Alserkal Cultural Foundation, and the Coffee Museum. You can easily incorporate a visit to the park in a day full of activities or spend a relaxing day enjoying its facilities.
Summary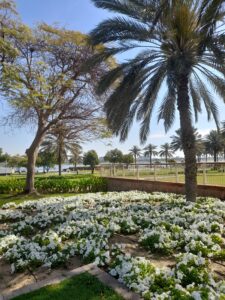 In conclusion, Creek Park Dubai, also known as Creekside Park, is the perfect destination for a fun-filled family day in the heart of Dubai.
It offers an abundance of exciting activities and attractions suitable for visitors of all ages, ensuring an unforgettable experience for everyone.
Whether you're a local seeking a weekend getaway or a traveler exploring the wonders of Dubai, Creek Park has something to offer.
From thrilling rides and serene boat cruises to tranquil picnics and cultural encounters, the park provides a harmonious blend of adventure and leisure.
READ NEXT: 10 Parks to Visit in Dubai