There's nothing like the scenic view of Dubai's skyline as seen in Al Qudra Lake. This spot is a hidden gem nestled amidst the vibrant desert landscape, offering a mesmerizing oasis that beckons both locals and travelers alike. With its picturesque charm and serene waters, this enchanting spot has quickly become a popular destination for nature enthusiasts and urban escapists seeking a tranquil retreat just a stone's throw away from the bustling city.
As you venture into this captivating haven, prepare to immerse yourself in a world where the modern metropolis meets the untamed beauty of nature, creating an unforgettable experience that will leave you in awe. Get ready to embark on a journey to uncover the wonders that await at Al Qudra Lake, where tranquility and urban splendor harmoniously blend into an idyllic sanctuary for all to enjoy. Read on.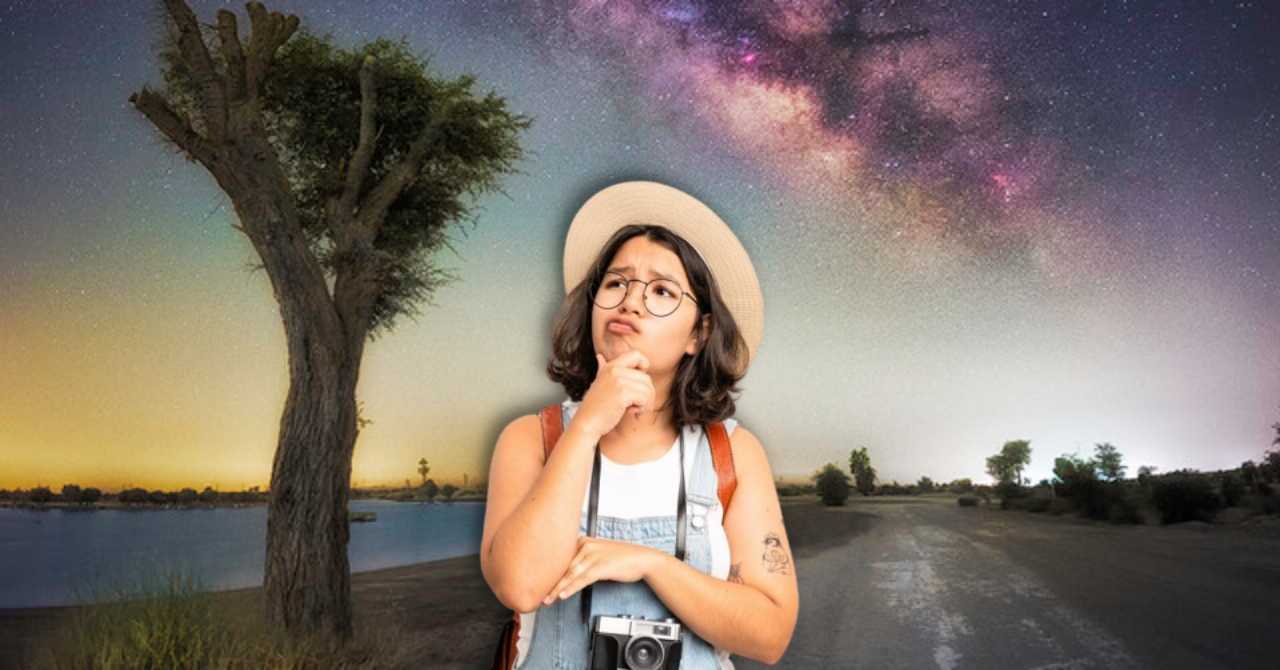 What to Expect
Situated in the vast Al Marmoom Desert Conservation Reserve, you'll be amazed by how easily you can reach this desert oasis from the busy city.
Al Qudra Lake offers a perfect escape from the urban hustle and bustle, allowing you to immerse yourself in the tranquil beauty of nature.
As you stroll along the waterfront, you'll be greeted by breathtaking views of the desert sunset, casting an ethereal glow over the serene waters.
What sets Al Qudra Lake apart from other destinations is its thriving wildlife.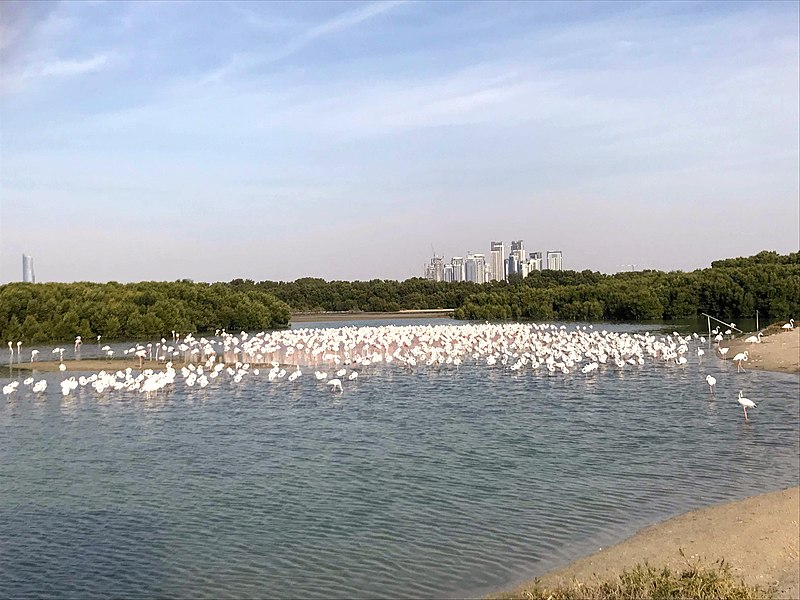 Here, you have the opportunity to witness animals in their natural habitat, from elusive desert foxes to the elegant oryx, a true testament to the remarkable biodiversity of the region.
The lakes also serve as a haven for over 170 bird species, including graceful swans, geese, ducks, and even majestic flamingos. It's a bird lover's paradise, where you can marvel at the diverse avian population, some of which are on the endangered list, such as the steppe eagle and the Asian houbara.
As you explore the area, you'll find an array of food trucks offering delectable treats, allowing foodies to indulge in a feast while surrounded by the pristine beauty of nature.
Alternatively, you can pack a picnic and find a cozy spot to savor the flavors of your choice, immersing yourself in the great outdoors.
For those seeking a bit of adventure, the Al Qudra Cycling Track offers a scenic route around the series of lakes, providing a leisurely ride that allows you to soak in picturesque surroundings.
At Al Qudra Lake, nature lovers, fofferthusiasts, and adventurers come together to create an unforgettable experience, where the harmony between the desert landscape and the urban amenities offers a true escape from the ordinary.
Top Things to Do at Al Qudra Lake
1. Al Qudra Love Lake: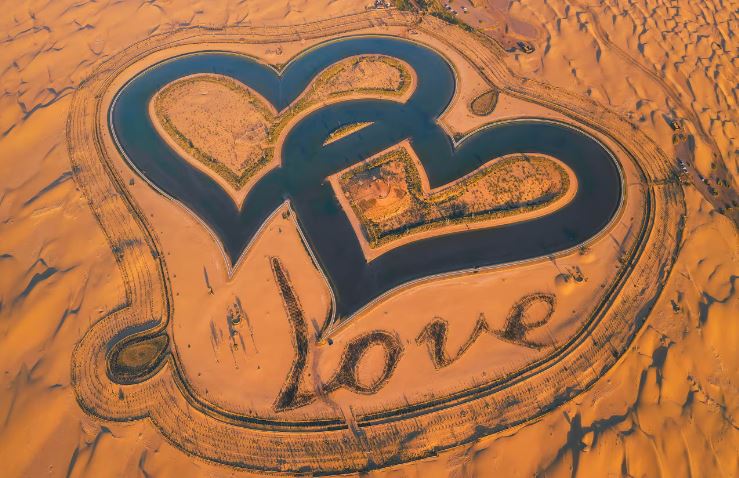 Spend Romantic Time: Make a point to visit Al Qudra Love Lake for a romantic outing with your loved ones.
Just minutes away from Al Qudra Lake, this stunning location features the word "Love" formed by the flora and two interconnected heart-shaped lakes, creating a picturesque setting.
2. Camping and Barbecue: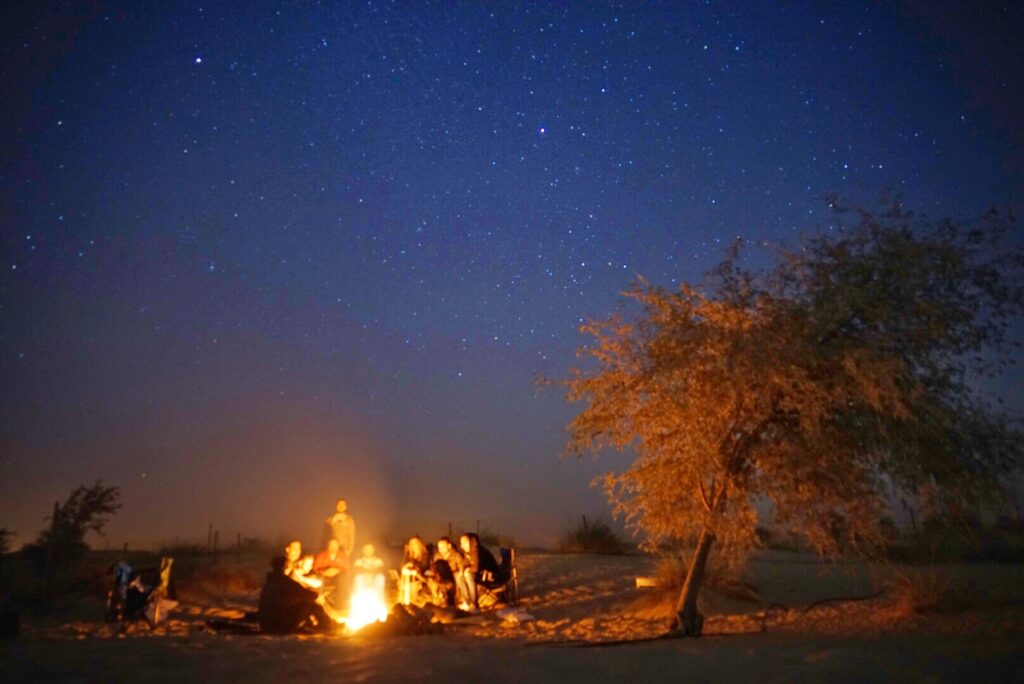 Enjoy BBQ by the Lake: Al Qudra Lake is renowned as one of Dubai's best BBQ spots and a favorite among campers. Camping here is free, but ensure you have all necessary supplies, such as tents, sleeping bags, and lanterns. Dubai's camping equipment stores offer all the essentials you may need.
Follow Eco-Friendly Practices: While camping, it's essential to abide by environmental guidelines, like cleaning up after yourself and avoiding leaving burned charcoal behind, as it can be harmful to the environment and local wildlife.
3. Observe the Wildlife
Birdwatching Haven: Al Qudra Lake is home to over 170 native bird species and other wildlife, making it a paradise for birdwatching enthusiasts. Keep your eyes peeled for black swans, ducks, flamingos, and even endangered Steppe Eagles during your marsh-side exploration.
Chance Animal Encounters: While animal sightings are relatively rare, you might be lucky enough to spot roaming gazelles, rabbits, or foxes in the Al Qudra region. Take a memorable wildlife excursion with your loved ones and appreciate the natural beauty of the area.
4. Go Cycling: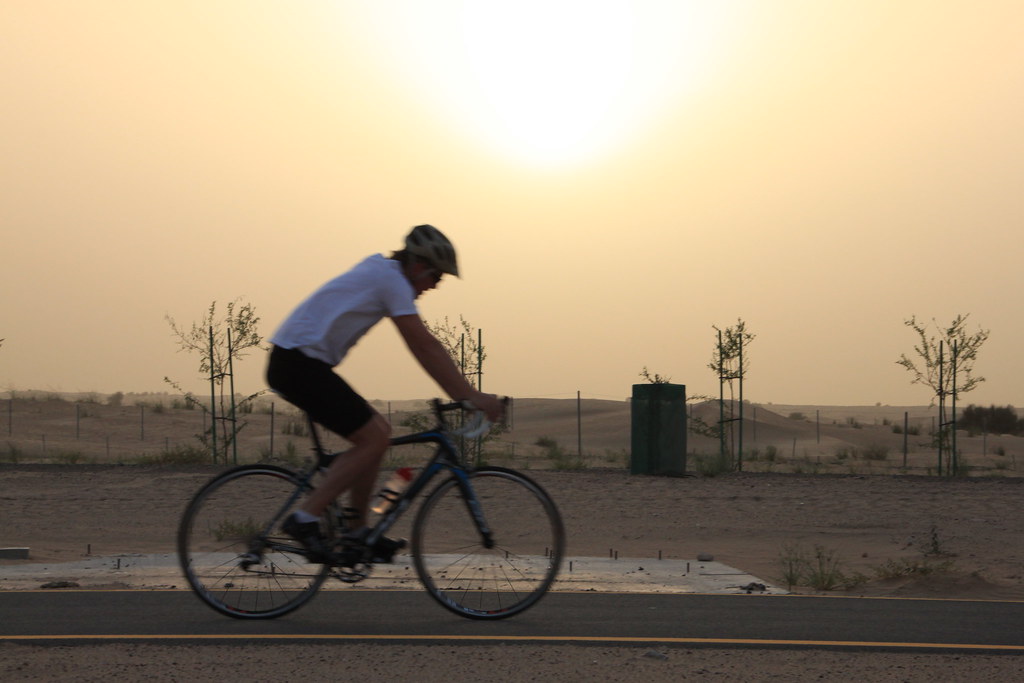 Explore on Two Wheels: Al Qudra is a cyclist's dream destination. Head to the Al Qudra Cycle Track, offering 86 km of cycle paths with various extensions to lengthen your ride. Whether you're an amateur or professional rider, you'll encounter a diverse community of cyclists on the track.
5. Admire the Sunset
Capture Stunning Moments: Don't forget your cameras as the sun sets over the golden dunes, providing a breathtaking view. The picturesque scenery offers a perfect backdrop for capturing beautiful images and making lasting memories.
Stargazing Opportunity: At night, take advantage of the unpolluted skies and indulge in some stargazing. The clear night sky sparkles like diamonds, making it a must-see for astronomy enthusiasts.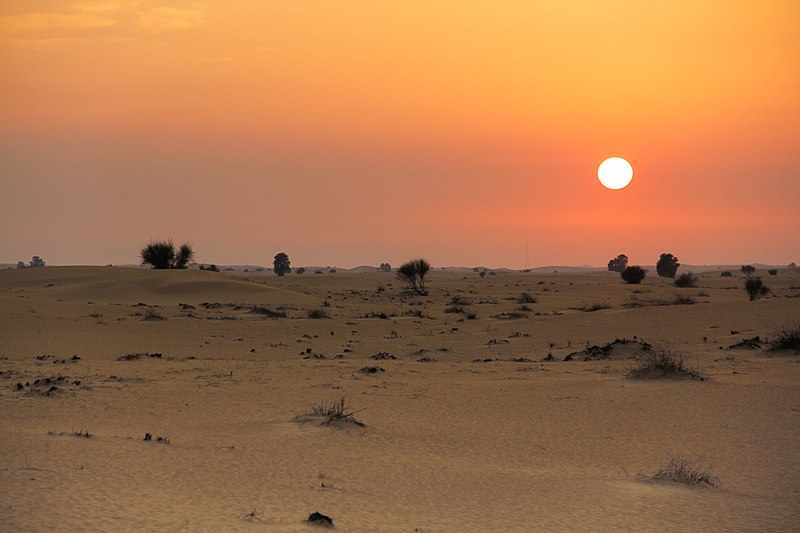 Visiting Al Qudra Lake and Love Lake in Dubai guarantees an unforgettable experience, whether you're seeking romance, outdoor adventures, wildlife encounters, cycling thrills, or simply relaxing amid nature's wonders. Remember to respect the environment and wildlife during your visit, ensuring that these natural treasures remain preserved for future generations to enjoy.
Tips to Best Enjoy a Day at Al Qudra Lake:
Arrive Early: Start your day at Al Qudra Lake early to enjoy a peaceful and serene atmosphere with the birds' calls and gentle breezes rippling across the waters.
Birdwatching: Bring binoculars to spot the various species of birds, both native and migratory, that flock to the area. Look out for swans, lapwings, ducks, and stunning flamingos resting in the shallows.
Picnic by the Shore: While there are no restaurants or cafés at Al Qudra Lake, you can enjoy a delightful picnic by the shore. Join the locals around raised barbecues, or pack your own picnic and blanket to relax and soak in the breathtaking landscapes.
Get Active: If you prefer an active day, bring a bicycle or your running shoes to take advantage of the smooth track that spans 86km around the lakes and through the desert. Keep your eyes peeled for native wildlife like sand gazelles, desert foxes, and the elusive Arabian Oryx.
Visit Love Lake: For a touch of romance, head to the nearby Love Lake. Shaped like two intertwined hearts, this artificial waterscape offers a perfect spot to spend time with a loved one and capture some enchanting photographs.
Sunset Spectacle: Stay until the evening to witness the stunning sunsets reflecting off the tranquil waters of the lakes. As night falls, gaze up at the unpolluted skies to spot twinkling stars and intricate constellations with ease.
Travel by 4×4: Since the tracks leading to Al Qudra Lake are off-road and parking is ad-hoc, it's advisable to travel by 4×4 for a smoother and more convenient journey.
Timing and Considerations: It's best to visit Al Qudra Lake early in the morning or in the late afternoon to avoid the scorching heat of the day. The area does not have much shade, so be prepared with sunscreen, hats, and plenty of water. Also, facilities at the lakes are few and far between. The area gets busy if it is a public holiday in Dubai.
Entry Fees: There is no entry fee to visit Al Qudra Lakes.
Respect Nature and Wildlife: While at Al Qudra Lake, remember that it is a protected area with diverse wildlife. Please observe and respect the animals and their natural habitat. Avoid feeding or disturbing them to maintain the ecological balance.
How to Get to Al Qudra Lake in Dubai
Al Qudra Lake, a serene desert oasis in Dubai, offers a perfect escape from the city's bustling streets. To reach this picturesque destination, follow these simple steps:
Choose Your Mode of Transportation: There are several options to get to Al Qudra Lake, depending on your preference and convenience:

Car: The most convenient way to reach Al Qudra Lake is by car. If you have access to a vehicle, you can easily drive to the location. It's recommended to use a 4×4 vehicle, as some parts of the journey may require off-road driving.
Taxi: Hailing a taxi is another option, especially if you prefer not to drive yourself. Inform the driver that you want to go to Al Qudra Lake, and they will take you directly to the entrance.
Tour Operator: Consider booking a desert tour with a reputable tour operator that includes a visit to Al Qudra Lake. This way, you can enjoy the experience with the guidance of a knowledgeable guide.

Set Your GPS or Follow Directions: If you're driving yourself, set your GPS to "Al Qudra Lake" or "Al Marmoom Desert Conservation Reserve." Alternatively, you can follow these general directions:

From Dubai city center, take Sheikh Mohammed Bin Zayed Road (E311) southbound.
Take the Al Qudra Road exit (D63) and head west towards the Al Marmoom Desert Conservation Reserve.
Follow the signs for Al Qudra Lake, and you'll eventually reach the entrance of the lake area.
Video: Amazing Al Qudra Lake | best for bbq n camping | best place to relax ❤️
Curious about what you can expect from a visit to the Al Qudra Lake? Here's a video to give you some insight into what you will see and experience on your trip there. If you're a first-time visitor, it's always a good idea to check what others enjoyed and love to do when they plan a trip to a place you're not very familiar with. Watch until the end and be sure to take notes and pick up some ideas to plan a perfect date with family, friends or loved ones at the Al Qudra Lake.
Frequently Asked Questions
1. Are barbecues allowed in Al Qudra?
Yes, barbecues are allowed at Al Qudra Lakes. Visitors should bring their own equipment and use a container for barbecuing, avoiding making fires directly on the sand. Remember to clean up after use.
2. Are dogs allowed at Al Qudra Lake?
Yes, dogs are allowed at Al Qudra Lakes. However, visitors must clean up after their pets and be cautious about letting dogs off the leash when others are around.
3. How do I get to Al Qudra Lakes?
The best way to reach Al Qudra Lakes is by car. You can take a taxi to the nearby parking area, which offers facilities like toilets, bike rental shops, a petrol station, and a Last Exit food truck area. Both 4×4 vehicles and regular cars can access the area as the sand is highly compacted.
4. How long is Al Qudra Cycle Track?
The Al Qudra Cycle Track offers 86km of bike paths to riders. The main loop is 50km, and you can complete it in either direction. There are additional extensions available to lengthen your ride. Bikes, including Careem bikes, are available for rent.
5. Is Al Qudra Lake man-made?
Yes, Al Qudra features a cluster of man-made lakes, including Love Lake Dubai, situated in the surrounding Saih Al Salam desert. These lakes provide an ideal setting for a day away from the city and are complemented by an 86km cycling track, appealing to long-distance runners.
6. Are there any entry fees for Al Qudra Lakes?
As of this writing, there were no entry fees for Al Qudra Lakes.
7. What are the operating hours of Al Qudra Lakes?
Al Qudra Lakes do not have specific operating hours. Visitors can access the area throughout the day. However, it's advisable to visit during the early morning or late afternoon to avoid the intense heat.
8. Is swimming allowed in Al Qudra Lake?
Swimming is not allowed in Al Qudra Lake. The lakes are primarily a conservation area, and swimming is prohibited to protect wildlife and maintain the ecosystem. Visitors can enjoy various other activities such as birdwatching, cycling, picnicking, and taking in the scenic beauty of the surroundings.
Summary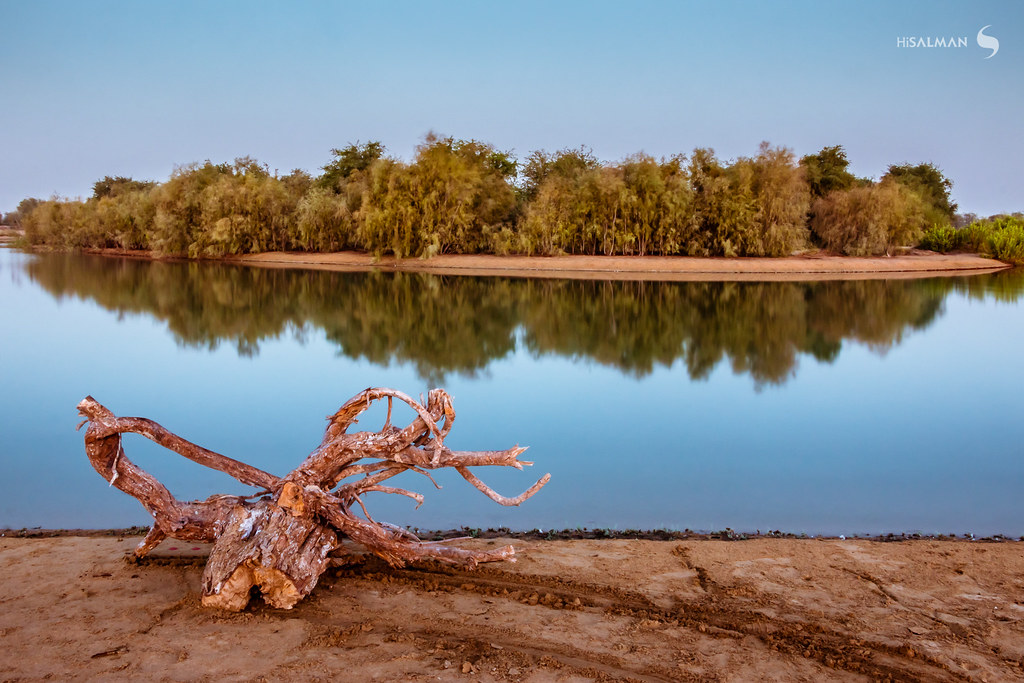 In conclusion, Al Qudra Lake stands as a testament to the enchanting harmony that exists between Dubai's urban marvels and the raw beauty of nature.
As this hidden gem captivates the hearts of both locals and travelers, it offers a respite from the city's bustling energy, welcoming all to immerse themselves in its serene waters and picturesque landscapes.
The contrast of the modern skyline against the peaceful desert oasis creates a unique experience that leaves visitors in awe.
Al Qudra Lake has become a sought-after destination for those seeking solace, adventure, and a chance to reconnect with nature.
So, with its allure and irresistible charm, Al Qudra Lake beckons you to embark on a journey of discovery and marvel at the wonders that await in this tranquil sanctuary.
READ NEXT: 7 Tips for Traveling Light & Smart during Your Holiday