When I received an invitation to visit Zanzibar, Tanzania, the inner wanderer in me is saying HELL YEAH, why not! However, a part of me is saying, NO WAY it is not safe!
I have not visited any place in Africa which is why I am hesitating to step foot in Tanzania. Some stories we hear about Africa are unpleasant, when it comes to safety and cleanliness, which made me think and ask twice or more, before I finally decided to book a flight and explore Zanzibar.
Turquoise crystal clear and warm water make this paradise beach the perfect place for everybody!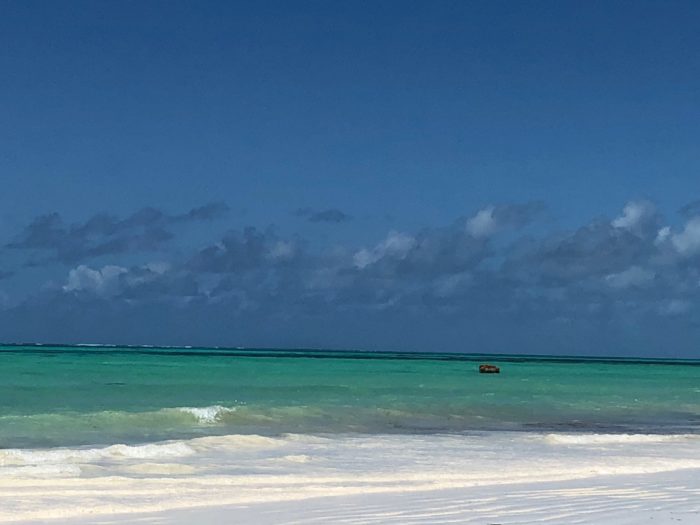 My Experience as a Dubai OFW Visiting Zanzibar in Tanzania
"Zanzibar a semi-autonomous region of Tanzania. It is composed of the Zanzibar Archipelago in the Indian Ocean, 25–50 kilometers (16–31 mi) off the coast of the mainland, and consists of many small islands and two large ones: Unguja (the main island, referred to informally as Zanzibar) and Pemba Island. The capital is Zanzibar City, located on the island of Unguja. Its historic center is Stone Town, which is a World Heritage Site." (Wikipedia – Zanzibar)
Pre travel jitters
Unlike any of my previous travels that I normally plan for weeks, this is very much different since this is an unplanned trip. I had very limited time preparing and I literally had only 1 day to prepare my glam-pack gear. I briefly researched on possible places to check out in the area where we will be staying and around the village where we can stopover.
My travel buddy landed in first in Tanzania and journeyed to Paje Village on the east coast of Zanzibar Island (Unguja). When I was told about the condition of the hotel room before my flight, I was not very optimistic about the place and even thought of rebooking and rerouting the ticket I bought and fly somewhere else. Fly to somewhere SAFE! A typical stereotype based on stories we hear from other people.
Until the last minute, at the airport, my heart was pounding and feeling worried about the flight, hotel, transportation, immigration, and I was even worried about the drinking water available in the place.
Arriving at the Airport and Visa on Arrival Process
The day I landed at Abeid Amani Karume International Airport, I was astounded! (Well a different kind of astonishment).  As you can see on the photo, the airport could not accommodate the large number of passengers arriving on that day, people had to wait outside in queue to pay for visa. Thankfully, the rain stopped and I am glad I chose the morning flight!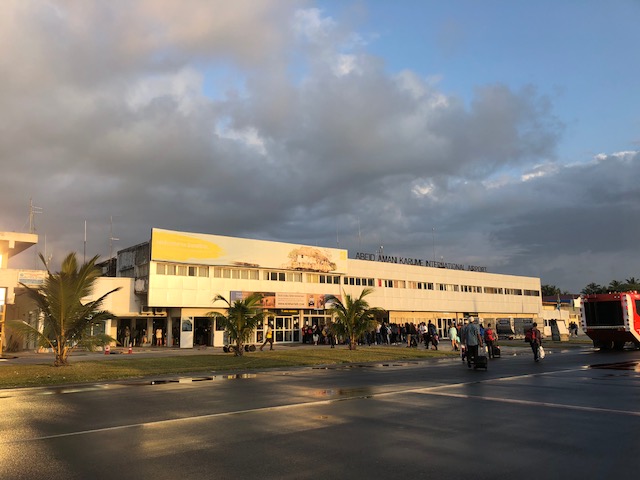 Most nationalities can obtain visa on arrival in Tanzania. For Filipino ordinary passport holder, you need these requirements to acquire visa when you land.
A Pen. 🙂
Visa application form, which you can get at the airport and fill out while waiting in line to the cashier.
A fee of 50USD (cash, credit or debit card) to be paid at a cashier. (I paid in cash). Please ensure you keep the receipt, as it will be presented to the immigration officer to process and stamp the visa on your passport.
Passport valid for 6 months or more and at least one blank visa page.
*There is an express lane for MasterCard cardholder, you just need to show your Platinum card and you will be served immediately at the Platinum Lounge.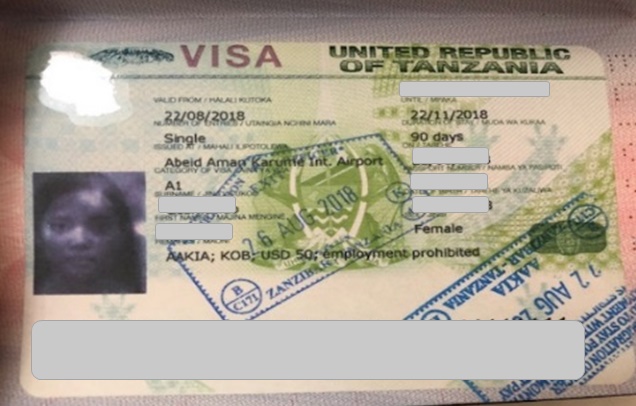 The whole visa on arrival process in my experience was not organize (at all). I suggest you remain patient while standing in line. At that time, the inner judgmental side of me is winning and telling me "I told you so… you should've stayed in Dubai and sip margaritas by the pool or go stress yourself finding a parking space at the Dubai Mall!" Nonetheless, since I was already there, better live the moment and stay in queue to get my visa issued. At last, after few hours, the 90-day single entry visa was stamped on my passport to the Republic of Tanzania! Jum-buh (Swahili greeting which means HELLO!)
I noticed from Dubai Airport that I was the only solo female Filipino traveler going to Zanzibar. #girlpower 🙂
The car arranged from the resort waited for me for more than an hour and the driver who picked me up was still very friendly and helpful so despite the long wait for the visa I didn't had chance to be dismayed in any way. As we drove our way to Paje Village, I noticed how unpretentious life is in this town. No fancy cars, buildings, malls and houses. Only unpaved narrow roads, small village markets, old cars and houses.
Car transfers usually cost 40USD from the airport to Paje Village resorts/hotels. The journey normally takes 1 ½ hours bumpy road trip. Traffic does not exist in this small town. Cars/taxis/private services in this region mostly do not have AC so the whole drive makes you feel the breeze of cold air!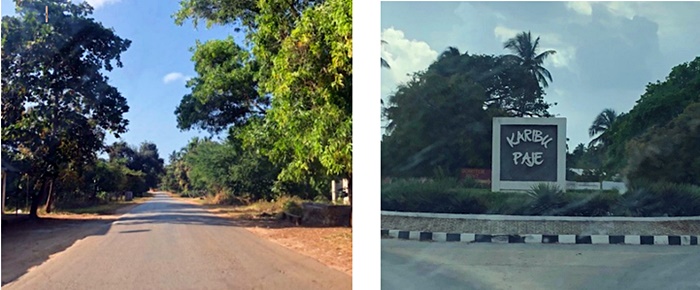 Whilst in transit I felt grateful for tangible and intangible possessions that I have in life. Grateful for the place I live, the car I drive, the food I eat and the purse I use. Thankful for friendship that stays, relationships that I lost, experiences I made and lessons I have learned, finally my work that I complain about.
One-hour trip to resort made me look at life differently. The drive on narrow streets made me realize, I have more than I ever imagined. I have everything I need to go through this journey called "life". At around 9 AM on 22nd of August 2018, I reached Panorama Ocean View resort; it was not what I was expecting, but when I saw the view of the Zanzibar Archipelago from the restaurant balcony, it was paradise! I immediately thought that all the trouble I had from the airport to the resort is all worth it! I guess I should've not judged that the trip from the beginning.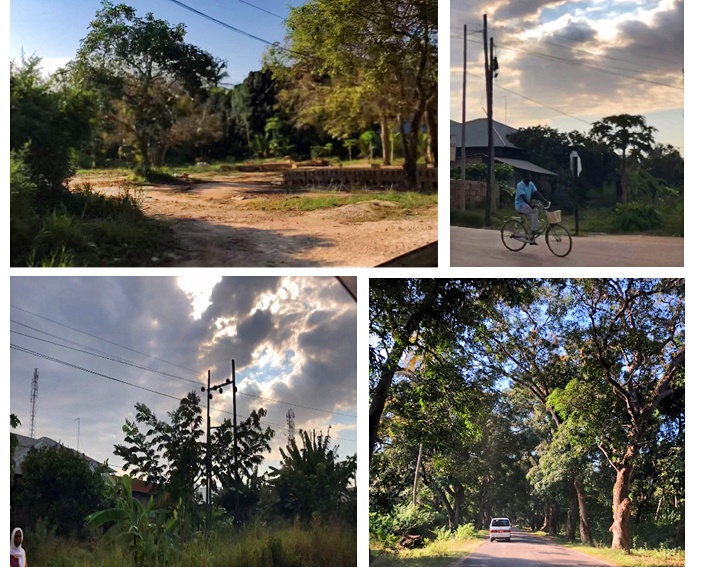 Mr. Kahawa – Best coffee place in Paje
Right after I freshen up on my very first day in Zanzibar, we walked our way to the best coffee shop in the town – MR. KAHAWA. Trip advisor rated this at 4.5/5. I have read countless helpful reviews about them so it will be a shame if I will not visit this place. Surely, the reviews were right! They serve great 3 USD coffee and have the perfect view of the beach. Mornings will not be complete without freshly brewed coffee made in this charming café. This is probably the most relaxing abode I've had pre-lunch coffee in my life. Pure bliss!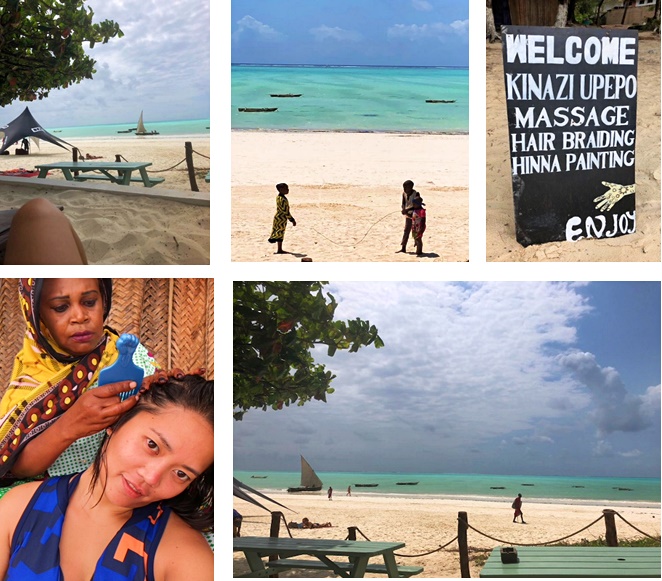 Low Tide in Paje Beach
The most striking feature of Paje Beach is its low tide. The azure waters retreat for miles long, leaving a landscape of white sand with scattered wooden fishing boats, stranded shellfish, tiny corals and the occasional confused traveler, and I was one of them! Zanzibar Island is influenced by the Indian Ocean tides, caused by the effect of the moon's gravity against the mass of the ocean. In some articles I have read, the coral reef protects the East coast of Zanzibar, creating a large area of shallow water that is visible when the tide is low. During our stay in this magnificent island, the tide changes thrice in a day, in the early morning (low tide), in the afternoon (high tide) and in the evening (low tide).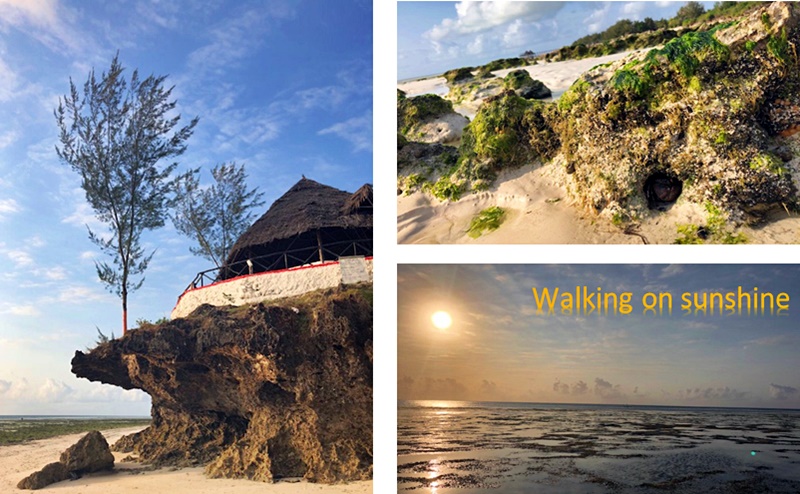 Seaweed farming
Women from different parts of Zanzibar farm seaweed just off the beach. Based on locals and some articles I've read, much of the seaweed farming on Paje Beach is part of a charitable initiative set up by SeaWeed Centre. Their harvest is mainly used for soaps, creams and treatment scrubs. Unfortunately, I was not able to visit Seaweed center as location is extremely far from where I was staying, but I found some products sold at local coffee shop at reasonable prices. A bar of soap is 3 USD a piece.
Kite surfing
For all, Paje beach is somnolent serenity, but this place is also very popular with kite surfers all over the world, thanks to occasional blustery winds. During my stay, I was lucky to have total 3-hour kite surfing lesson at 20 USD per hour. There are heaps of kite surfing schools in the area. Make sure to negotiate the price prior to enrolling to any class.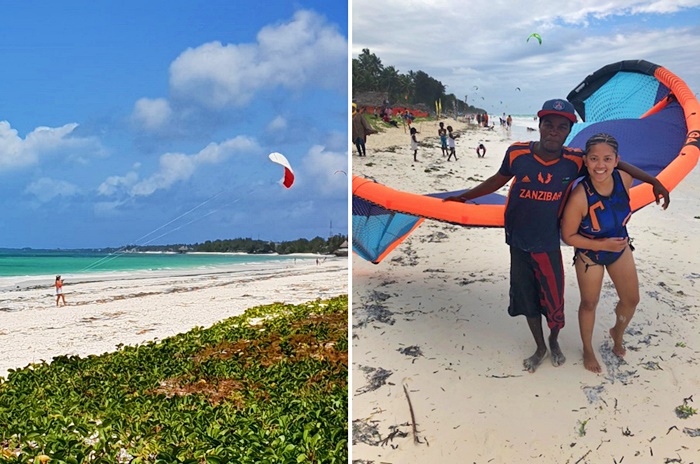 Throughout the limited time that I had to try the sport, I can say Paje beach is a good place to learn kitesurfing and probably one of the best spots in the world. The coast offers ideal conditions to learn kite surfing or maybe improve your riding skills (if you are already a pro). Like any of my other trips, I met several people in this escape. I met a couple from England who caught my attention and probably the most memorable couple I met in the entire trip. The wife told me, initially only her husband was kite surfing, but during their trip to Morocco few years back, she got bored dawdling by the beach and waiting for her husband so she enrolled herself to kite surfing lessons.
In the beginning, she was afraid and thought she could not finish the lessons, but she felt the bliss of kite surfing. When they went back to England, she bought her own kite and her supportive husband got her a kite board as Christmas gift that year. She uttered, "If you can't beat them, join them". Now they are both kite surfers and love the sport so much they visit Zanzibar every year. The most interesting part of kite surfing as a sport is meeting people! Every person has their own story but every person is the same when they hit the beach and held their kites.
Hakuna Matata!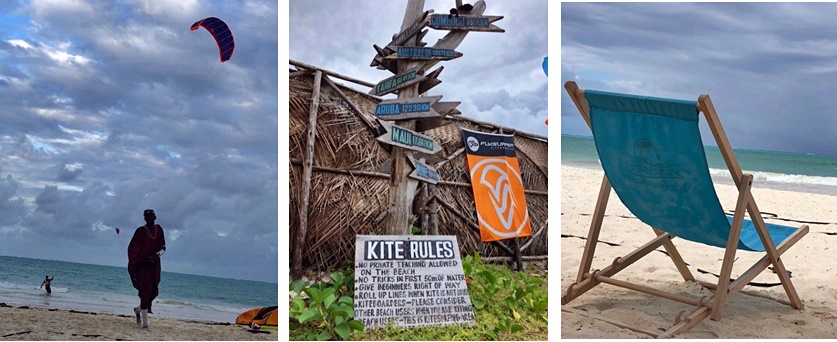 Zanzibar Island Art Gallery
Art lovers will find a selection of paintings by several Zanzibar artists, including the popular Tinga Tinga painting style. These pieces of art can really catch your attention with their vibrant colours and striking images. Here are some of my favorites. Depending on the size of the painting, each piece cost about 50 – 100USD, but with good negotiation skills, you can definitely take home a nice piece of art for 20USD.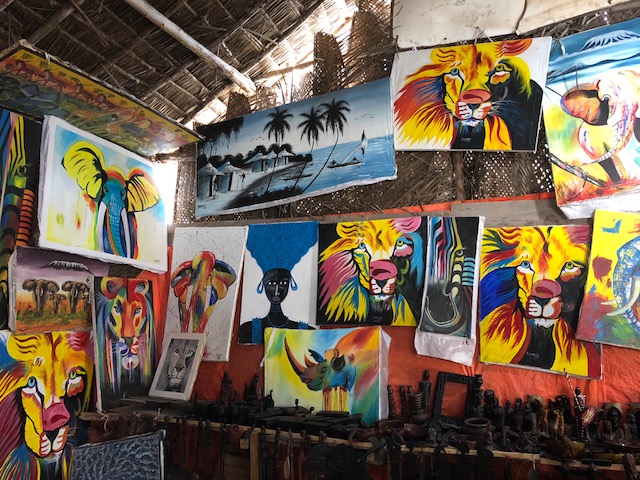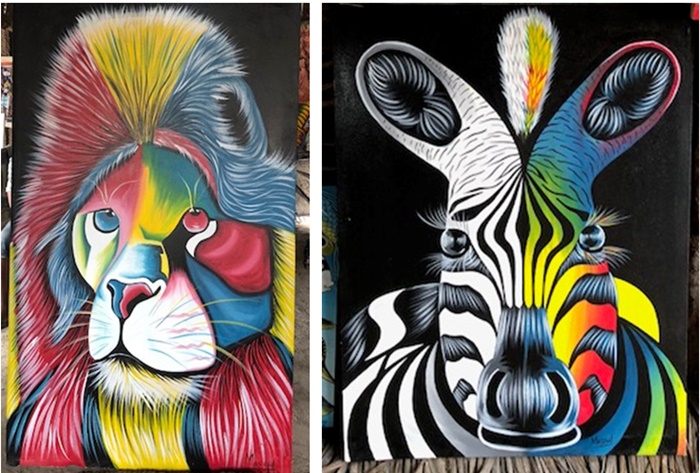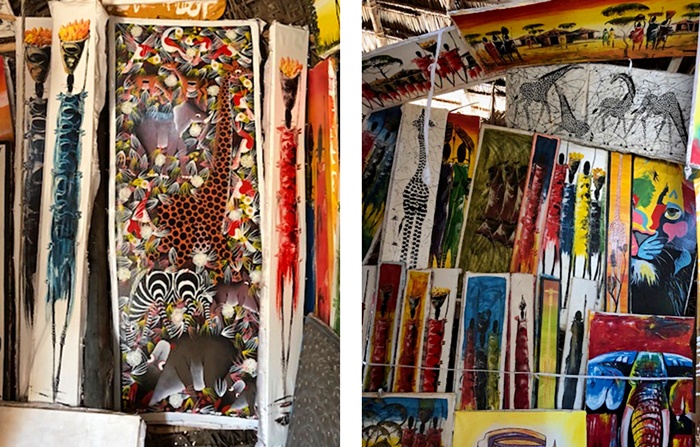 Best Holiday Ever
My Zanzibar trip was unexpected. I never anticipated that the entire experience would be idyllic. I guess it was too early for me to judge the trip the moment I booked the ticket and hear stories about Africa. In real life, most of us quickly judge people, experience and circumstances easily without knowing the whole story or the whole person. Every person is different, every experience can be memorable and that will depend on how you interpret things/experiences that is happening to you. In this trip I have limited knowledge (slim to none – I guess) about the place and the challenges I had initially at the airport made me want to retreat and fly back to my comfort zone.
The judgement game is never ending especially in this part of the world. It is very common for every individual to judge everyone. It is like putting them into different categories and on specific shelves in our mind. The society we are living in now, though we say diverse in a good way at times, with dozens of different nationalities and ethnicities, we depend on the ability to interact with people primarily through first sight or stereotype. We look at other people's race, skin colour and appearance a lot and then we generalize. Before we even start a tête-à-tête with someone, we usually think how other people will "Think of us". Hence, we devote a great deal of time probably tweaking our image to make it more fitting to others. A judgmental society is not dynamic and it kills the originality in us.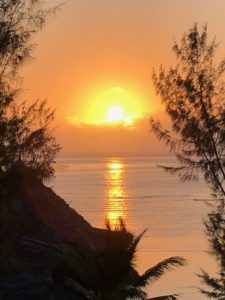 Accepting people/experiences/circumstances for whom/what it is, is a blessing, but not all of us have this trait. We as a society are judgmental, because we lack acceptance. We should learn to open our hearts and accept people; every soul we meet has something exceptional to share with us, but only if we are open to receive it.
In a book that I was reading (Don't Sweat the Small Stuff by Richard Carlson) whilst in this trip it says, "When we judge or criticize another person, it says nothing about that person; it merely says something about our own need to be critical." Let us not complicate our lives. Let us stop being judgmental people and start to be more compassionate. We need to be aware of our behavior, start believing in one's self, and always watch our language.
Remember we all live in a diverse community. This should make us grow as a person and not destroy our society. Let us learn and accept others and try to adapt to them rather than altering another person. There are no two people alike even twins have their differences. We are all different in our special ways. I am glad I opted to go on this trip; it was a very humbling and eye opening experience for me. The trip that I initially thought to be the worst turned out to be my best holiday ever!
Asante Sana Zanzibar! Mpaka wakati ujao. 
———————————————-
About the Author: Archie Gesmundo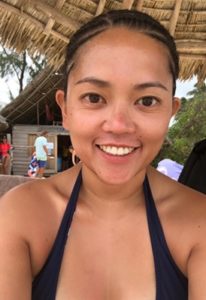 Archie is a xennial mermaid, travel enthusiast, and minimalist. She is working in Dubai with the automotive industry for the past five years, plans to retire at the age of 50 and live a life by the beach. Her passion in exploring different places started six years ago. Eighteen diverse cities around the world from her bucket list has been completed, but her list never ends. There are more beaches to mosey, cities to get lost in and some historical places to wander. This article is her first blog ever written and published online.
———————————————-
Want to become a Dubai OFW Contributor?
Want to share an experience? Share your everyday stories, food trips, travel, photo stories, or tips in Dubai to our growing community. More information here – Become a Dubai OFW Contributor!