Following the religious month of Ramadan and the festivities that take place during the Eid Al-Fitr holiday, Islamic countries such as the UAE and in most parts of the Middle East are now gearing for yet another special time of sacrifice for believers of the faith – the Eid Al-Adha.
The Eid Al-Adha, which roughly translates to the "festival of sacrifice", commemorates Ibrahim and his willingness to sacrifice his son Ismail for Allah. The event pays tribute to how Ismail was happy to oblige before Allah sends his angel, Jibra'il, to inform Ibrahim that he has already accepted the sacrifice from his heart.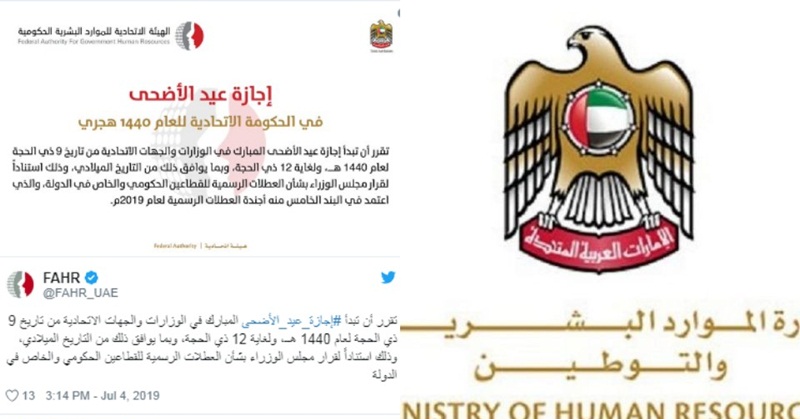 [Announcement] 2019 Eid Al-Adha Holidays in UAE
In reference to this important Islamic tradition, the Federal Authority for Government Human Resources announced on Thursday (July 4), that the Eid al-Adha holiday for ministries and federal bodies will begin on the 9th until 12th Dhu al-Hijjah 1440 H, as shared in a report by WAM.
Islamic Calendars have estimated the 9th to 12th of Dhu al-Hijjah 1440 H to take place on Saturday, August 10 until Tuesday, August 13 – making the festivity a 5-day long holiday when combined with Friday.
During the occasion to the announcement, the Authority paid their respect to the President His Highness Sheikh Khalifa bin Zayed Al Nahyan; His Highness Sheikh Mohammed bin Rashid Al Maktoum, Vice President, Prime Minister and Ruler of Dubai; His Highness Sheikh Mohamed bin Zayed Al Nahyan, Crown Prince of Abu Dhabi and Deputy Supreme Commander of the UAE Armed Forces; and Their Highnesses the Supreme Council Members and Rulers of the Emirates.
Furthermore, the Federal Authority extended its congratulations to the people of the UAE and Arab and Islamic countries.
Likewise, a tweet from the official account for Federal Authority for Government Human Resources in the UAE confirmed that the dates for the holiday apply to both public and private sectors in the country.
تقرر أن تبدأ #إجازة_عيد_الأضحى المبارك في الوزارات والجهات الاتحادية من تاريخ 9 ذي الحجة لعام 1440 هــ، ولغاية 12 ذي الحجة، وبما يوافق ذلك من التاريخ الميلادي، وذلك استناداً لقرار مجلس الوزراء بشأن العطلات الرسمية للقطاعين الحكومي والخاص في الدولة pic.twitter.com/2Fh5PX0vPI

— FAHR (@FAHR_UAE) July 4, 2019
As a gentle reminder, those who will be required to work during this holiday period will be entitled to receive special rates applied for work during holidays, as sanctioned by the UAE Labour Law. Be sure to check with your employer should you be required to work during these dates, or on any public holiday for that matter.