Eid Al Fitr is the day that signals the end of the 30-day fasting of the Holy month of Ramadan. This is a time where our Muslim brothers and sisters also go out and have a feast to rejoice.
This is a holiday celebration and it is a non working holiday for the government and private sector. Applicable holiday pay is rendered to those who are working during these dates.
UAE Eid Al Fitr Schedule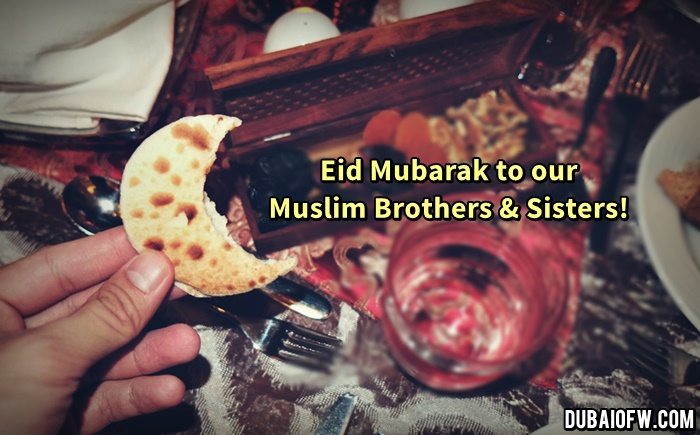 This year, Eid is announced officially to fall on July 6. Here are the holidays for private and public sectors in UAE:
Regardless of the paid holiday, it is good to know the true meaning of this event and celebrate Ramadan for its meaning.
How to Greet our Muslim friends during Eid – Meaning of Eid Mubarak!
For non Muslims, you can greet our Muslim friends and families "Eid Mubarak"
Eid means "Celebration"
Mubarak means "Blessed"
So we greet each other "A Blessed Celebration!". Happy breaking of the fast!
Summer in Dubai is also coming so be prepared for the climate. It will only be for a few months. Don't fret to stay hydrated!
Photo of eid Mubarak!