Following the success of creating a detailed tourist attraction map of the country of Pakistan, Assam Altaf, also known as "The Pakistani Traveller", has created another map. This time, it's a modern map featuring tourist attractions of Lahore, the second most populous city of Pakistan (next to Karachi).
Assam is an art director in a leading group of companies in Dubai. He worked hard in creating a beautiful graphic design map of Lahore, which is also his birthplace. The map also highlights 50 tourist spots you should visit in Lahore.
Knowing that visa rules have been changed and it's easier for most travellers to get a tourist visa to Pakistan. it's great that he is able to put his skills to good use and contribute to his country's tourism. Check out Assam's Pakistan map below:
---
Lahore First Tourist Attractions Map with 50 Discovered Places by Assam Artist
First of All Thank You So much Everyone for showering me with your appreciation on my previous artwork for Pakistan Tourist Attractions Map. Now its a huge responsibility towards me to give you my best of the best with less errors and mistakes as I am not perfect I am just a human. I have started Lahore Tourist Attractions Map, the day after I launched my previous Pakistan Attraction Map and also before getting viral. I spent 10 days working on this map with huge research and plans so I could give a quality artwork. I wish that I could gift my first copy of "Pakistan Tourist Map" to Prime Minister of Pakistan IMRAN KHAN which is appreciated all over the world. This "Lahore Tourist Attraction Map" is a gift to Governor of Punjab Ch. Sarwar. It will be an Honor for me and I want this map as an official tourist map of Pakistan.
MAP OF LAHORE
I am going to present first ever Tourist Attractions Map of Lahore with different and more touristic & artistic perspective. I made this map because I was born and raised, got my schooling, college, university and beginning of my career in Lahore.I really wanted to introduce my city my home town LAHORE to the WORLD. This is the city where you can feel relations with people around you, where everyone is open hearted and always ready to give you a warm welcome. Where everyone is busy in hospitality, Where everyone has time to share the joy and happiness. This is the city where you can eat at midnights with friends from streets and foods chains. You wake up early in the morning with freshness and chirping of birds and can go out with family for breakfast where ever you want in the walled city. Lahore is the city where you can easily move around in your private vehicles or public transportation. But my choice is to move around on a bike specially in the cold wintery days with frozen hands. Sometimes, one hand in the pocket while riding a bike is fun only Lahori can do. This is the city where temperature goes down surprisingly and shockingly goes up. There will be a sunny morning and suddenly it starts raining like cats and dogs.
Best part of Lahore is residents/visitors can enjoy all the weathers in a complete year. From Nov to Feb, you can enjoy winters. From March to June, you can enjoy the spring season. In June and July Mid Summer season is on, temperature is unbearable, but still I love that because I was born in June and I am always blessed with rain on my birthday. Anyhow, July Mid to Sept; we have Monsoon Season in Lahore and last but not the least October is the month of Autumn so you can find falling leaves everywhere in the streets or gardens which I love ofcourse. I have seen changes in Lahore in front of my eyes from every perspective, kind of positive changes. Lahore has become one of the beautiful city in Asia I must say. Every single street and corner or any flyover or underpass is decorated and worth-watching. Lahore has everything From History to Future of Pakistan. We all call Lahore, The Heart of Pakistan which is damn true. Lahore is one of the balanced city in Pakistan, Which provides the High Quality of Life Style, Education, Infrastructure, Health Sector and much more. I have seen positive changes in people of Lahore. They are more aware of laws and rules. Driving sense is extremely professional and of international standard here. They use indicators, Mirrors, Helmets, Seat Belts which are the necessities of driving. I really appreciate the people of my city to show the good mannerism and set the standards of life. Equally, I thank our government who work on our laws and behave humbly with all the drivers.So no worries you can hire a car or bike or 4 stroke Auto Rikshaw and move around in my Lahore.
In This map I mentioned all the major and minor tourist spots of Lahore so you can walk around easily in a good and cheaper way. I also suggested some nearest metro bus and orange-line metro stations so you can get off and just walk through the attractions.
Arrival in Lahore by Airport
You can take a Public Bus from outside the airport. It's not a shuttle bus service, but that bus can take you to the central city. You can check the feeder bus route map. This is the cheapest way to get into the city and if you want to take a taxi or metro cab from airport which is also not bad, but for sure they will charge you more.
Arrive in Lahore By Railway Station
If you are traveling from another city, like Rawalpindi/Islamabad Multan or Karachi, you can take exit from Railway Station Lahore Jn and you can easily find Busses, Taxis, Rikshaws. Major Attractions like Walled city of Lahore is very near to Railway Station you can easily go within 10 to 15 minutes drive with traffic.
Roads in the Map
There is a huge numbers of Roads in actual, but i have mentioned only important roads, from where people can easily travel to their attractions, for example, Canal Road, Mall Road, Ring Road etc, and rest of the roads are mentioned with attraction names so you can easily search those roads or ask your taxi drivers to take you to that road.
Shopping in Lahore
If you are interested in Shopping and stuff, specially souvenir, you can go to food street, which is at the back of Badshahi Masjid, Outside Lahore Fort, Duty Free Shop Lahore Airport or Liberty main market.If you are interested in buying traditional clothes like salwar kameez you can go to the major malls such as Packages Mall or Emporium Mall. They also have proper food court and entertainment plus WC of International standards.
Restaurants & Cafes in Lahore
Lahore's other name is food I guess haha. Lahoris are food lovers and they have variety of food chains, from desi to eastern and western style. MM ALAM Road is highly recommended if you want to try Cafe or Fine Dining, Chinese Continental etc. But if you want proper desi food of lahore you have to visit old food streets, one is near badshahi mosque with roof top view. There are alot of restaurants you can select. 2nd food street is Anarkali, 3rd one you can say is Gawalmandi ( Old Food Street ), other wise there are many other restaurants hidden in the small streets I cannot even explain haha! You will haveto invite me for that because I am really hungry while writing this.
Well lets make it short, I list down all the 50 places that I feel you must visit once you are in Lahore or you are planning to visit Lahore. Oh yes, I forgot to mention recently added attraction in lahore, Governor House Punjab. You can visit there on Sunday. They will welcome you with open hearts.
Canal of Lahore
I have been to many countries and I realized Canal is a Major attraction spot in every city, Like Canal in Rome, Canal in Paris, Canal in tibilisi.. there are so many canals in the world which are really famous and people are using them as a touristic spot. Our canal is not that much big, its small and beautiful with full of greenery and there are so many public chairs. You can park your ride and sit there for many hours if you want. Sit there, dip your feet and enjoy the summer in chilled water.. People of Lahore love canal and they use canal for everything even for bathing and swimming. But the actual beauty comes out when spring season comes. Govt decor the canal with creative monuments and arts with lights. You can also google the canal of Lahore. You will get an idea. being a travel blogger of pakistan i can suggest you the best ways and i know people loved to research about things. people love to discover things by them self too.
NOTE: If you have any questions in your mind regarding map you can feel free to ask because I cant stop myself from writing down about my city. There is a university in me and I have done PhD on my city haha. I feel so. Please note,
this map is Not for Sale at the moment. You can use with watermarks any where for promotions and presentations. Later I will update you when it will be available for Sale, Little Patience Required.
Thank you so much 🙂
Regards
Special Request,
Please Do share as much as you can to the world, so they can see from today we have a city like Lahore, which have touristic potential more than London, Paris, Rome. and i will more honored if people from other states and cities of pakistan will share about Lahore. we have to get rid of the differences between culture and languages. being an Lahori i love Sindh, Blochistan, Fata, G.B, Kashmir and there people as well. First we have to give value to our people and our cultures too. Than people from out side they start respecting your culture. Last but not the least Please who ever live in Lahore or who even visit to Lahore in future, keep my Lahore Clean. Do not expect others to pick your Garbage, In Fact if you Saw any dirt around you make it Clean, We need to spread awareness more about greenery and cleanliness. Respect Foreigners give them good advice. If you cannot talk in english or other language with them. just Smile and thank you them to come here. They will not make fun of you or your english, they will be happy at least you are trying their global language to communicate with them. They never let you down. Always offer them cheap price foods and souvenirs. Make them feel like they are not far away from their home. Don't ask for photos if they are not comfortable. These are basic manners we should adopt. I know we are best Nation in the world and very soon entire world no this. INSHALLAH
PAKISTAN ZINDABAD
– Assam Artist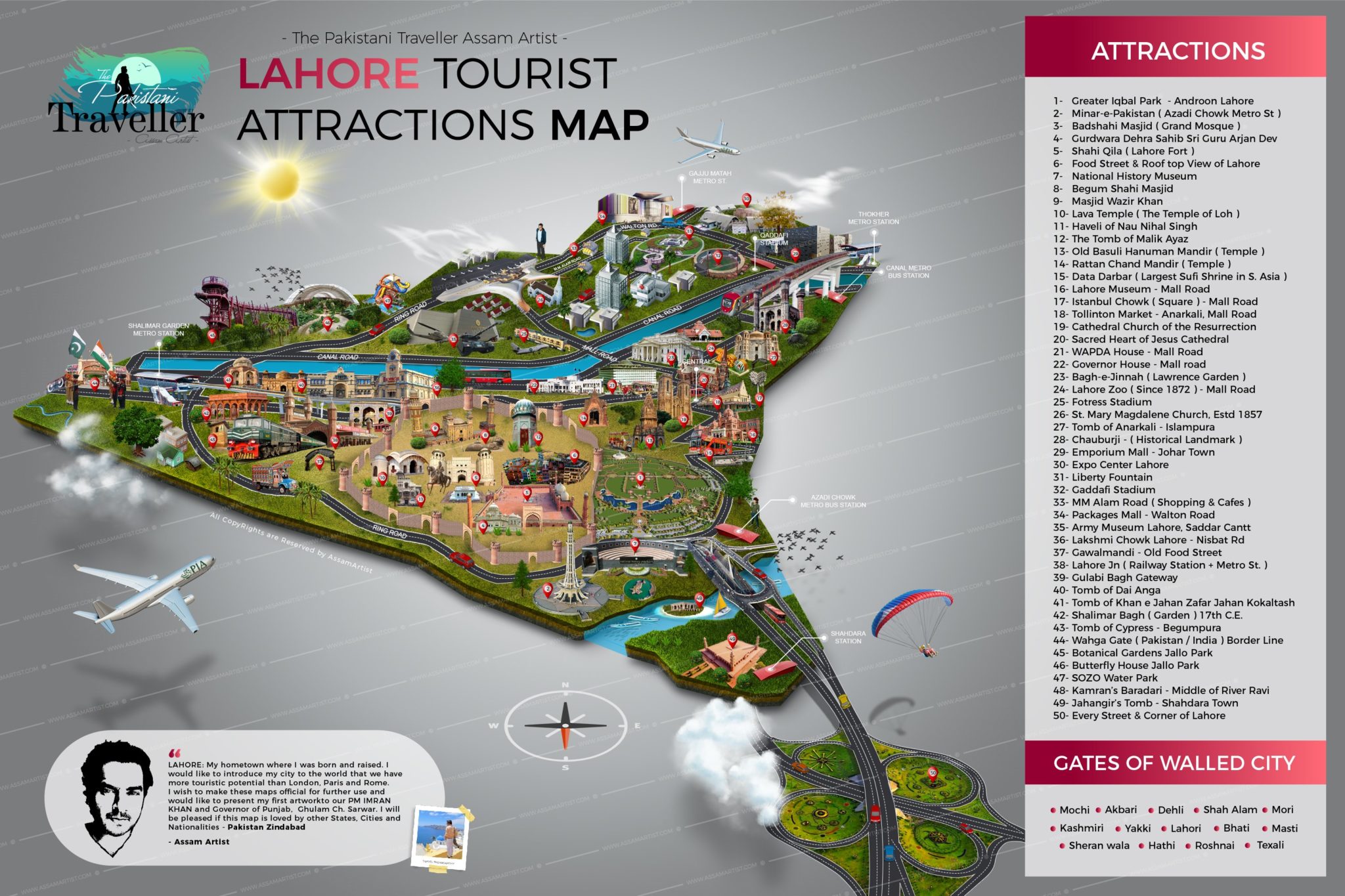 50 Attractions of Lahore you must visit
Greater Iqbal Park – Androon Lahore
Minar-e-Pakistan ( Azadi Chowk Metro St )
Badshahi Masjid ( Grand Mosque )
Gurdwara Dehra Sahib Sri Guru Arjan Dev
Shahi Qila ( Lahore Fort )
Food Street & Roof top View of Lahore
National History Museum
Begum Shahi Masjid
Masjid Wazir Khan
Lava Temple ( The Temple of Loh )
Haveli of Nau Nihal Singh
The Tomb of Malik Ayaz
Old Basuli Hanuman Mandir ( Temple )
Rattan Chand Mandir ( Temple )
Data Darbar ( Largest Sufi Shrine in S. Asia )
Lahore Museum – Mall Road
Istanbul Chowk ( Square ) – Mall Road
Tollinton Market – Anarkali, Mall Road
Cathedral Church of the Resurrection
Sacred Heart of Jesus Cathedral
WAPDA House – Mall Road
Governor House – Mall road
Bagh-e-Jinnah ( Lawrence Garden )
Lahore Zoo ( Since 1872 ) – Mall Road
Fortress Stadium
St. Mary Magdalene Church, Estd 1857
Tomb of Anarkali – Islampura
Chauburji – ( Historical Landmark )
Emporium Mall – Johar Town
Expo Center Lahore
Liberty Fountain
Gaddafi Stadium
MM Alam Road ( Shopping & Cafes )
Packages Mall – Walton Road
Army Museum Lahore, Saddar Cantt
Lakshmi Chowk Lahore – Nisbat Rd
Gawalmandi – Old Food Street
Lahore Jn ( Railway Station + Metro St. )
Gulabi Bagh Gateway
Tomb of Dai Anga
Tomb of Khan e Jahan Zafar Jahan Kokaltash
Shalimar Bagh ( Garden ) 17th C.E.
Tomb of Cypress – Begumpura
Wahga Gate ( Pakistan / India ) Border Line
Botanical Gardens Jallo Park
Butterfly House Jallo Park
SOZO Water Park
Kamran's Baradari – Middle of River Ravi
Jahangir's Tomb – Shahdara Town
Every Street & Corner of Lahore
Follow Assam Altaf Online:
Website: www.assamartist.com
Travel Blog: http://thepakistanitraveller.assamartist.com/
High Resolution Download of Lahore Attraction Map: http://thepakistanitraveller.assamartist.com/feature/lahore-first-tourist-attractions-map-with-50-discovered-places-by-assam-artist/