Living in a foreign country, away from family, inevitably leads to occasional bouts of homesickness. And so it goes without saying that most, if not all, overseas Filipino workers (OFWs) look forward to going home for a visit and spending quality time with their loved ones.
ALSO READ: How to Overcome Homesickness as an OFW
Recently, a Dubai-based OFW made his visit extra special by surprising two of the most important people in his life: his parents. Ednicol Macalatan, an IT professional who's been working in Dubai for five years, shared his surprising — and emotional — visit on YouTube.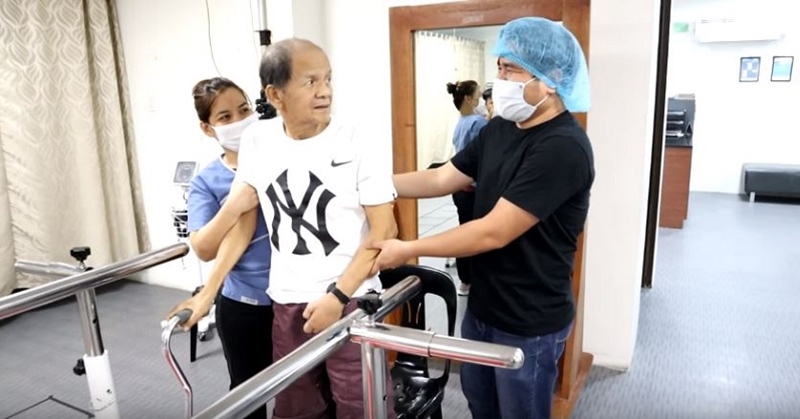 Pinoy Based in Dubai Reunites with Parents in the Philippines
The first part of the video shows Ednicol's departure from Dubai International Airport to his arrival in Manila. His parents have no idea that their son is coming, as they believe he will not be arriving in the Philippines until next year.
From the airport, he heads to Metro Antipolo Hospital, where his father has been undergoing therapy treatment after suffering from a stroke.
Wearing a mask and hair cover, Ednicol disguises himself as part of the hospital staff. At the lunch area, he waits while his family sits around a table, before walking up to them and asking, "Pwede pong makiupo?" (May I sit with you?)
Even before he finishes speaking, Ednicol's mother stares and recognizes her son. She gives him a warm hug and chides him lovingly for wearing a disguise!
Later, they go to the therapy area, where his father has been undergoing treatment to walk normally. Once again, Ednicol pretends to be part of the staff, helping his father to stand up.
His father then looks at him and recognizes his son. With tears in his eyes, he says, "Bakit andito ka?" (Why are you here?) Ednicol hugs his father, assuring him that he will soon be able to walk again.
Here is the video of their emotional reunion, shared via Ednicol's channel, Ready Ed Go, on YouTube:
ALSO READ: A Taste of Home – How to Watch Overseas TV in the UAE
Being an OFW is not easy. We have to endure long periods of being away from our loved ones — making the journey home and family reunion extra special, indeed! So if you are thinking about going abroad, read these 10 reasons why you should not become an OFW first, before making your final decision.