There are currently more than 600,000 Filipinos with jobs in Dubai and across the UAE. That's more than half a million voters, if everyone were to participate in the upcoming elections! Speaking of which, the last day of Overseas Absentee Voters Registration is drawing near.
The deadline for overseas voters registration is on September 30, giving Filipinos in the UAE (and all over the world) less than a month to register, Gulf News reported. If you are at least 18 years old by May 13, 2019 and you have not yet registered — now is the time to do so!

Less Than a Month Left to Register as Overseas Voter
What's so significant about May 13, 2019? Well, it is the date of the mid-term elections in the Philippines, during which Filipinos will elect candidates for the following posts:
12 Senators
More than 300 Representatives
Thousands of local officials (e.g. Governors, Mayors, Provincial Board Members)
Overseas Filipinos will be allowed to vote for one month, starting from April 13, 2019. However, unlike those in the Philippines, they will get to elect 12 Senators and a Party-list Member for the House of Representatives only.
Filipino Voters in the UAE
In the UAE, quite a number of Filipinos have been active during past elections. The Philippine Embassy in Abu Dhabi recorded 45,216 new registrants from December 1, 2016 to September 4, 2018.
Meanwhile, the Philippine Consulate General in Dubai reported that 108,950 registered from December 2016 to August 2018 — thus surpassing the target of 97,353 registrants previously set by the Commission on Elections and Department of Foreign Affairs in the Philippines.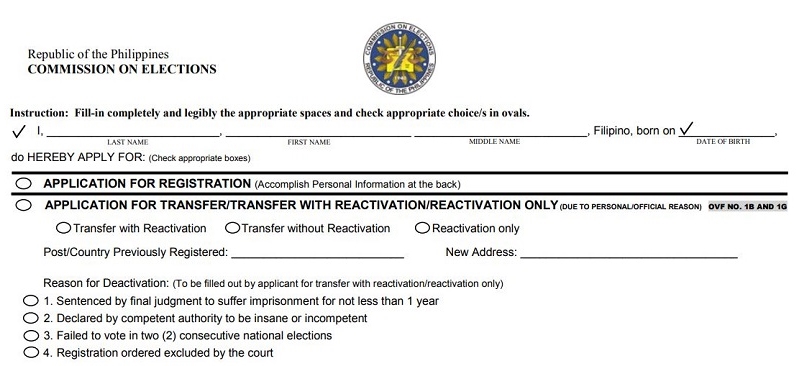 How to Register as an Overseas Voter
If you haven't registered yet, simply visit the Philippine Embassy in Abu Dhabi or the Philippine Consulate General in Dubai. Be sure to go during weekdays — from 8am to 5pm — until September 30, 2018.
Before you go, prepare the following documents:
Overseas Absentee Voting Form (may be downloaded here or obtained at the embassy/consulate) 
Valid Philippine Passport
Seaman's Book (for seafarers)
Certified true copy of signed Oath of Allegiance/Order of Approval/Identification Certificate (for dual citizens)
As soon as you've registered, you can look forward to the mid-term elections! In case you're not familiar with the process, here's how to vote at the PCG Dubai office during Philippine elections. Do you have any "preferred" candidates yet? Let us know in the comments below!