Summer time in the UAE may not be the most pleasant in terms of comfort and temperature levels, but other than this, there is much to see and experience for every type of visitor, whether local or foreigner, if you just know where to look in your area or place of residence. In Abu Dhabi, The Louvre museum is offering a unique adventure as this summer season, they have a night kayaking adventure
Also Read: How to Travel from Dubai to Abu Dhabi by Public Bus Transport
If you're in the country's capital, there are plenty of tours you can check out and at the same time, learn something new about the UAE's rich cultural heritage and traditions.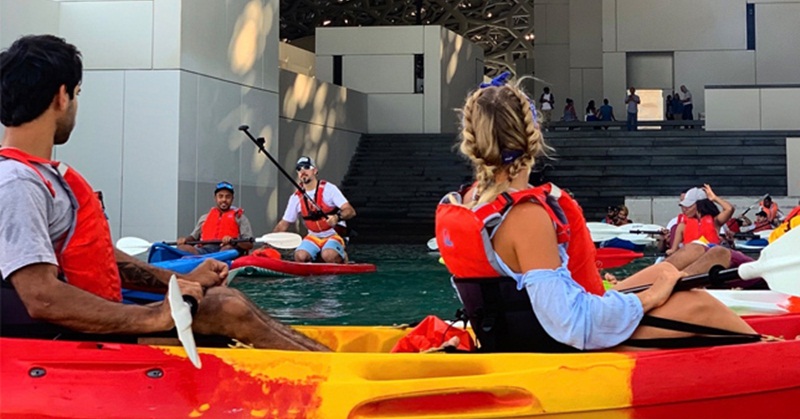 Night Kayaking to be Offered in the Louvre Abu Dhabi this Summer
To beat the summer heat and for a fresh new experience in Abu Dhabi, the Louvre offers night kayaking tours every weekend this summer.
Aside from checking out rotating exhibitions as well as admiring the museum's fascinating architectural work for a roof, soon there will be a new way to experience the museum from the water.
And if you've been to the Louvre since April, you must have heard about (or experienced) getting to kayak around the Louvre Abu Dhabi on a weekend, and what a pretty special experience that must have been. But if you haven't – this summer will be pretty special as well, since you can get to experience kayaking under the stars on the Arabian Seas.
The new tour promotion coincides with the full moon in the UAE, and runs from 8:30 pm to 10 pm only on these scheduled dates:
July 17-18,
August 15-16, and
September 13-14.       
If not for a perfectly new way to see the unique museum in a new light, this special tour will the perfect way to enjoy the sites without having to worry so much about the scorching summer heat.
Of course, the museum's day tours will still take place every Friday and Saturday.
The night kayaking package can be availed for AED 126 for a 1-hour kayak ride.
If you have never tried kayaking before, there's no reason for you to worry about your safety, or how to paddle your way around because prior to the tour, guests will be given a paddle briefing by a professional instructor from Sea Hawk..
Of note, those who will be visiting with kids, you will have to accompany them if they are aged six to 12 years old.
And as a final reminder, be sure to dress appropriately for the activity. While you may be imagining a romantic boat ride under the night sky, part of the experience is for you to actually navigate the waters by paddling on your own or with a partner, so be sure that you're physically prepared and comfortably dressed for the task.
ALSO READ: Abu Dhabi, to Open "World's Largest Snow Park"