The Dubai Police arrested a man for dancing indecently in a local cafe. He was charged with "Committing Public Indecent Act" after a video of him went viral online. The individual who recorded a video of the dance and posted it on social media was also arrested. The charge was for "Posting Online Content that Violates Public Morality".
Also Read: 2 Managers, DJ Arrested for Organizing Party with 100+ Guests
The cafe where the dance took place was also shut down for not complying to safety COVID-19 guidelines. This report serves as a reminder to us all that while the UAE practices tolerance given the diverse number of expats living and working here, it is important that we follow the law and show respect to the country's traditions and culture.
Below is a post from the Dubai Police regarding this report:
Dubai Police arrest man for committing an indecent act publicly
The Dubai Police have arrested a young man on a charge of "Committing Public Indecent Act" after he had appeared in a viral video dancing indecently in a local café. The force has also arrested the individual who recorded and posted the video on social media platforms on the charge of "Posting Online Content that Violates Public Morality".
According to Brigadier Jamal Salem Al Jallaf, Director of Criminal Investigation Department (CID) at Dubai Police, the force took action against the young when the indecent video of him started circulating across social media platforms.
"The Criminal Data Analysis Centre of Dubai Police identified the identity of the young man and also the man who recorded the video and posted it online," Brig. Al Jallaf explained.
He also noted that Article (358) of the UAE Penal code states that whoever openly commits an indecent and disgraceful act shall be punished by detention for a period of at least six months.
Brig. Al Jallaf further explained that Article 24 of the UAE's cyber-crime law states that creating or running an electronic site to publish, online or through any information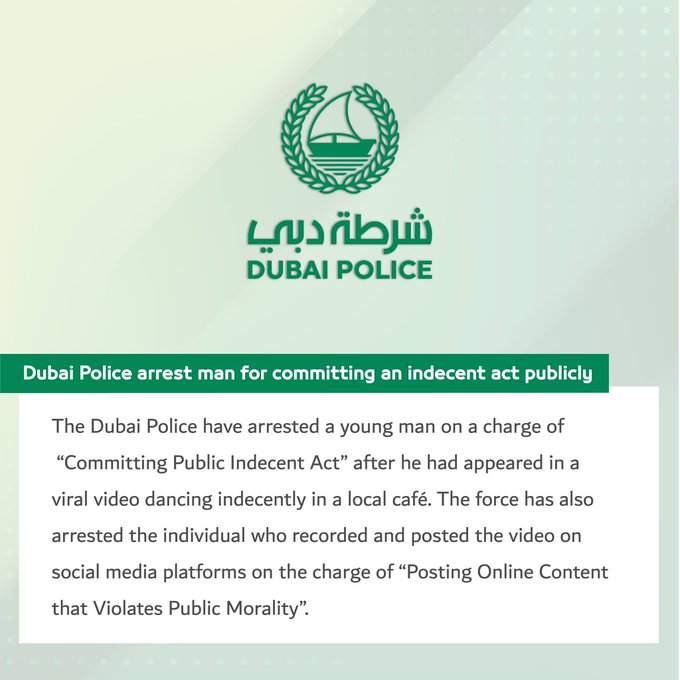 Dubai Police arrest a man for committing an indecent act publicly. pic.twitter.com/BrvvIop9oe

— Dubai Policeشرطة دبي (@DubaiPoliceHQ) September 13, 2020