Those who have expired visas before March 1, 2020 will have NO Visa Fines for overstaying. They will also have a 3-month grace period starting May 18, 2020, to leave the UAE. This was announced and clarified recently in a Tweet by Brigadier General Al Kaabi, spokesperson of the Federal Authority for Identity and Citizenship.
Also Read: How I renewed my UAE Residence Visa (under wife's sponsorship)
In previous news, UAE visas that have expired after March 1 were already automatically extended until end of December 2020. However, many people wondered what was going to happen for UAE visas that expired before March 1. In this recent update, this allows residents who have expired visas ample time to either renew their expired visas or leave the country.
UAE Announces No Visa Fines for Overstaying, No Travel Ban for Residency Visas/Visit Visas Expiring Before March 1, 2020
This update is good news for many expats who are staying in the UAE but could not go out due to airport closures.
Brigadier General Al Kaab said: "As per the directives of UAE President, His Highness Sheikh Khalifa bin Zayed Al Nahyan, holders of both residency and visit visas that expired in early March are exempted from fines.They have a three-month grace period to depart UAE starting May 18th."
He also added that, "the decision will not prevent the beneficiary from returning to the country when he or she meets the necessary conditions'. He also urged the public to use the smart platform of the Federal Authority for Identity and Citizenship to get the services they need.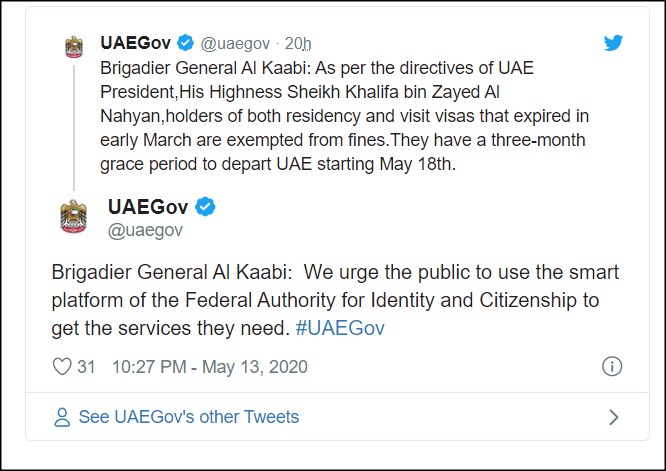 Below is a Tweet from @UAEGov:
Brigadier General Al Kaabi: As per the directives of UAE President,His Highness Sheikh Khalifa bin Zayed Al Nahyan,holders of both residency and visit visas that expired in early March are exempted from fines.They have a three-month grace period to depart UAE starting May 18th.

— UAEGov (@uaegov) May 13, 2020