A Filipina OFW from Jeddah, Saudi Arabia, won a brand new car from Dubai-based private company, Korooti. The company conducted raffle draw at the Ninoy Aquino International Airport (NAIA) in Manila as part of a holiday promo.
The brand new car is a Renault brand and has an estimated worth of 1 Million Pesos. NAIA-3 Terminal Manager Ricardo Medalla Jr., along with officials in MIAA, led the electronic raffle draw. The grand prize winner was picked through the control number of their Korooti card.
OFW from Jeddah Wins Brand New Car Worth 1 Million Pesos
Tariq Farekh, CEO of Korooti, mentions that the raffle is the company's way of appreciating OFWS in UAE and the rest of the world. Aside from the grand prize raffle, the team from Korooti also gave away freebies and also Korooti cards to OFWs travelling back to their work countries.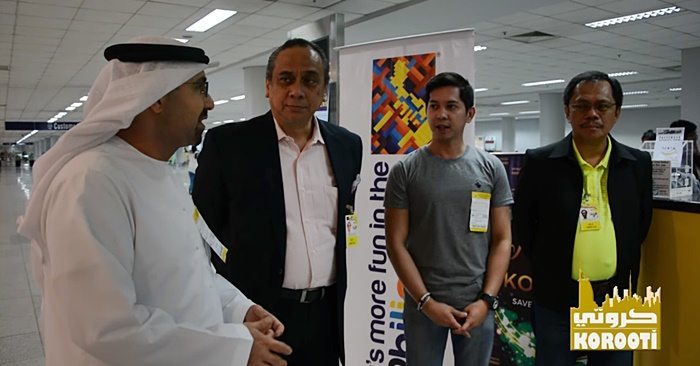 Tariq Farekh with MIAA officials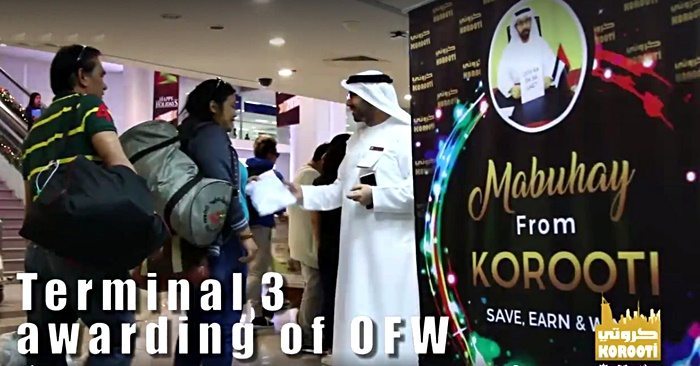 Mr. Tariq Farekh, giving away freebies to OFWs in NAIA
The freebies and awards to the OFWs was a nice gesture and is actually first Emarati company that conducted such a raffle in the Philippines. There will be more exciting events and more opportunities like this if you become part of the Korooti family.
Benefits of Becoming a Korooti Card Member
In case you're wondering what are the benefits. Here's a list of things that you should take note once you have the Korooti card:
Discounts from over 180 companies,
Monthly airplane ticket raffle,
Opportunity to earn extra income through referrals,
Submit CVs on Korooti website to work abroad
Become a Korooti Member! SIGN UP HERE
Below is a video of the said raffle draw by the Korooti team. The grand prize winner is Juvelyn P. Labajo, and OFW from Jeddah (Saudi Arabia) and she has the option to convert the Renault car into cash.
How to Become a Korooti Member?
In case you want to become a registered Korooti member, you will automatically qualify for the plane ticket raffle every month. To sign up, click the SIGN UP HERE
Use Korooti Card for Your Family in the Philippines
OFWs in other countries (Qatar, Saudi Arabia, Kuwait, Bahrain, Hong Kong, Singapore, etc.) who want to buy the Korooti card for their families back in the Philippines, you may do so because there are also plenty of shops that accept Korooti in the country.
We advise you to inform your family member in the Philippines that you purchased a Korooti discount card for them so that when they receive a call from delivery, they will not decline it.
Become a Korooti Member! SIGN UP HERE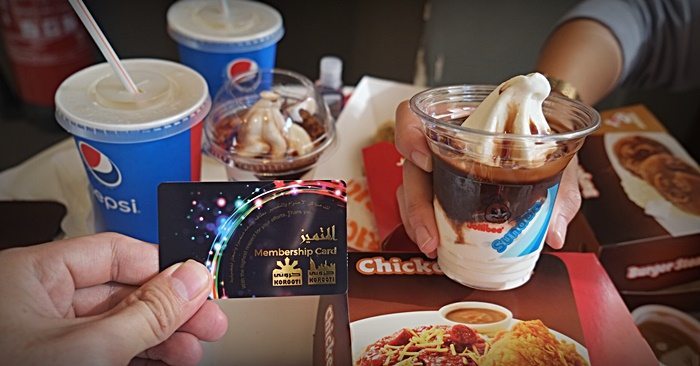 For every 25 AED purchase in Jollibee UAE, you get a free sundae. Just present your Korooti card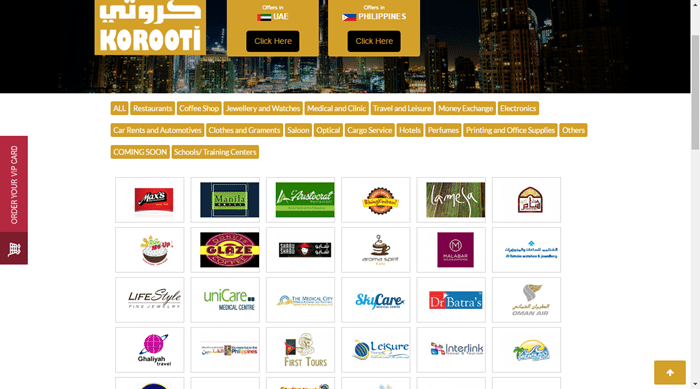 screenshot of their website with list of partner merchants
Are Korooti only for OFWs?
Although the main target market are Filipinos, there are other nationalities that have used the Korooti cards and are enjoying the discounts here in the UAE.
Become a Korooti Member! SIGN UP HERE
For more information about Korooti, below are their contact details of their offices:
Korooti UAE 
Contact Number: +971 4 320 2555
Website: www.korooti.com
Facebook Page: www.facebook.com/UAEPostcard
Korooti Philippines
Contact Number: +63 2 804 5155
Website: www.korooti.ph
Facebook Page: www.facebook.com/KorootiPhilippines
——————————————–
Become a Korooti Member! SIGN UP HERE
——————————————–