Getting around Dubai is now easier than ever with the S'hail App, a powerful and user-friendly tool designed to enhance your travel experience. This comprehensive app offers a range of features tailored to make navigation in the bustling city a breeze.
From real-time public transport information to interactive maps and route planning, the S'hail App puts control in your hands. Say goodbye to uncertainty and hello to seamless journeys as you unlock the benefits of efficient travel planning and reduced transit times. Keep on reading to learn more.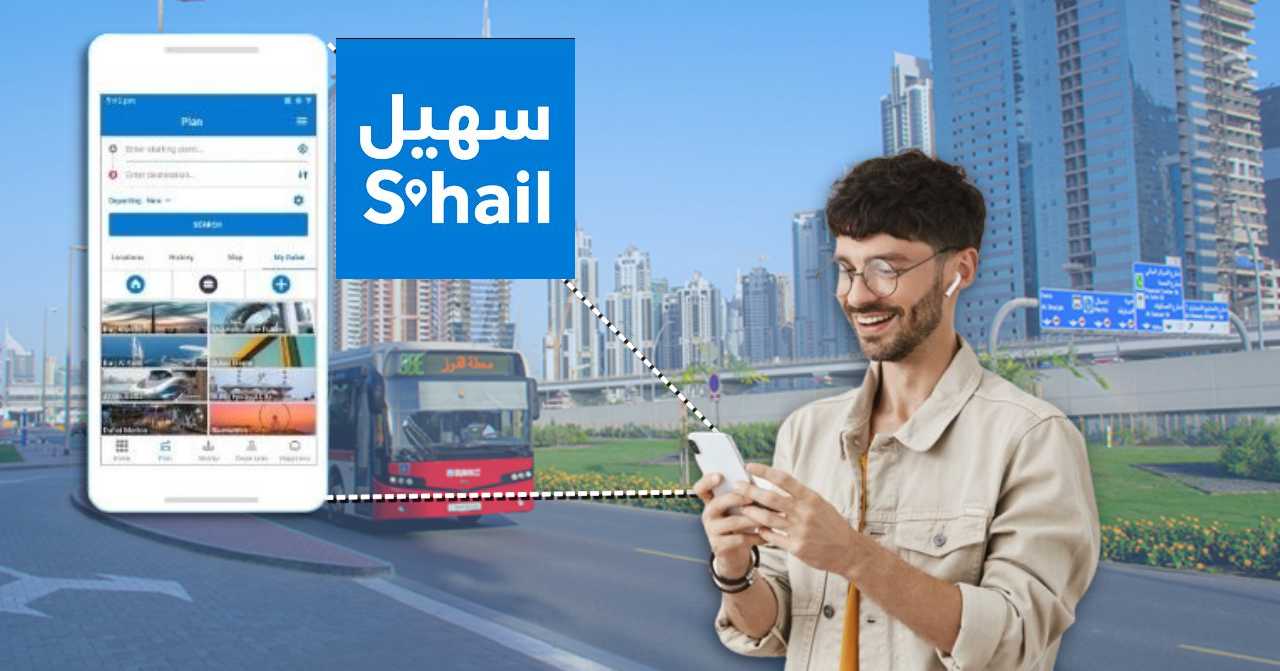 The S'hail App is an all-in-one application that offers a comprehensive suite of services to cater to your travel needs.
With this app, you can manage your Nol account seamlessly, and book RTA taxis, luxury vehicles, smart app-guided taxis, and on-demand transport vehicles effortlessly.
Whether you're planning a bus trip between cities or seeking detailed information about public transport, the S'hail App has you covered.
It's your go-to source for everything related to Dubai's transportation network, including the Dubai Metro, Dubai Tram, taxis, and buses.
With its user-friendly design, the S'hail App simplifies the process of navigating the city, providing real-time traffic updates and suggesting the optimal commuting solution for your journey.
App Features & Benefits
Real-Time Transportation Insights: Instantly access comprehensive information about all available modes of transportation near your location. With S'hail, you're empowered with real-time updates on transport options, ensuring you make informed choices for your journey.
Fare Price Transparency: Say goodbye to uncertainty with fare price details for various modes of transport at your fingertips. Plan your budget effectively and make cost-conscious decisions with ease.
Effortless Departure Tracking: Stay on track with the departure times of different transportation modes around you. S'hail keeps you informed, ensuring you never miss a beat when it comes to your travel schedule.
QR Code Magic for Bus Journeys: Experience seamless bus journeys with S'hail's innovative QR code system. Simply scan the code at the station to access valuable insights into bus routes and destinations.
Journey Planning Made Simple: Pre-plan your travels effortlessly by setting alarms for upcoming journeys using S'hail. Enjoy peace of mind knowing that your travel plans are well-organized and well-managed.
Explore Points of Interest: Navigate the city like a local with S'hail's user-friendly interface. Discover nearby points of interest and locations, making your journey not just practical, but also exciting.
Stay Informed with Newsfeed Updates: Stay connected and up-to-date with S'hail's dynamic newsfeed feature. Subscribe to receive the latest news, exhibitions, events, and Expo 2020 updates while en route to your destination.
Nol Card Management: Simplify your transportation experience by checking and topping up your Nol card balance before embarking on your journey. S'hail ensures you're always prepared for seamless travels.
Smart Car Rental Solutions: Unlock the city's hidden gems with S'hail's smart car rental feature. Discover nearby car rental options, making exploration a breeze.
Voice Your Experience: Share your journey satisfaction on the Happiness Meter and provide valuable feedback for continuous app enhancements. Your voice matters, and S'hail is here to listen.
Multilingual Accessibility: Break down language barriers with S'hail's availability in nine different languages. Enjoy a truly global travel experience without communication obstacles.
Your Journey, Your Newsfeed: While on your way to your destination, immerse yourself in S'hail's comprehensive newsfeed. Stay updated with the latest news, exhibitions, events, and Expo 2020 highlights – all at your fingertips.
Public Transportation Data Covered by the S'hail App
In a city that never sleeps like Dubai, having access to real-time transportation information is crucial for a seamless and efficient commute.
The S'hail app stands as your ultimate tool for mastering the art of navigating the bustling cityscape.
Dubai Metro: Discover the precise timings and routes of the Dubai Metro, Dubai's iconic rapid transit system. With S'hail, you'll know exactly when the next train is arriving, ensuring you never miss a beat in your daily travel.
Dubai Tram: Navigate the charming Dubai Tram effortlessly with S'hail's real-time information. From departure times to station locations, S'hail ensures you embark on a seamless tram journey.
RTA Taxi: Experience convenience like never before by effortlessly booking RTA taxis through S'hail. Whether it's a quick trip or a leisurely ride, S'hail ensures you reach your destination without a hitch.
RTA Buses: Dive into the world of RTA buses with S'hail's comprehensive data. Get acquainted with routes, timings, and stops, making your bus travel an efficient and enjoyable experience.
Ferry Services: Embark on a unique journey with Dubai's ferry services. S'hail provides you with real-time insights into ferry routes and schedules, letting you enjoy a serene voyage across the city's waters.
Luxurious Limousines and Hala Taxis: Indulge in luxury with S'hail's booking options for limousines and Hala taxis. Arrive at your destination in style and comfort, all with a few taps on your device.
Seamless Integration of Third-Party Services: S'hail doesn't stop at traditional options. Seamlessly integrate third-party services like Uber and Careem into your travel plans, giving you an even wider range of transportation choices.
Smart Rentals for Independent Exploration: Discover the city at your own pace with eKar and Udrive, S'hail's smart rental partners. Enjoy the freedom of driving around Dubai with ease and convenience.
Personalized Planning for Every Journey: Craft your day according to your preferences using S'hail. Whether you're an early riser, a night owl, or somewhere in between, S'hail empowers you to plan your day around your chosen mode of transport.
Stay Informed About Special Timings: Never be caught off guard by holiday or special occasion transport timings again. S'hail ensures you're aware of any changes in RTA public transport schedules, allowing you to navigate the city effortlessly, no matter the day.
How to Register the S'hail App
Embarking on a journey of seamless and efficient travel in Dubai begins with harnessing the power of the S'hail app.
However, in order to make the most of its incredible features, it's essential to complete a simple registration process.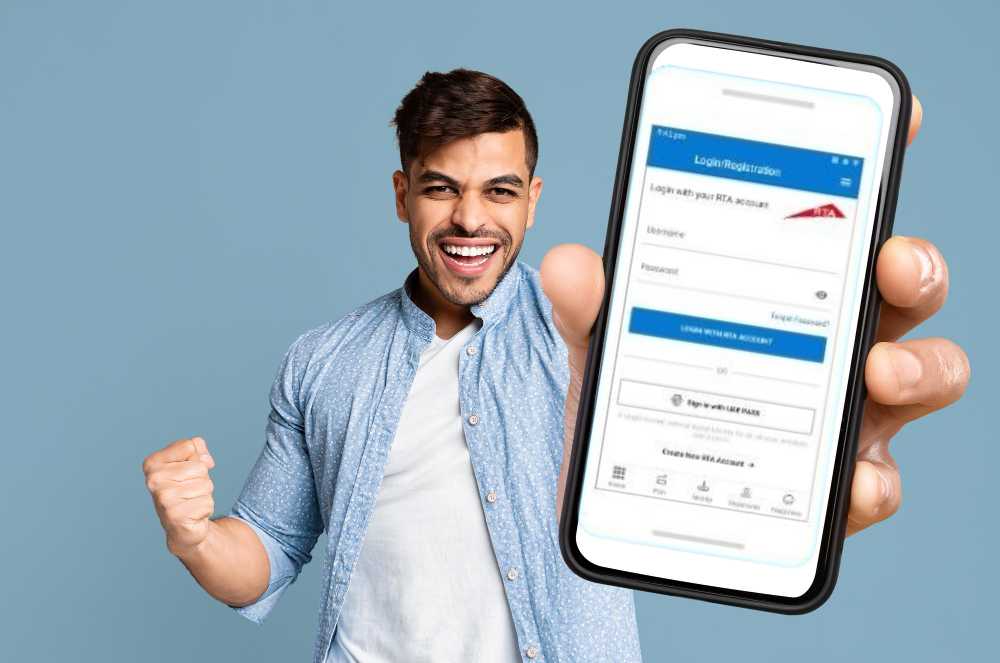 Step 1: Download the App: Start your S'hail journey by downloading the app from your preferred app store. Whether you're using the App Store, Google Play Store, or Huawei App Gallery, simply search for "RTA S'hail" and install the app.
Step 2: Creating Your Account: Launch the S'hail app on your smartphone and select "Create New Account." Here, you'll be prompted to provide the necessary information to set up your account.
Step 3: Enter Personal Details: Carefully input all required personal details, ensuring accuracy and completeness. Your information will be used to tailor your S'hail experience to your preferences.
Step 4: Verification Code: Upon entering your information, a verification code will be sent to the mobile number you've registered. Keep an eye on your messages and enter the code when prompted within the app.
Step 5: Completing Registration: Once you've entered the verification code, you're just moments away from unlocking the full potential of the S'hail app. Complete the registration process, and voila – you're ready to immerse yourself in a world of seamless travel planning.
Benefits of S'hail Registration:
Real-Time Transport Insights: Access up-to-the-minute information about all modes of transportation near you.
Personalized Journey Planning: Tailor your travel plans according to your preferences, ensuring an efficient and enjoyable commute.
Effortless Booking: Seamlessly reserve RTA taxis, limousines, and even third-party services like Uber and Careem.
Smart Vehicle Rentals: Discover the convenience of smart rental vehicles with eKar and Udrive.
Stay Informed: Receive timely updates about RTA public transport timings, ensuring you never miss a ride.
Holiday and Event Planning: Be aware of special timings and changes in transportation schedules during holidays and events.
Enhanced User Experience: Enjoy the full suite of S'hail features, designed to make your travel experience as smooth and enjoyable as possible.
Frequently Asked Questions
1. What is the S'hail App?
The S'hail App is a comprehensive transportation platform developed by RTA (Roads and Transport Authority) in Dubai. It provides real-time information about various modes of transport, helping users navigate the city efficiently.
2. How do I download the S'hail App?
You can download the S'hail App from your smartphone's app store – whether it's the App Store (iOS), Google Play Store (Android), or Huawei App Gallery (Huawei devices).
3. Is the S'hail App free to use?
Yes, the S'hail App is free to download and use. It offers valuable transportation information and features without any cost.
4. What modes of transportation does the S'hail App cover?
The S'hail App covers a wide range of transportation options, including the Dubai Metro, Dubai Tram, RTA taxis, RTA buses, ferry services, booking limousines, third-party services like Uber and Careem, and even smart rental vehicles through partners like eKar and Udrive.
5. Can I plan my journey in advance using the S'hail App?
Absolutely, the S'hail App allows you to plan your journey in advance. You can choose your preferred mode of transport, set alarms for upcoming trips, and even stay informed about special timings for holidays and events.
6. How do I register on the S'hail App?
To register on the S'hail App, simply download it from your app store, click on 'Create New Account,' enter your required personal details, and verify your mobile number with the code sent to you.
7. What are the benefits of using the S'hail App?
The S'hail App offers benefits like real-time transport updates, personalized journey planning, effortless booking, access to smart rental vehicles, and staying informed about changes in RTA public transport timings, among others.
8. Can I use the S'hail App in multiple languages?
Yes, the S'hail App is available in nine different languages, ensuring accessibility and ease of use for a diverse range of users.
Summary
In conclusion, the S'hail App emerges as an indispensable companion for anyone navigating the vibrant streets of Dubai.
With its user-friendly interface and a multitude of features, it transforms your travel experience into a seamless and efficient journey.
By putting real-time transport information, interactive maps, and route planning at your fingertips, the S'hail App empowers you to take charge of your travels like never before.
READ NEXT: How to Travel from Dubai to Abu Dhabi via Public Bus Transportation