Abu Dhabi does have the standard to be one of the top education in UAE. You can learn from each of this schools to be educated with Math-Science, learning new languages and many more! We compiled the schools for you here in Abu Dhabi so that you can easily search the school you want to study and research.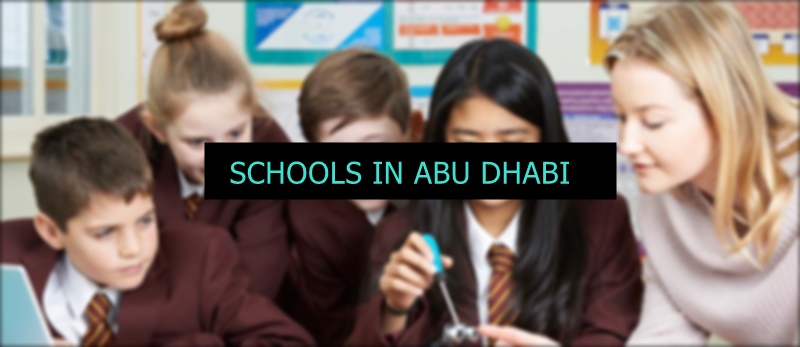 UAE Directory: Abu Dhabi Schools, Colleges, and Universities
In case you are looking for a particular school in the emirate of Abu Dhabi, please check out the list we have compiled below. We've shared their address, contact number and official website for your reference.
Abu Dhabi Indian School
Address: Abu Dhabi Indian School, P.O. Box 46492, Abu Dhabi, U.A.E
Phone: +971 (2) 4488025
Website: https://adisuae.com/
Abu Dhabi International school
Address: Al Karamah St – Al Manhal – Abu Dhabi – United Arab Emirates
Phone: +97124434433
Website: https://aisschools.com/
Abu Dhabi Model School
Address: THE MODEL SCHOOL POST BOX NO : 25723 ABU DHABI U.A.E.
Phone: +971 2 552 7200
Website: http://themodel.ae/
Abu Dhabi University
Address: Zayed City – Abu Dhabi – United Arab Emirates
Phone: +971 2 501 5555
Website: https://www.adu.ac.ae/
ADNOC Schools
Address: Sas Al Nakhl, Near Abu Dhabi Golf Club – Abu Dhabi – United Arab Emirates
Phone: +971 2 599 2007
Website: https://www.adnoc.sch.ae/
Al Ain English Speaking School
Address: Khalid Bin Sultan St – Al Muwaij'i – Abu Dhabi – United Arab Emirates
Phone: +971 3 767 8636
Website: http://www.aaess.com/
Al Ain University
Address: Al Jimi, Near Al Ain Municipality, Al Ain – Abu Dhabi – United Arab Emirates
Phone: +971 3 702 4888
Website: https://aau.ac.ae/en/
Al Dhafra Private School
Address: Manaseer Area – Khalid Bin Sultan St – Al Muwaij'i – Abu Dhabi – United Arab Emirates
Phone: +971 3 701 3999
Website: http://alain.dhafraschools.com/school-profile/contact
Al Nahda National Schools – Girls
Address: Off Airport Road (Shk Raschid Bin Saeed street) Abu Dhabi
Phone: +97124477600
Website: https://www.nahdaschools.com/
Al Nahda National School – Boys
Address: Zone 1E22 – Abu Dhabi
Phone: +97124452984
Website: https://www.nahdaschools.com/
Al Sanawbar School
Address: Al Muwaij'i – Abu Dhabi – United Arab Emirates
Phone: +971 3 767 9889
Website: http://alsanawbarschool.com/
Al Yasmina School
Address: Al Mireef St – Khalifa CityAl Raha Gardens – Abu Dhabi – United Arab Emirates
Phone: +971 2 501 4888
Website: https://www.alyasminaacademy.sch.ae/en/home
American Community School of Abu Dhabi
Address: Khalidiya Area, Corner of Al Bateen St 6 and Behind BMW Showroom – Mileih St – Abu Dhabi – United Arab Emirates
Phone: +971 2 681 5115
Website: https://www.acs.sch.ae/
American International School
Address: PO Box 5992, Abu Dhabi, United Arab Emiratess
Phone: +971 2 444 4333
Website:https://www.aisa.sch.ae/index.cfm
Bright Riders School
Address: Mohamed Bin Zayed City – Abu Dhabi – United Arab Emirates
Phone: +971 2 692 2000
Website: https://www.brightriders.ae/
British International School, Abu Dhabi
Address: Behind Abu Dhabi University – Abu Dhabi – United Arab Emirates
Phone: +971 2 510 0100
Website: https://www.nordangliaeducation.com/
Canadian International School
Address: Canadian International School – A – Khalifa CitySE-43 – Abu Dhabi – United Arab Emirates
Phone: +971 2 556 4206
Website: http://www.cisabudhabi.com/
Dunes International School, Abu Dhabi
Address: PLOT NO. 19 SECTOR – 9, Mussafah – Abu Dhabi – United Arab Emirates
Phone: +971 2 552 7527
Website: http://dunesinternationalschool.com/
Educational Zone
Address: Zayed 1st Street (Electra Road) – Al KhalidiyahW8 – Abu Dhabi – United Arab Emirates
Phone: +971 2 665 3000
Website: https://www.ezone.ae/
Emirates Diplomatic Academy
Address: Al Markaziyah WestW2 – Abu Dhabi – United Arab Emirates
Phone: +971 600 595953
Website: https://eda.ac.ae/
Emirates Future International Academy
Address: 10th St – Mohamed Bin Zayed CityME-10 – Abu Dhabi – United Arab Emirates
Phone: +971 2 552 5188
Website: http://www.efiaschool.com/
Emirates Institute For Banking And Financial Studies
Address: Sultan Bin Zayed The First St, Al Nahyan – Abu Dhabi – United Arab Emirates
Phone: +971 2 446 4666
Website: https://eibfs.ae/
Emirates Institute For Citizenship And Residence
Address: 19th Al Saada Street, Airport Road – Abu Dhabi – United Arab Emirates
Emirates National Schools
Address: Al Nahyan – Abu Dhabi – United Arab Emirates
Phone: +971 2 642 9811
Website: https://www.ens.sch.ae/
European International College
Address: Al Karamah St – Al Manhal – Abu Dhabi – United Arab Emirates
Phone: +971 2 449 1450
Website: http://eic.ac.ae/
Fatima College of Health Science
Address: Al Mafraq, Near Al mafraq Hospital – Abu Dhabi – United Arab Emirates
Phone: +971 2 507 8765
Website: http://www.fchs.ac.ae/
GEMS American Academy, Abu Dhabi
Address: 16th Street, Madinat Khalifa A – Abu Dhabi – United Arab Emirates
Phone: +971 2 557 4880
Website: https://www.gemsaa-abudhabi.com/
Higher Colleges of Technology
Address: PO Box 25026 – Abu Dhabi, UAE
Phone: 800 MyHCT (800 69428)
Website: http://www.hct.ac.ae/
INSEAD
Address: Al Khatem Tower – ADGM Square – Abu Dhabi – United Arab Emirates
Phone: +971 2 651 5200
Website: https://www.insead.edu/
Islamia English School
Address: Khalifa Bin Zayed The First St – Zone 1E18-02 – Abu Dhabi – United Arab Emirates
Phone: +971 2 641 7773
Website: http://www.islamia.ae/
Japanese School in Abu Dhabi
Address: King Abdullah Bin Abdulaziz Al Saud St – Al Bateen – Abu Dhabi – United Arab Emirates
Phone: +971 2 444 6104
Website: http://www.jsad.ae/
Khalifa University of Science and Technology
Address: Zone 1 – Abu Dhabi – United Arab Emirates
Campus: Urban
Phone: +971 2 401 8000
Website: https://www.ku.ac.ae/
Lycée Français Théodore Monod (United Arab Emirates)
Address: PO Box 59646 – Abu Dhabi – United Arab Emirates
Phone: +971 2 667 9009
Website: http://ltmonod.aflec-fr.org/
Lycée Louis Massignon
Address: Zone 1 – Abu Dhabi – United Arab Emirates
Phone: +971 2 444 8085
Website: http://llm.ae/
Merryland International School
Address: Plot -13, Musaffah, Sector 9 – Abu Dhabi – United Arab Emirates
Phone: +971 2 551 9626
Website: http://www.merrylandinternational.ae/
National Defense College
Address: Al RawdahW68 – Abu Dhabi – United Arab Emirates
Phone: +971 2 615 7055
Website: http://www.ndc.ac.ae/
New York Institute of Technology
Address: CERT Technology Park, Muroor Road,Next to Dusit Thani Hotel) – Abu Dhabi – United Arab Emirates
Phone: +971 2 404 8523
Website: https://www.nyit.edu/abu_dhabi
New York University
Address: Saadiyat Marina District – Abu Dhabi – United Arab Emirates
Phone: +971-2-628-4000
Website: https://nyuad.nyu.edu/en/
Our Own English High School
Address: Falaj Hazzaa – Abu Dhabi – United Arab Emirates
Phone: +971 3 767 9747
Website: https://www.gemsoo-alain.com/
Police College
Address: Muroor Rd – Zone 1 – Abu Dhabi – United Arab Emirates
Phone: +971 2 444 7700
Website:
http://apc.gov.ae/
Rabdan Academy
Address: PO Box: 114646, Abu Dhabi, UAE
Phone: +971 25999111
Website: https://ra.ac.ae/
Raha International School
Address: Khalifa City 'A, Al Raha Gardens Cnr. Al 'Ishoush St & – Al Waseet St – Abu Dhabi – United Arab Emirates
Phone: +971 2 556 1567
Website: http://www.ris.ae/
Reach British School
Address: Baniyas East – Abu Dhabi – United Arab Emirates
Phone: +971 2 582 2030
Website: https://www.reachbritishschool.com/
Shaikh Khalifa Bin Zayed Bangladesh Islamia School
Address: Near Abu Dhabi Co-op Society – Dhafeer St – Zone 1 – Abu Dhabi – United Arab Emirates
Phone: +971 2 444 6904
Website: http://www.bdschooluae.com/
Sheikh Zayed Private Academy For Boys
Address: W9 – Abu Dhabi – United Arab Emirates
Phone: +971 2 203 3333
Website: http://zayedacademy.ae/boys
Sheikh Zayed Private Academy For Girls
Address: Mubarak Bin Mohammed Street, Al Rowdah – Abu Dhabi – United Arab Emirates
Phone: +971 2 619 5555
Website: http://szpag.com/girls
Sorbonne University
Address: Jazeerat Al Reem – Abu Dhabi – United Arab Emirates
Phone: +971 2 656 9555
Website: http://www.sorbonne.ae/
St Joseph's School
Address: 17th Street,Al Mushrif – Abu Dhabi – United Arab Emirates
Phone: +971 2 446 3646
Website: http://stjosephsschool.ae/
Syscoms College
Address: Near Central Souq, Opp. Abu Dhabi Chamber of Commerce – Airport Road – Abu Dhabi – United Arab Emirates
Phone: +971 2 635 5554
Website: http://www.syscomscollege.com/
The British School – Al Khubairat
Address: Al MushrifW24-02 – Abu Dhabi – United Arab Emirates
Phone: +971 2 446 2280
Website: https://www.britishschool.sch.ae/
The Military High School, Al-Ain
Address: Ghireebah – Abu Dhabi – United Arab Emirates
Phone: +971 3 783 6661
Website: http://www.mhschool.ae/
United Arab Emirates University
Address: Sheik Khalifa Bin Zayed St – 'Asharij – Abu Dhabi – United Arab Emirates
Phone: + 971-3-7673333
Website: https://www.uaeu.ac.ae/ar/
Universitè Mohammed V-Agdal Abu Dhabi
Address: Mohammed V University Abu Dhabi, Al Muroor Street, Signal 23 – Abu Dhabi
Phone: 02 4999000
Website: https://www.um5a.ac.ae/
University of Strathclyde Business School – UAE
Address: Al Nahyan – Abu Dhabi – United Arab Emirates
Phone: +971 2 404 8546
Website:http://www.strath.ae/
Zayed Al Awwal Secondary School
Address: Al Ain – Abu Dhabi – United Arab Emirates
Phone: +971 55 696 6542
Zayed II Military College
Address: Al RuwaydatMilitary Zone – Abu Dhabi – United Arab Emirates
Phone: +971 55 267 7223
Zayed University
Address: Academic City – Dubai – United Arab Emirates
Phone: +971 4 402 1111
Website: https://www.zu.ac.ae/