Here are the list of schools and colleges in Ajman, UAE. It has international perspective like American and British curriculum that provides academic excellence and can be enjoyable experience and there are other schools to choose for.
This page provide information for you to easily choose which school you want to go. The list contains address, phone number and website.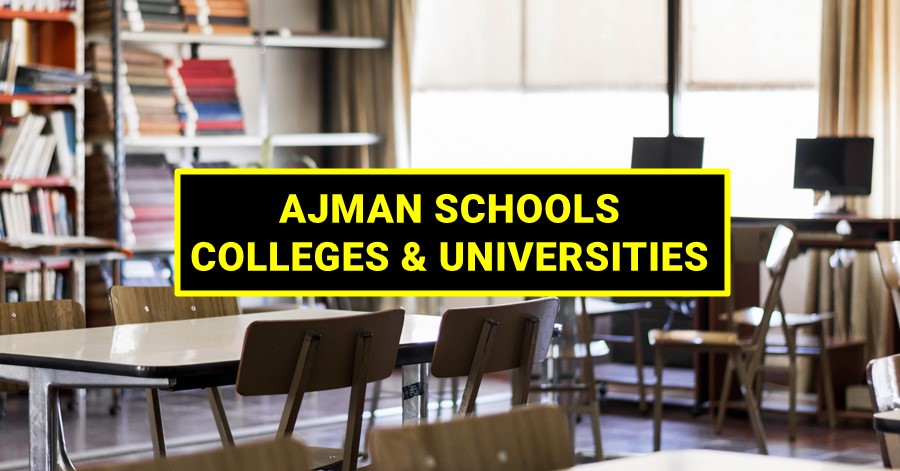 UAE Directory: Ajman Schools, Colleges, and Universities
In case you are looking for a particular school in the emirate of Ajman, please check out the list we have compiled below. We've shared their address, contact number and official website for your reference.
Ajman Academy
Address: Sheikh Ammar Bin Humaid St – Al Tallah 2 – Ajman – United Arab Emirates
Phone: +971 6 731 4444
Website: https://www.ajmanacademy.com/
Ajman Modern School
Address: P.O. Box: 1778, Al Jarf – Ajman – United Arab Emirates
Phone: +971 6 743 1168
Website: https://www.amschool.ae/
Ajman University
Address: University Street,Al jerf 1 – Ajman – United Arab Emirates
Phone: +971 6 748 2222
Website: https://www.ajman.ac.ae/
Al Ameer English School, Ajman
Address: Behind Ajman City Center – Ajman – United Arab Emirates
Phone: Phone: +971 6 743 6600
Website: http://www.alameerschool.com/
Applied Technology High School
Address: Ender Hall Room E-106 Bergen Community College, 400 Paramus Rd, Paramus, NJ 07652, United States
Phone: +1 201-343-6000
Website: https://bctsopenhouse.bergen.org/
British International School, Ajman
Address: Salahuhddin Al Ayyubi Street, Al Nuaimia, Behind Safeer Mall – Ajman – United Arab Emirates
Phone: +971 6 742 4440
Website: http://www.bisuae.ae/
City School Ajman
Address: Sheikh Ammar bin Humaid Road,Al Tallah 2 – Ajman – United Arab Emirates
Phone: +971 6 714 7777
Website: http://www.cityschool.ae/
City University College of Ajman
Address: Sheikh Ammar – Road – Ajman – United Arab Emirates
Phone: +971 6 711 0000
Website: https://www.cuca.ae/
Delhi Private School, Ajman
Address: Al Tallah 2 – Ajman – United Arab Emirates
Phone: +971 6 747 1111
Website: http://www.dpsajman.com/
Gulf Medical University
Address: AL JURF – 1 Rashid Al-Khadar St – Al Jerf 1 – Ajman – United Arab Emirates
Phone: +971 6 743 1333
Website: https://gmu.ac.ae/
Habitat Private School
Address: Al Jerf 2 Behind Ajman City Center – Ajman – United Arab Emirates
Phone: +971 6 731 5151
Indian School Ajman
Address: AL JURF – Sheikh Maktoum Bin Rashid St – Al Jerf 2 – Ajman – United Arab Emirates
Phone: +971 6 743 7477
Website: https://www.indianschoolajman.org/
International College of Law & Business Administration (ICLBAT), Ajman
Address: AL JURF – Al Jerf 1 – Ajman – United Arab Emirates
Phone: +971 6 744 1122
Website: https://iclbatcollege.agiuae.com/
International Indian School Ajman
Address: Al Jerf 2 – Ajman – United Arab Emirates
Phone: +971 6 740 8333
Website: https://www.iisajman.org/
University College of Mother and Family Science
Address: Al Raqaib 2 – Ajman – United Arab Emirates
Phone: +971 6 741 4741
Website: https://ucmother.ac.ae/index.php/arabic/
Woodlem Park School, Ajman
Address: Al Jurf – Al Jerf Industrial 3 – Ajman – United Arab Emirates
Phone: +971 6 740 9444
Website: http://www.woodlempark.ae/