Education in Sharjah provides academic excellence in teaching and learning. Each Schools offers variety of curriculum like in American University of Sharjah, Sharjah British International School and many more. We have extracted some information for each school's website the address, phone number and Website.
Please see the list below.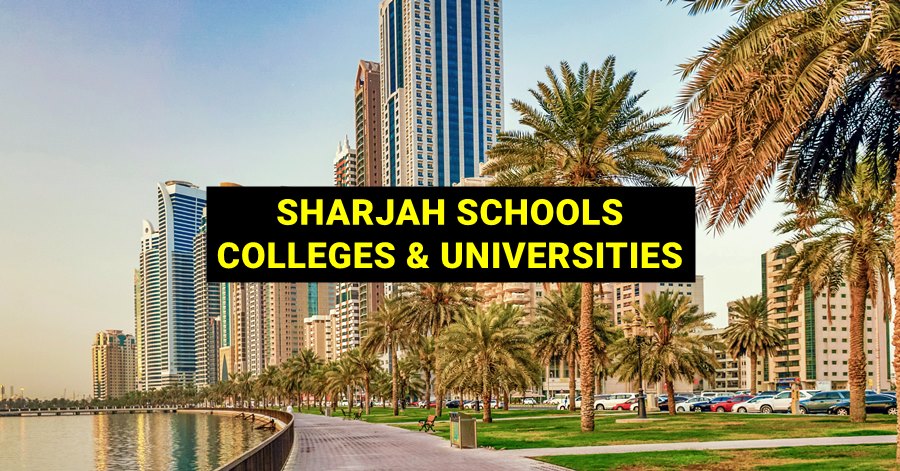 UAE Directory: Sharjah Emirate's Schools, Colleges, and Universities
In case you are looking for a particular school in the emirate of Sharjah, please check out the list we have compiled below. We've shared their address, contact number and official website for your reference.
Al Amaal English High School
Address: Bu Tina, Behind Old Muroor – Sharjah – United Arab Emirates
Phone: +971 6 565 6818
Website: http://www.alamaalschool.com/
Al Qasimiya University
Address: 63000 – Sharjah – United Arab Emirates
Phone: +971 6 518 1111
Website: https://www.alqasimia.ac.ae/ar/Pages/default.aspx
Al Wahda School
Address: Al Qarayen 3 Near Sharjah Airport – Sharjah – United Arab Emirates
Phone: +971 6 516 0500
Website: http://www.wschool.ae/
American Community School Sharjah
Address: Maliha Rd, near Sharjah University – Sharjah UAE
Phone: +97165227583
American School of Creative Science Al Layyah
Address: Al Meena St – Al Layyeh Suburb – Sharjah – United Arab Emirates
Phone: +971 6 501 7000
Website: https://ascs.sch.ae/en/al-layyah
American University of Sharjah
Address: University City – Sharjah – United Arab Emirates
Website: https://www.aus.edu/
ASPAM Indian International School
Address: Sheikh Salem Bin Sultan Al Qasimi Street Behind Sharjah Transport Office – Sharjah – United Arab Emirates
Phone: +971 6 567 7372
Website: http://aspamiis.com/
Delhi Private School
Address: Sharjah Industrial Area 16 – Sharjah – United Arab Emirates
Phone: +971 6 534 5352
Website: http://website.dpssharjah.com/
Emirates Institute for Banking and Financial Studies (EIBFS)
Address: Unnamed Road – Sharjah – United Arab Emirates
Phone: +971 6 572 8880
Website: http://www.eibfs.com/
Exeed School of Business and Finance
Address: Al Taawun St – Al Khan – Sharjah – United Arab Emirates
Phone: +971 55 879 5198
Website: http://exeedcollege.com/
Gems Millenium School Sharjah
Address: Sharjah School Zone Area,University Rd, Muwailih – Sharjah – United Arab Emirates
Phone: +971 6 535 8176
Website: https://www.gemsmillenniumschool-sharjah.com/
Higher Colleges of Technology 
Address: University City – Sharjah – United Arab Emirates
Phone: +971 2 206 6000
Website: http://www.hct.ac.ae/ar/colleges/swc/
India International School
Address: Muwailih Commercial – Sharjah – United Arab Emirates
Phone: +971 6 535 6000
Website: https://www.iiss.ae/
International School of Choueifat
Address: University Road, Al Shahba – Industrial Area 6 – Sharjah – United Arab Emirates
Phone: +971 6 558 2211
Website: https://iscsharjah.sabis.net/
International School of Creative Science Muwaileh
Address: Industrial AreaMuwailih Commercial – Sharjah – United Arab Emirates
Phone: +971 800 2326
Website: https://iscs.sch.ae/en/muwaileh
Khalifa University
Address: Ibrahim Mohammed Al Madfa Street, Nea Kuwait Roundabout – Sharjah – United Arab Emirates
Phone: +971 6 597 8888
Website: https://www.ku.ac.ae/
Leaders Private School Sharjah
Address: Sheikh Majed Bin Saqr Al Qasimi St – Al Azra – Sharjah – United Arab Emirates
Phone: +971 6 522 5560
Website: http://www.leadersprivateschool.com/Programfiles/Login/HP/HomePage.aspx
New World American Pvt School
Address: Near National Park, Al Falah neighborhood – Sharjah – United Arab Emirates
Phone: +971 6 552 7443
Website: http://www.nwps.ae/
Our Own English High School, Sharjah
Address: University City Rd – Industrial AreaIndustrial Area 6 – Sharjah – United Arab Emirates
Phone: +971 6 538 6486
Website: https://www.gemsoo-sharjah.com/
PACE British School, Sharjah
Address: School Zone – Industrial AreaMuwailih Commercial – Sharjah – United Arab Emirates
Phone: +971 6 530 6000
Website: http://www.pacebritish.com/
PACE International School
Address: School Zone – Industrial AreaMuwailih Commercial – Sharjah – United Arab Emirates
Phone: +971 6 543 2000
Website: http://www.pacesharjah.com/
Pakistan Islamia Higher Secondary School
Address: Near Thousand Villas, Sheikh Rashid Bin Saqr Al Qasimi St، Al Ghubaiba – Sharjah – United Arab Emirates
Phone: +971 6 567 0700
Website: http://pihss-shj.com/
Police Sciences Academy
Address: University city, Near Medical college – Sharjah – United Arab Emirates
Phone: +971 6 558 5888
Website: https://www.psa.ac.ae/home
Progressive English School Sharjah
Address: Al Salamah Bin Abed Asad Street, Al Yarmook – Sharjah – United Arab Emirates
Phone: +971 6 567 2234
Website: http://progressiveenglishschool.com/
Scholars International Academy
Address: School Zone,Muailah – Sharjah – United Arab Emirates
Phone: +971 6 519 7000
Website: http://www.scholarsinternationalacademy.com/
Sharjah American International School
Address: Al Ramaqia – Sharjah – United Arab Emirates
Phone: +971 6 538 0000
Website: http://saisuae.com/sais/
Sharjah British International School 
Address: Industrial AreaMuwailih Commercial – Sharjah – United Arab Emirates
Phone: +971 6 534 7722
Website: https://www.sharjahbritishinternationalschool.com/
Sharjah English School
Address: Meliha Rd,Industrial Area 17 Near National Paints, Opposite – Sharjah – United Arab Emirates
Phone: +971 6 558 9304
Website: http://www.sharjahenglishschool.org/
Sharjah Indian School
Address: Near New Gold Souk – Sheikh Saqr Bin Khalid Al Qasimi St – Sharjah – United Arab Emirates
Phone: +971 6 567 0560
Website: http://www.sissharjah.com/
Skyline University College, Sharjah
Address: Skyline University College – University CityMuwailih Commercial – Sharjah – United Arab Emirates
Phone: +971 6 544 1155
Website: https://www.skylineuniversity.ac.ae/
University of Sharjah
Address: University City Rd – University City – Sharjah – United Arab Emirates
Phone: +971 6 558 5000
Website: https://www.sharjah.ac.ae
Wesgreen International School
Address: Unnamed Road – Sharjah – United Arab Emirates
Phone: +971 6 506 2999
Website: http://www.wesgreen.net/