Amid the fear and uncertainty that is brought by the pandemic affecting all people in every nation, stories of hope, selflessness, and humanity shine not in the most convenient places, but sometimes, from an isolated room where hope is starting to run out. 
Also Read: 22 Photos of Dubai Crown Prince Hamdan and His Active Lifestyle
This is the heartwarming message shared by Sheikh Hamdan bin Mohammad bin Rashid Al Maktoum, Crown Prince of Dubai and Chairman of the Dubai Executive Council on a tweet he shared on Thursday.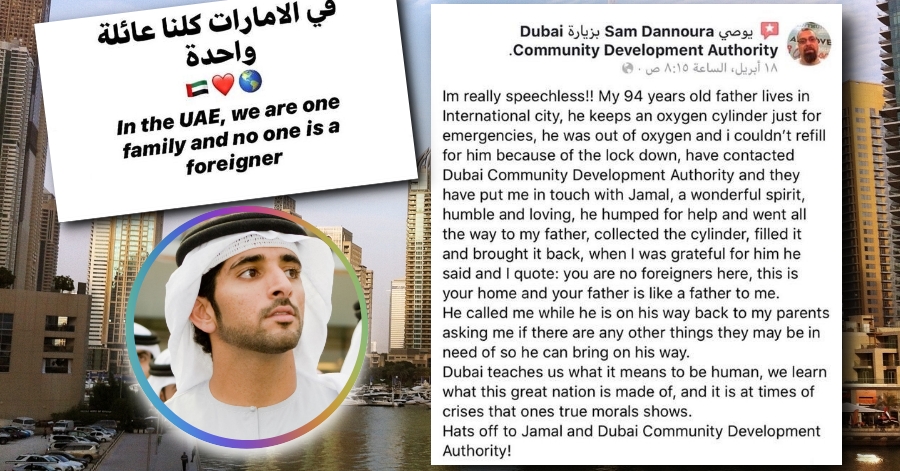 We Are One Family: Expat Shares His Heartwarming Experience in UAE Amid Pandemic Crisis
Sheikh Hamdan took to his Twitter page the story of a Dubai expat who goes by the name Sam Dannoura, whose elderly father was in need of medical supplies but couldn't get it due to the movement restrictions in the city. Sam, who was becoming quite worried for his 94-year-old father's condition, then sought help from the Dubai Community Development Authority.
The post reads, "I'm really speechless!! My 94-year-old father lives in International City. He keeps an oxygen cylinder just for emergencies. He was out of oxygen, and I couldn't refill for him because of the lockdown. I have contacted the Dubai Community Development Authority and they have put me in touch with Jamal, a wonderful spirit – humble and loving. He jumped in to help and came all the way to visit my father, collected the cylinder, filled it, and brought it back. When I was so grateful for what he did, he said, and I quote: 'You are no foreigners here, this is your home, and your father is like a father to me.' He then called me while he was on his way back to my parents and asked me if there were any other things they may be in need of so he can bring them on his way. Dubai teaches us what it means to be human. We learn what this great nation is made of, and it is at times of crises that one's true morals show."
Sheikh Hamdan then commended the selfless act that Jamal and the Dubai Community Development are doing for the residents.
This encounter reflects the spirit of oneness governing the people in the UAE, which leaders such as Sheikh Hamdan are inspiring others to adopt and live by, as well.
Dubai has a 24-hour movement restriction enforced with permits required for collecting essential supplies. Meanwhile, people who work in vital sectors are exempt from this restriction provided that they carry a letter issued by their employer.
The UAE, along with other Islamic countries in the region, has recently observed the start of their Holy Month – Ramadan, but restrictions have been set in place preventing people from gathering in public. However, the faithful are encouraged to observe their traditions and rituals right from their homes by watching online streaming for communal prayers and to limit other activities that require physical contact within people in the community.
In the spirit of unity and oneness of the sacred month, leaders including UAE President His Highness Sheikh Khalifa bin Zayed Al Nahyan and Sheikh Hamdan bin Mohammad bin Rashid Al Maktoum, Crown Prince of Dubai and Chairman of the Dubai Executive Council shared their greetings and congratulations to everyone at the start of Ramadan.
ALSO READ: 12 Reasons Why I Feel Safe in the UAE during the Pandemic