From the Dubai Mall/Burj Khalifa metro station to the entrance in The Dubai Mall complex, it takes…
15 minutes of walking
10 minutes of brisk-walking
5 minutes of running
on the bridgewalk to reach end to end.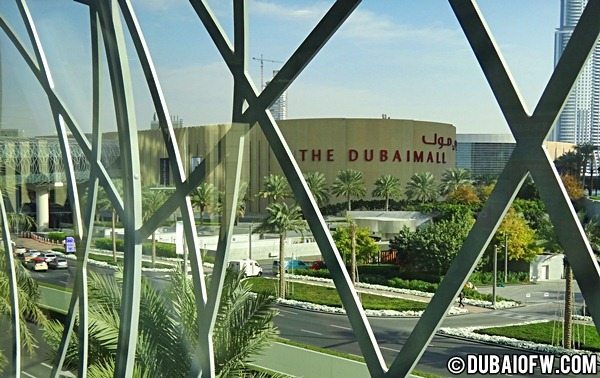 view of the Dubai Mall from the bridge port
This is the bridgewalk that connects the metro and the mall complex. There was no bridge port before. People either had to walk under the Middle Eastern heat, or ride a taxicab or shuttle bus in order to reach the mall. The Dubai Mall said to be the world's largest shopping mall based on total area and there are over 1200 shops of different brands inside. There's a lot of opportunity to sell since Dubai is considered a shopping mecca in the Middle East.

entering The Dubai Mall from the metro bridgeport
Anyway, enough of these points. My main reason why I wrote the entry is that I can't help but get tired of walking on the bridgewalk because it's very long. It's good for a first-timer, but for somebody who uses this skywalk everyday, it can get tiring. Walkalators or moving walkways are abound, but still it's a long hike.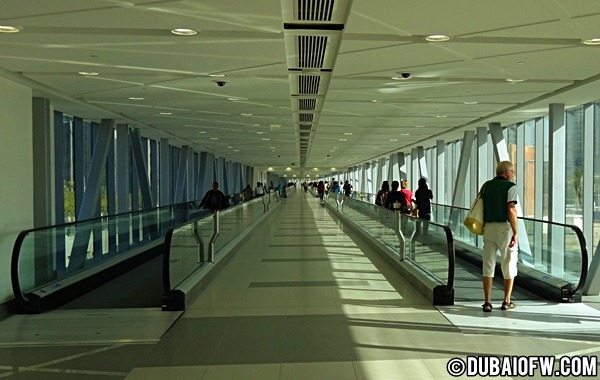 long hike even with walkalators
Don't get me wrong, I'm glad that such a structure has been set up. It's good that I don't have to worry about the heat of the sun or the warm weather since it's air conditioned. But sometimes when I'm in such a hurry, I go panting after crossing the bridge.
The solution is always to wake up early to avoid running to the shop. But when it's time to go home, I only need to play a game on an Android tablet so I won't notice the time. This is has been my fix for the time-being, which has actually done me well.