The UAE ranks first in "change readiness" among countries in the Middle East and North African (MENA) region, according to a study by KPMG. Globally, the UAE is the third most prepared for change among all the countries in the world.
Indeed, the emirates seem to be getting more international recognition lately. Just recently, Dubai was hailed as the most liveable city in the region and is also among the top 10 best places to visit in the world.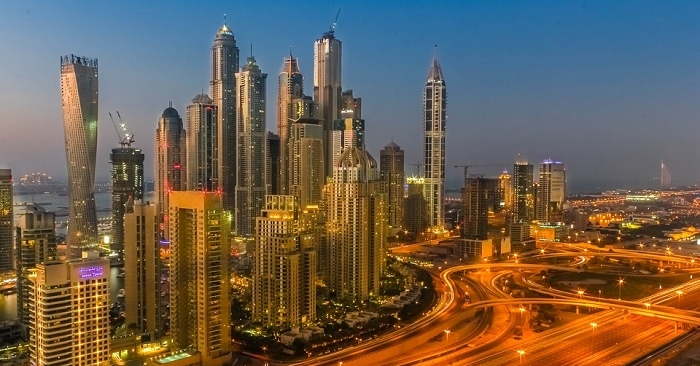 Study Finds UAE "Most Prepared for Change" in MENA
The Change Readiness Index (CRI) is an annual study conducted by KPMG, a global leader in audit, tax, and advisory. This year, they ranked 136 countries in terms of their ability to adapt to change, based on their responses to natural disasters, economic trends, and other factors.
Getting a high rating in the study is a significant achievement for the country. In fact, His Highness Sheikh Mohammed bin Rashid Al Maktoum, Vice President and Prime Minister of the UAE and Ruler of Dubai, even posted about it on Twitter:
A new report has placed the UAE as the third most capable nation in managing economic and technological change. https://t.co/Z6R67twU0d pic.twitter.com/etraelWRZw

— HH Sheikh Mohammed (@HHShkMohd) August 26, 2017
Here are the highlights of the UAE's performance in the 2017 Change Readiness Index:
Ranked 1st in the MENA region
Ranked 3rd in the world
Scored 1 on Enterprise, 2 on Government, 17 on People & Civil Society Capabilities
Moreover, when it comes to innovation, the UAE also leads the Arab nations and ranked 35th in the 2017 Global Innovation Index.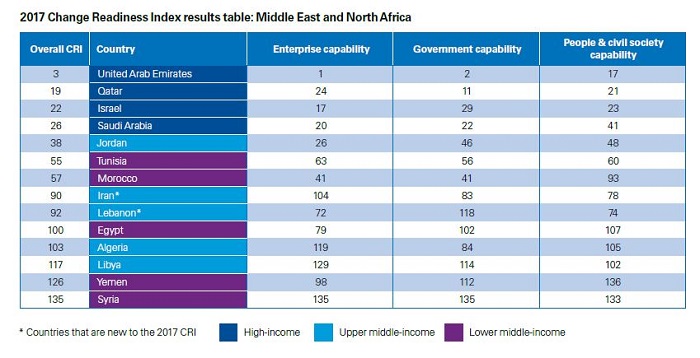 Importance of Preparedness for Change
"The CRI offers an eye-opening view of which countries are best positioned to weather and potentially benefit from inevitable change, and the factors behind their preparedness," stated Vikas Papriwal, Partner and Head of Markets for KPMG Lower Gulf.
"It is increasingly becoming evident that countries cannot only focus on GDP or business outputs to be considered as change ready," he explained. "The CRI shows that improving capabilities in areas of government and people & civil society, as well as in enterprise, or business environment, are often key to why some countries are able to climb up the rankings."
The UAE's performance in the study indicates that it is truly "change ready." In this Twitter post, HH Sheikh Mohammed mentions about the country's ability to adapt and manage change:
The UAE is capable of anticipating, adapting to and managing change, a strength underpinned by close public/private sector co-operation.

— HH Sheikh Mohammed (@HHShkMohd) August 26, 2017
This latest achievement shows how serious our leaders are when it comes to developing and improving the country. Indeed, the UAE is well on its way to becoming one of the best countries in the world, as part of its National Agenda and the UAE Vision 2021.