One of the best things an OFW (or any of us) can have and our family is a place we can call our own. And for this kind of dream to become a reality, you need to put in a lot of hard work and determination.
ALSO READ: WATCH: Filipino Couple in Dubai Builds 2-Bedroom Dream House with Sari-Sari Store
By hard work and determination, this could mean long years of working abroad – as in the case of OFWs, and consistent saving up to fund the project of your dreams.
'Pangarap na Bahay': Dubai OFW Vlogger Gives a Sneak Peek of Construction of Dream House in Philippines
In this feature, we will showcase one project of our kababayan who's worked here in Dubai for over a decade – 13 years to be exact – and his wife, who turned their dream house into a reality with seven years in the making.
YouTube vlogger, Ryan Bautista, an IT support engineer working in the UAE for over a decade, is among the many Filipinos who dream of having their own place to stay. In his case, this dream couldn't have turned into a reality if not for the help of his wife, who's also based in the UAE working as a Customer Service Agent.
2-Storey, 5 Bedroom House
They worked hard and saved up for the construction of their 2-story dream house with 3 bedrooms and 2 bathrooms for their family. Ryan is a father to three little cute girls, and so this big purchase that he made will help in building a solid foundation for their family's future, should he and his wife decide to stay in the Philippines to be with their daughters for good.
There are many things an OFW usuall spend on – a business, several cars, but for Ryan, it has to be a house they can call their own.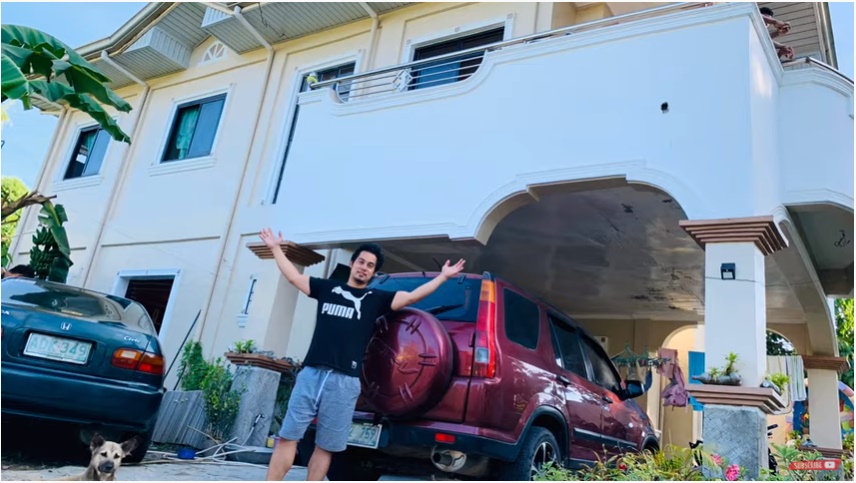 Challenges Building the House
However, building your own dream house does not come without its own set of challenges. For one, you need to have the budget. Another thing you need to consider is the design and overall appearance of your house. And finally, you need to determine who will oversee the construction, if you need to be the one who will raise the funds that you need for your own house.
These are just some of the things that you need to consider when starting a project as big as constructing your own dream house. Let's take a look at how Ryan was able to make this a reality for him and his family in this short time-lapse video he posted via his channel on YouTube:
7 Years to Build
As he explained in his vlog, Ryan's dream house did not materialize overnight. Actually, it took him several years – 7 years to be exact – of working to get the money for the construction of their house as well as the building part.
Through it all, they experienced a lot of setbacks like having been conned by their landscape contractor who was supposed to do their grotto and veranda and they had to redo parts of the house because they did not come out the way they had wanted them to.
It was also quite obvious how Ryan was so hands-on when it comes to planning the design of their dream house. He shared that a lot of the designs they used in the house – from the wall decors to the design of their front gate, as well as their bathroom interiors, were all conceptualized by himself through his research on the internet.
Ryan was also able to gather some of the materials that were used in their house from places like IKEA and Home Center in Dubai.
Work in Progress
There are still a lot of things that need to be finished in the house as you can see in the video. All these would not have been possible if not for the savings they've accumulated during those long years they've spent working in Dubai.
What do you think about Ryan's dream house? Will this be an investment you'd also like to have for yourself? Let us know by leaving in the comments section below!
READ NEXT:  [WATCH] Sharjah OFW Shares How She and Husband Built Dream House, Purchased Car & Jeep in 5 Years