Walk-in interviews for male and female nurses to be based in Abu Dhabi, Dubai, and Northern Emirates have been posted by Manzil Healthcare services. This company is a JCI-accredited home healthcare provider in the UAE and they are looking for nurses who have specific qualifications. Please check the details below for the requirements.
Do make sure you are qualified for the position you are applying for so as not to waste time (you and the employers). If you have any friends who are in UAE who are deemed fit for the said jobs, kindly forward them this post so they are aware of this work opportunity.
Job Opportunity for Nurses in UAE
You can apply for these job openings by going to the Manzil Healthcare Services office in Abu Dhabi. For more details and for other inquiries, it is best that you call them ahead via hotline – 800626945.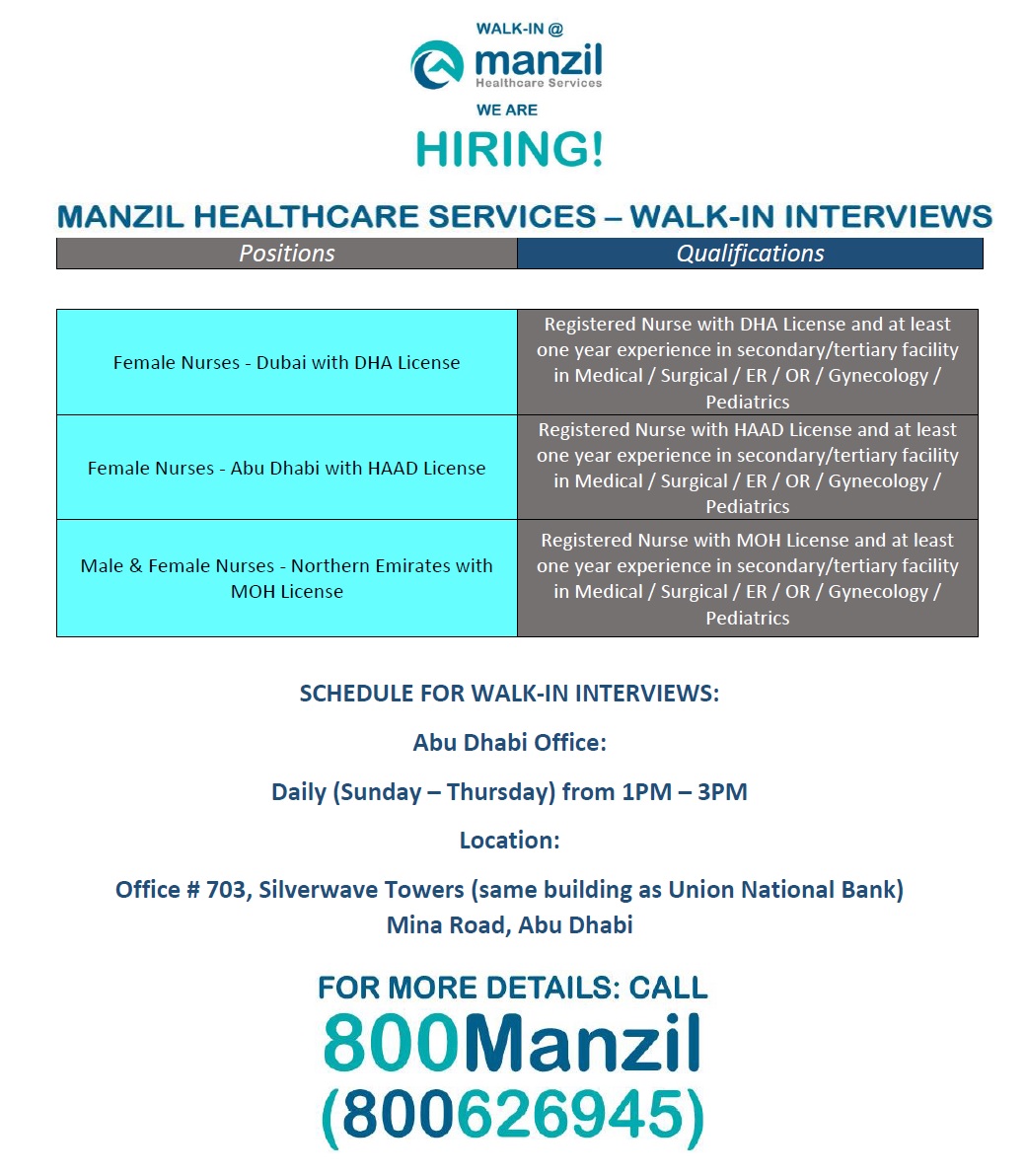 Positions Needed to be Filled are as Follows:
Female Nurses in Dubai – with DHA License 
Registered Nurse with DHA license and at least one year experience in secondary / tertiary facility in Medical / Surgical / ER / OR / Gynecology / Pediatrics
Female Nurses – Abu Dhabi – with HAAD License
Registered Nurse with HAAD license and at least one year experience in secondary / tertiary facility in Medical / Surgical / ER / OR / Gynecology / Pediatrics
Male & Female Nurses – Northern Emirates with MOH License
Registered Nurse with MOH license and at least one year experience in secondary / tertiary facility in Medical / Surgical / ER / OR / Gynecology / Pediatrics
Schedule for walk-in interviews:
Abu Dhabi Office: Daily (Sunday to Thursday) from 1pm to 3pm
Location: Office #703, Silverwave Towers (same building as Union National Bank) Mina Road, Abu Dhabi