We had a wonderful experience with the new Seafood Wok Package of Yum! Restaurant in Radisson Blu Hotel Dubai Deira Creek and you can enjoy the same experience as this 5-star hotel is giving away 2 lunch/dinner experiences for 2 this month!
This 5-star lunch/dinner experience includes unlimited servings of seafood wok plus seafood laksa, fried wantons and prawn crackers, green papaya salad, mango sticky rice, steamed rice and brewed iced tea.
How to Join?
You can find the giveaway the Dubai OFW Facebook Page here – https://www.facebook.com/thedubaiOFW/photos/a.608699625818074/3549971488357525/
So you have to follow the instructions which is simply to answer the question in this Facebook post and tagging the person you wish to bring. Remember that the giveaway is hosted on the Dubai OFW Facebook Page!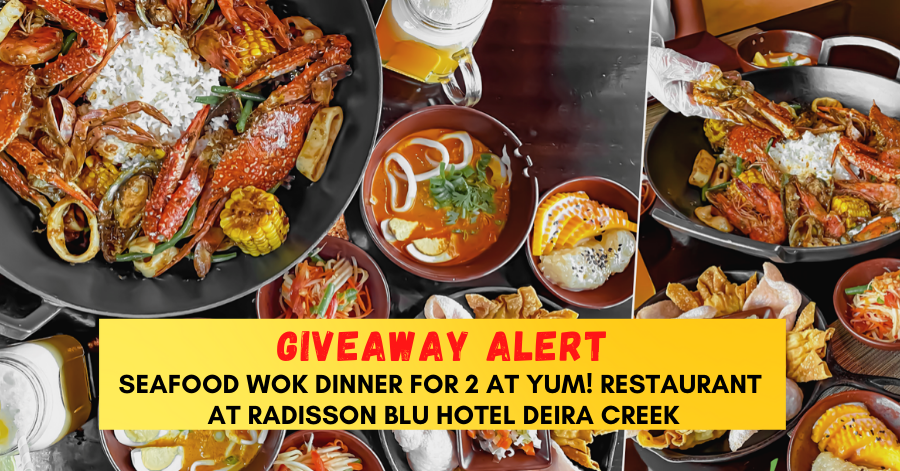 —————————————————–
Yum! Restaurant's seafood wok has 5 sauce options which you will choose upon getting this package.
1. Cajun Sauce
2. Krapao-Basil Sauce
3. Authentic Thai Red Currey
4. Egg-Yellow Curry
5. Singaporean-Style
From our part, we really enjoyed the Authentic Red Thai Curry and we can't wait to go back and sample the appetizing dishes that come with this package!
First winner will be announced on September 4, 2nd winner will be announced on September 8.
—————————————————–
For those who cannot wait to sample delicious seafood wok cuisine, Radisson Blu Deira Creek is offering Buy 1 Get 1 for OFWs and hoteliers.
Call 04 205 7033 to make a reservation.
Check out our dinner experience at Yum! Restaurant below: