Getting around Dubai is about to become even more comfortable, as the Roads and Transport Authority (RTA) is building 58 air-conditioned shelters for public bus commuters. These will be located in newly developed sites and residential areas, according to an RTA press release.
ALSO READ: RTA Launches Electric Abra Service on Dubai Creek
What's more, the agency has also started constructing two solar-powered shelters, which will be launched on a trial basis. As the term suggests, these shelters are designed to operate on solar energy — the perfect solution for locations that are outside the electric power grid!
Construction of Air-conditioned & Solar-powered Shelters Ongoing
Previously, RTA constructed 100 "Smart Shelters" in 15 districts of Dubai. Each crescent-shaped shelter can accommodate 13 to 16 people. It provides free Wi-Fi and mobile charging, food and drinks, plus smart pay services for topping-up mobile phones and recharging NOL cards.
The RTA is currently building new shelters in these locations:
Dubai Investment Park (9 shelters)
Dubai Academic City – Aviation College (2 shelters)
Higher Colleges of Technology (1 shelter)
Dubai Industrial City
Dubai Internet City
JLT
… other parts of Dubai
Once completed, the addition of new shelters would bring the total number of RTA's Smart Shelters in the city to 884 shelters. That's a lot!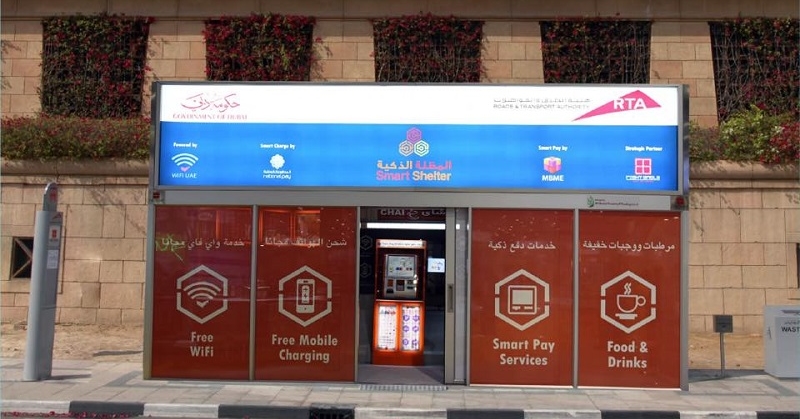 Smooth Service for Bus Riders
"The Air-Conditioned Bus Shelters Project is part of RTA's continuous efforts to enhance excellence and leadership drive through undertaking flagship projects in Dubai," said Mattar Al Tayer, Director-General and Chairman of RTA's Board of Executive Directors. "It is also part of a master plan for improving public transport, and providing smooth services to bus riders, especially during the blazing summer."
"Through the project, RTA aims to encourage community members to use mass transit means with the aim of boosting the share of public transport users' contribution in Dubai mobility traffic from 20% in 2020 to 30% by 2030," he explained. "Bus shelters in Dubai are used by 1.208 million riders every month, and customers' surveys indicate that air-conditioned shelters have a very high customer satisfaction rate."
Environment-friendly Option
Inevitably, some bus routes pass through locations with no electric power supply. With the introduction of solar-powered shelters, however, commuters need not worry. These environment-friendly shelters shall operate on solar energy for air-conditioning and lighting.
Moreover, these solar-powered Smart Shelters are designed to:
Be resistant to extreme weather conditions
Provide shade and protection to waiting passengers
Maximize conversion of sunlight into electrical power
ALSO READ: RTA Opens New Bus Route from Dubai to Sharjah via E311
The construction of new, air-conditioned bus shelters indicates that the Dubai government is truly dedicated to satisfying "customer (and commuter) happiness." With these shelters around, traveling by public bus is certainly made more convenient and affordable for everyone!