One of the shops that I always visit whenever I drop by malls in Dubai is American Eagle Outfitters. This is a clothing apparel shop that has a very warm and cozy feel inside. The interior of the shop looks like a wooden lodge. Sometimes I would hope that they'd put an open fire there to complete the whole look.
AEO Dubai DCC
American Eagle Outfitters Deira City Center – Dubai, UAE
The American Eagle store in Dubai is very spacious but has a homey feel to it. I love checking out what they have that's brand new even if I'm after the discounted items there.
Today, they were having a sale as part of their Dubai Shopping Festival DSF 2014 promotion. I was able to buy two plain long-sleeved shirts for 40 Dirhams each. This was such a deal cause most of the stuff that they sell with promotion usually gets sold fast. I got mine at a lucky price at a lucky time.
Dubai AEO Shop Quality Shirts
I say this is really a great deal and the quality of their fabric is also great. I'll keep checking on this shop from time to time.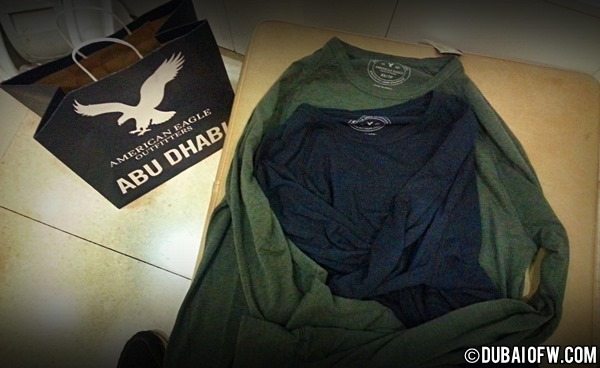 They gave an Abu Dhabi paper bag, lol
Got these long-sleeved shirts for 40 AED a piece
The DSF 2014 is a great time to shop with plenty of discounted prices items and other merchandise. This is great for Kabayans who want to bring something for their loved ones by storing these as gifts when they finally return to the Philippines for vacation.