A trip to Armenia wouldn't be complete without devouring authentic Armenian cuisine. It is one of the best ways to get to know the country better. A taste of the local food is like getting a glimpse of its rich history and culture. Locally-produced ingredients and traditional cooking techniques are being used; hence, every meal in Armenia is a culinary journey.
We've already written a travel guide, places to visit, and things to do. One of the more important parts of travelling is understanding the country through their local food. Here we list some items that we've noted that you should try when you visit Armenia.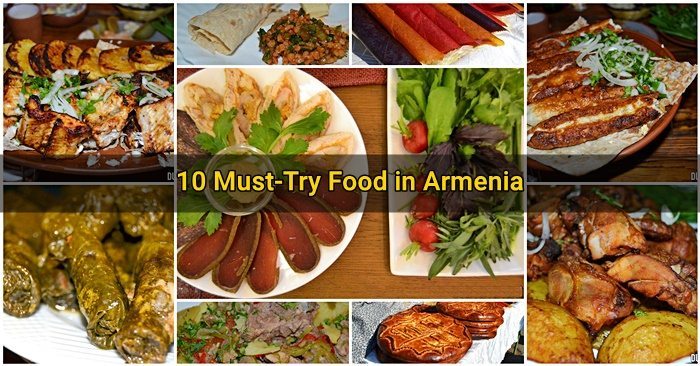 Traditional Food in Armenia
Here are 10 foods you have to try in Armenia:
1. Basturma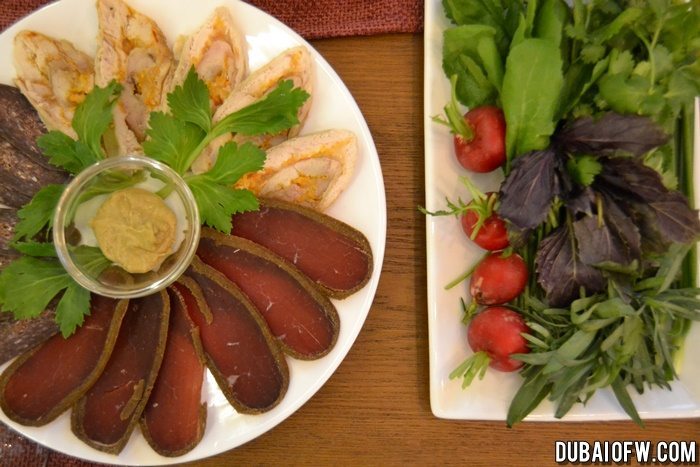 Basturma, mezze
Meals in Armenia often start with a sumptuous spread of appetizers, or mezze as what they call it. Mezze is a selection of small dishes which consist of cheese, vegetables and cured meat. Basturma is usually included in the cured meat platter. It is a thinly-sliced, highly-seasoned cured beef that go well with classic Armenian red wine!
2. Khoravat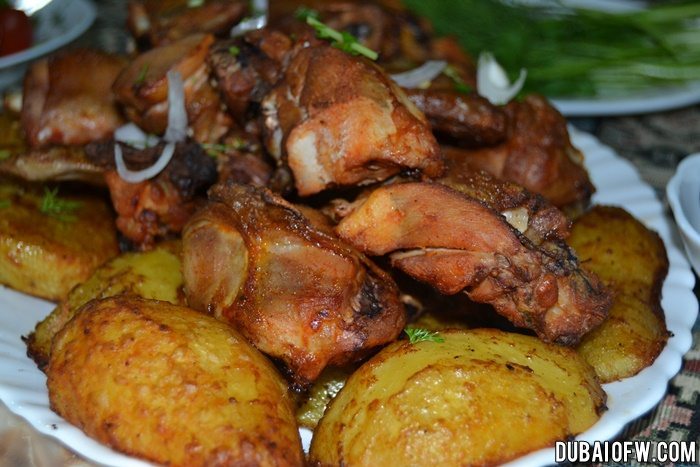 khoravat Armenian food (barbecue)
My favorite Armenian dish is Khoravat or barbecue! But this is not the typical barbecue that we all know. Khoravat is made of the freshest meat, specially marinated and grilled over a wood fire. It has an incredible aroma and distinct smoky flavor.
3. Kashlama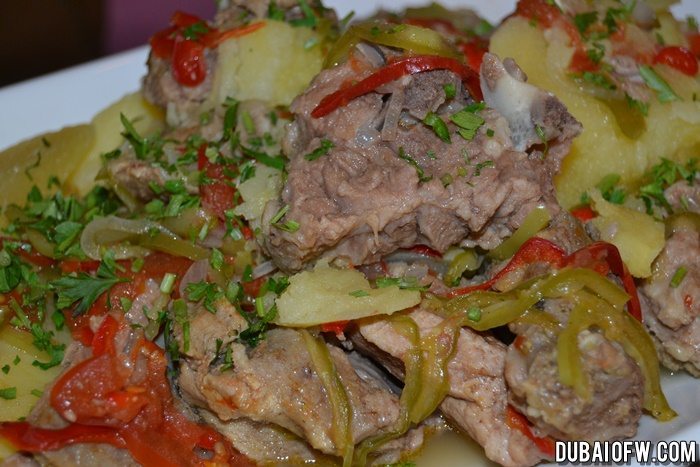 Kashlama traditional Armenian food
Kashlama is a traditional Armenian food often served during special occasions, marking rites of passage. It is a delicious dish of lamb or beef, slow-cooked overnight and served with vegetables. The hearty meal will definitely remind you how blessed you are to be in Armenia.
4. Lavash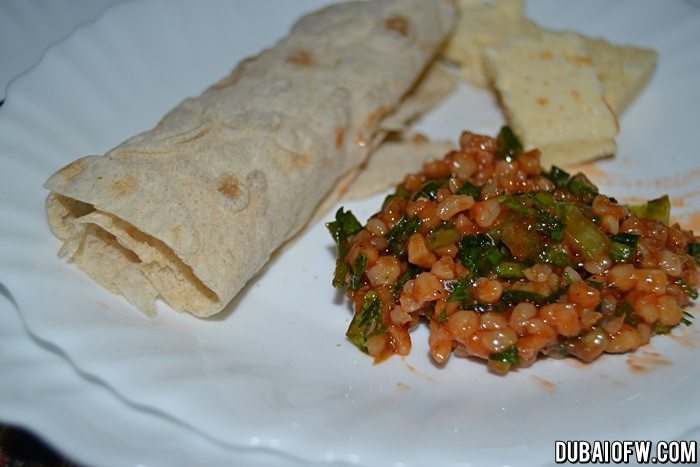 local bread in Armenia – thin flat bread – lavash
Lavash, Armenia's local bread is a staple. It is a thin flatbread baked in an underground clay oven called Toneer. The preparation is interesting to watch. The dough is kneaded and stretched and slapped against the wall of the toneer. It's an old cooking tradition that has been passed down through multiple generations.
5. Fish Kebab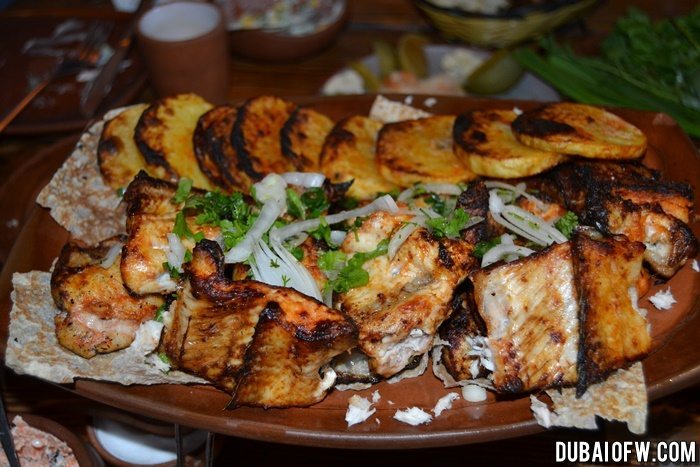 Armenia fish kebab
When visiting Lake Sevan, make sure to have a seafood lunch along the lake. A must-eat is a Fish Kebab of Armenian Ishkhan trout. It is a type of fish that is indigenous to the lake; hence, you can expect to be served with freshly caught fish, marinated in a special blend of spices and grilled to perfection.
6. Craw Fish Kebab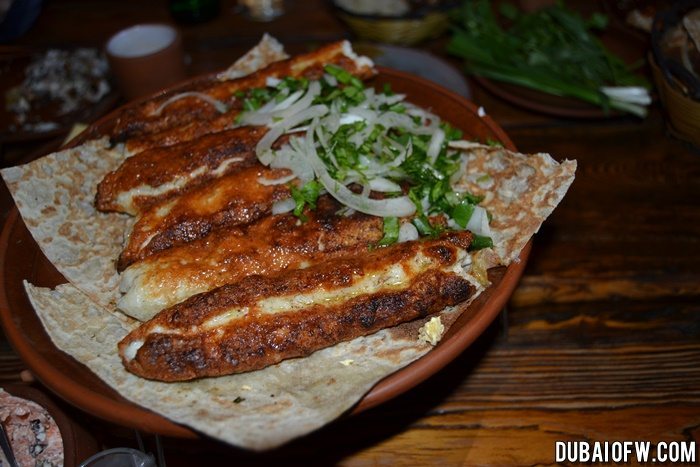 crawfish
Also endemic to Lake Sevan is the Craw Fish. It is a freshwater crustacean that looks similar to lobster. The delicate meat is blended with spices and shaped into sausages, then grilled. It's so delicious that you can't resist asking for another serving!
7. Dolma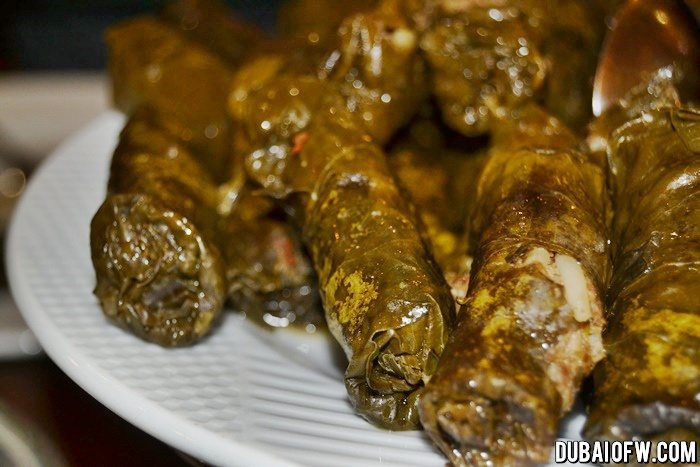 Dolma – meat and rice wrapped in grape leaves
Dolma is a delicacy made of rolled grape leaves stuffed with meat and rice. It is a common dish in the Middle East and in the Mediterranean. Armenia's version is perfectly done and friendly to the taste buds. It is mildly spiced and savory.
8. Gata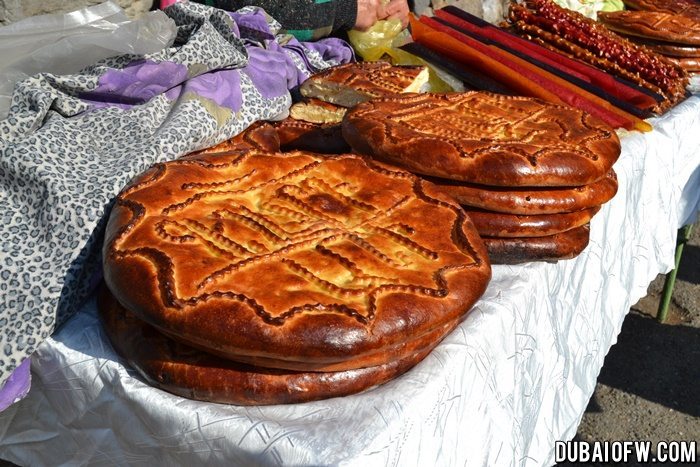 Gata Sweet Bread
Gata is an Armenian sweet bread usually served as a dessert along with tea or coffee. There are different varieties of gata. One type is a puff pastry sprinkled with sugar or stuffed with nuts. Another type is the sweet bread gata made by the locals living in the villages of Geghard and Garni.
9. Armenian Snickers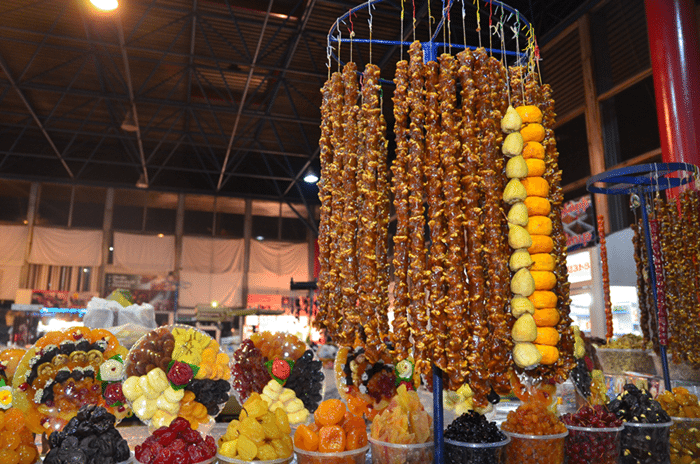 Armenia snickers (hanging)
You can never leave Armenia without eating Armenian Snickers, locally known as Churchkela. It is a string of walnuts dipped into a mixture of fruit juices, then dried. It looks weird, yet it is tasty, nutty and fruity!
10. Fruit Lavash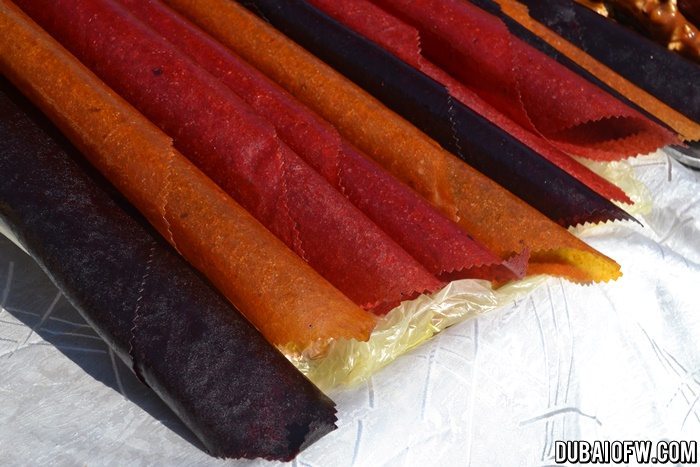 Another interesting fruit preserve in Armenia is the Fruit Lavash. It is a paper-thin rolled sheet made of fruit puree. Different varieties are pomegranate, apricot, and plum. It is a sweet-sour treat that can be enjoyed as it is or stuffed with nuts.
———————–
We hope that you will try a few of these dishes (if not all) when you visit Armenia. It's a beautiful city and you can definitely experience it's culture through its cuisine.
Air Arabia flies from Dubai to Armenia via Sharjah to Yerevan. Filipinos get visa on arrival.
Read about our other Armenia posts here:
---
Book Cheap Hotels in Armenia
You can search and book for various hotels and guesthouses in Armenia depending on your preference. Check out available option for accommodation below:
About the Author: Lady Anne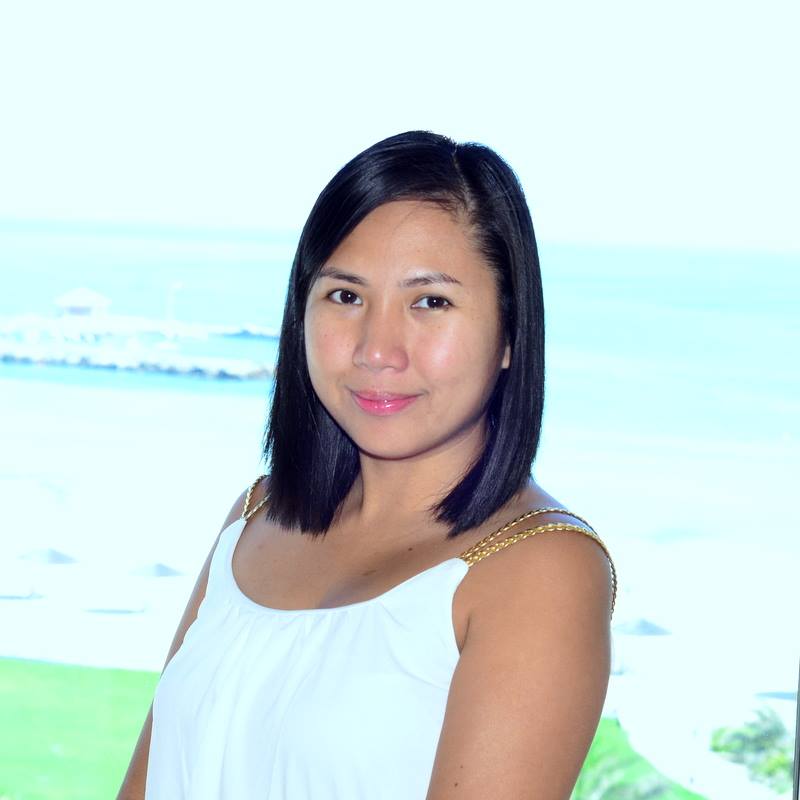 Lady Anne Abit is a Filipino expat in Dubai, a full-time healthcare professional, an occasional traveler and a self-confessed foodie. She shares travel tales, foodie finds, and sweet escapes in her blog www.ladyandhersweetescapes.com and Instagram: @ladyandhersweetescapes.
---